Budding Romance
Springtime dates in the Queen City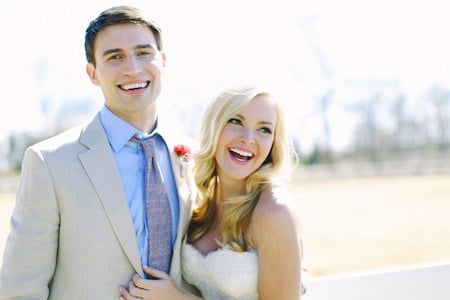 Of the transitional seasons, spring is most definitely my favorite. With all the cool breezes and fresh air of autumn but the notion of summer just 'round the corner, spring puts fall to shame. So in celebration of the season, I've researched all the festive, romantic happenings in the Queen City and surrounding areas for you and your fiancé. Take advantage of the pre-scorcher days and enjoy some time in the spring sunshine.
Jolo Winery & Vineyards
Having just paid a visit to the stunning grounds of this Pilot Mountain vineyard for our Spring 2014 issue fashion shoot, I can't say enough good things about this place. Rustic yet well-appointed, the lodge and sweeping views are beyond enchanting. Make a day of it with a wine tasting and dinner prepared by Napa Valley native chefs whose culinary finesse I can attest to wholeheartedly–and of course the wine is spectacular. Did I mention they are now open for weddings?
Stoneybrook Steeplechase
If you're looking for a way to enjoy this weekend's pleasant forecast, take a mini roadtrip to Raeford, NC for the annual Stoneybrook Steeplechase. Break your sundress and his linens out of storage and make a day of it watching beautiful stallions take the track. (Saturday, April 5)
Charlotte Tour to Blue Ridge Wine and Food Festival
Enjoy all the wine (and food) you want with this all-inclusive roundtrip travel day of vino and eats from more than 40 wineries in the scenic surroundings of the Blowing Rock. (Saturday, April 12 at 11:30am departs from Metropolitan)
Queen's Cup
A closer drive, and longtime Charlotte tradition, the Queen's Cup always makes for a festive weekend activity each year. The grounds alone are beyond impressive–perfectly prestine. Add in a couple of thousand well-dressed ladies and gentlemen, and you've got the makings for a splendid Saturday. (Saturday, April 26)
Wells Fargo Championship
While this star-studded golf tournament is an easy pleaser for the aficionado fiancé, it's quite fun for anyone. I attend every year, and between the well-maintained greens and the mass of impeccably dressed Southerners, this tournament is always a personal favorite. Plus Quail Hollow is by far my favorite club in Charlotte.
{top photo: Spring '13 issue of Charlotte Wedding, shot by Anna Naphtali}