Building History: Inside Urban Institutes' City Walks
COVID spurs UNCC to let Charlotteans guide themselves on history tours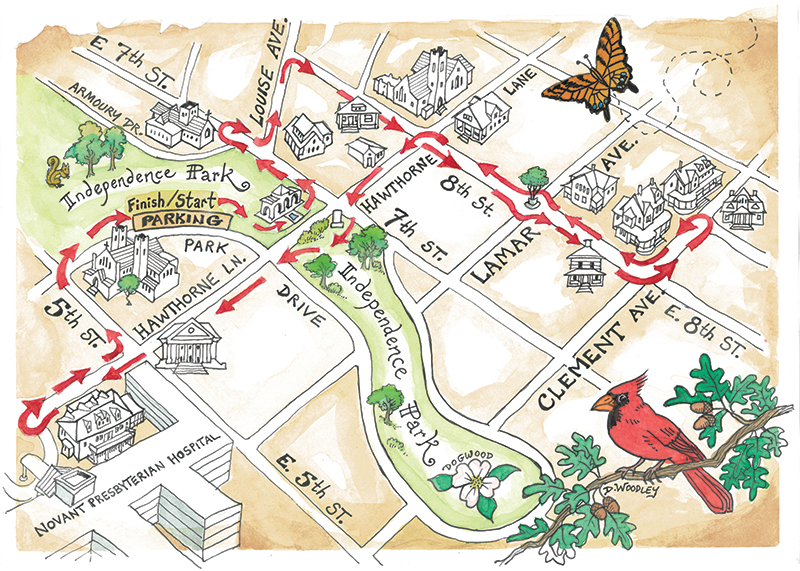 Is May the most delightful month for a walk in Charlotte? You won't get any argument from the folks at City Walks Charlotte.
Since 2012, UNC Charlotte's Urban Institute has offered free, volunteer-led walking tours each May that examine unexpected aspects of Charlotte's urban landscape, history, art, and planning. This year, with COVID, the institute has listed more than two dozen walks on CityWalksCLT.org, which allows participants to take self-guided tours whenever they want. So grab a mask, find a walking buddy if you like, and get some socially distanced exercise for your legs—and brain.
Here are highlights from a walk I helped create for Elizabeth, just east of uptown, founded circa 1900 as the city's second "streetcar suburb." Arrive by car or the new LYNX Gold Line. Start at the Hawthorne Recreation Center, then stroll into Independence Park, opened in 1904 as Charlotte's first public park.
Next stop: St. Martin's Episcopal, girlhood church of the Rev. Carter Heyward, a civil rights activist and one of the first women ordained into the Episcopal priesthood. Wend your way along East EighthStreet, known for its bungalow-style cottages—including that of Harry Golden, a best-selling author (Only in America, 1958) and civil rights activist.
On Clement Avenue, marvel at the big, gracious homes, which include the residence of William Wilkinson, the cotton mill owner for whom Wilkinson Boulevard is named. You can pause for a snack at the original location of Sabor, the local Latin street food chain, then take a short walk up Hawthorne Lane to find—hidden under the trees next to Novant Health Presbyterian Medical Center—the William Henry Belk House, the mansion the Belk department stores' founder built in 1924.
That's a surprising amount of history—all in a walk that'll take you less than an hour.
The City Walks idea began with Mary Newsom, creator of UNC Charlotte's PlanCharlotte blog, which digs into urban design issues in our region. Newsom counts the late Jane Jacobs as a major influence. In 1961, New York-based Jacobs published The Death and Life of Great American Cities, an influential book that slammed the tear-it-down ethos of "urban renewal." Jacobs urged planners and residents to carefully observe how cities actually work, then build on that knowledge to foster better human interactions.
The Center for the Living City, which carries on Jacobs' teaching, promotes Jane's Walks—"walking conversations" in which neighbors learn from neighbors—in cities around the globe to mark the author's birthday, May 4. Newsom organized Charlotte's first Jane's Walk nine years ago, and it grew into the annual, monthlong City Walks Charlotte. Through Urban Institute staffer Angelique Gaines, the program organized 40 walks, which drew more than 600 attendees in 2019.
Then COVID hit. Gaines first postponed the 2020 offerings, then canceled them. That gave Gaines and co-organizer Bridget Anderson time to reimagine the City Walks as self-guided offerings, which the Urban Institute has posted to CityWalksCLT.org:
Arts advocate Anne Low (ArtWalksCLT.com) shares an uptown mural walk and a tour of public art in South End.
Residents of NoDa, Camp Greene, and Fourth Ward introduce their neighborhoods.
Tours of what once was Brooklyn, the historic Black community in Second Ward, and the Belmont neighborhood just east of uptown focus on gentrification and redevelopment.
Explorations of the Hebrew Cemetery in North End and the UNC Charlotte Botanical Gardens uncover little-known treasures.
"City Walks are important for our city because it allows people to learn more about their community and connect across differences," Gaines tells me. "We're in our own bubbles sometimes, and we have our own networks."
Adds Anderson: "This year especially, City Walks provide an important outlet to get outside and explore the neighborhoods around us."
Building History is a monthly series that highlights Charlotte's historic buildings. Tom Hanchett, a local historian in Charlotte since 1981, is the author of Sorting Out the New South City: Race, Class, and Urban Development in Charlotte, 1875-1975 and former staff historian at the Levine Museum of the New South. Follow him on Twitter at@historysouth.