Building History: Plaza Midwood's Fertile Storefront
Not one but two Fortune 500 companies took root at nondescript 1508-1510 Central Ave.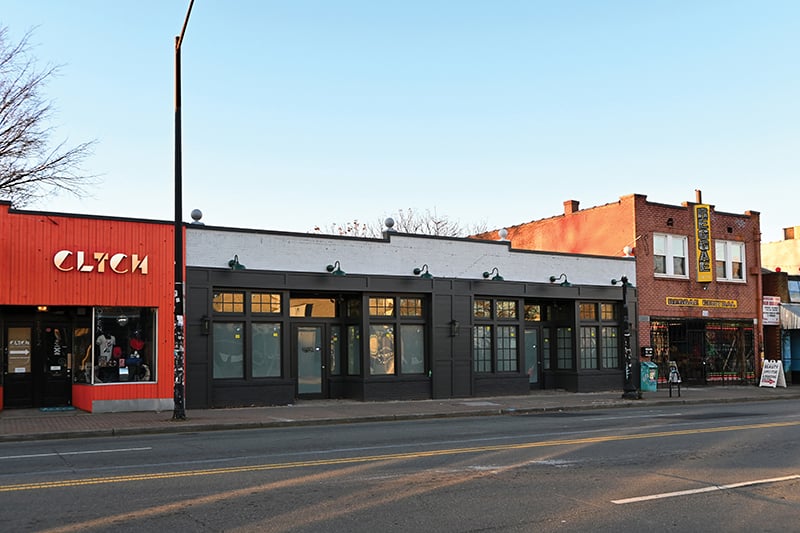 It might be the luckiest building on the luckiest block in Charlotte: Two national Fortune 500 retailers got their start at this one spot in the heart of Plaza Midwood.
The double storefront at 1508-1510 Central Avenue doesn't look like much. That's part of its charm. It sits right up at the sidewalk, surroundeda by a block of similarly affordable and unremarkable buildings. It's a basic, one-story box, brick in front, with four concrete globes mounted along its cornice. You could fit a small store in each half or throw it together for a midsized shop. That's one thing that's always made Plaza Midwood so lively—not any one anchor store but a jumble of entrepreneurial energies.
A young man named W.T. Harris (yep, as in W.T. Harris Boulevard) saw the possibilities back in 1936, when he launched Harris Food Store just down the block at 1504 Central, today Mama's Caribbean Grill & Bar. He outgrew the space in two busy years. That's when Harris decided to rent the double up the block. An investor had built it in the late 1920s but struggled to keep it leased during the Depression years. That meant cheap rent, and Harris put his extra dollars into grocery innovation.
He installed Charlotte's first refrig­erated section for produce: less spoilage and thus lower prices. And Harris Food Store was "semi-self-service," The Charlotte Observer reported, with "the new type push carts with baskets" customers could use instead of waiting for a storekeeper to fetch items.
Ten successful years later, Harris found land a block away to construct a much larger building and soon merged with a competitor to create the Harris Teeter chain. By the 2000s, Harris Teeter, whose stores spread throughout the South and as far northeast as Delaware, would earn a place on the Fortune 500 list of America's biggest corporations—where it remained until grocery giant Kroger bought it for $2.4 billion in 2014.
After Harris' departure, other entrepreneurs tried their luck at 1508-1510 Central—May's Hardware, Plaza Children's Shop, Belle Donna Dress Shop—before energetic Leon Levine came along in 1959.
The Levine family ran a small-town department store in Rockingham, and Leon Levine's older brother Alvin had ventured to Charlotte to test the big-city waters. Alvin Levine opened a discount shoe outlet, Pic 'n Pay, at 1533 Central Avenue in 1957. (It's The Workman's Friend pub today.) Alvin built it into a major national chain as another Levine brother, Sherman, eyed 1517 Central (now Midwood Guitar Studio) for a clothing shop he would name Sherman's Ltd.
Leon, barely 22, grasped the potential of cheap rent amid Central Avenue's passing throng. He leased 1510 and, on Thursday, Nov. 19, 1959, swung wide the doors of the first-ever Family Dollar. "Nothing in our store over $2 (values up to $5)," trumpeted his first ad.
Success came quickly. Only three months later, in February 1960, Leon took out ads that read: "Help Us Clear Out—We're Moving." The new location was on the same golden block, right across the street at 1519 Central, a space the Social Status shoe store occupies now.
By the 2010s, Family Dollar was on the Fortune 500 list with stores in nearly every state, and Leon Levine was Charlotte's most prominent philanthropist: Levine Children's Hospital, the Levine Campus of Central Piedmont Community College, the Levine Museum of the New South, and more.
Today, Plaza Midwood's storefronts continue to serve as incubators for humble startups, like Fuel Pizza, Midwood Smokehouse, and Common Market, that eventually branch out to other parts of the city. The double storefront at 1508-1510 is still there, most recently home to a pair of antique shops, Century Vintage and 1510 Antiques.
In 2019, the Charlotte real estate investment company Asana Partners bought the building, painted it gray, replaced the front windows, and began to seek tenants. In January, the company found one for half the space: Emmy Squared, a New York-based pizza restaurant. Next door, perhaps another small entrepreneur en route to something bigger?
Building History is a monthly series that highlights Charlotte's historic buildings. Tom Hanchett, a local historian in Charlotte since 1981, is the author of Sorting Out the New South City: Race, Class, and Urban Development in Charlotte, 1875-1975 and former staff historian at the Levine Museum of the New South. Follow him on Twitter at @historysouth.