Building History: Walton Plaza in Uptown
It was a source of Black pride when it opened in 1973. Does it have a future?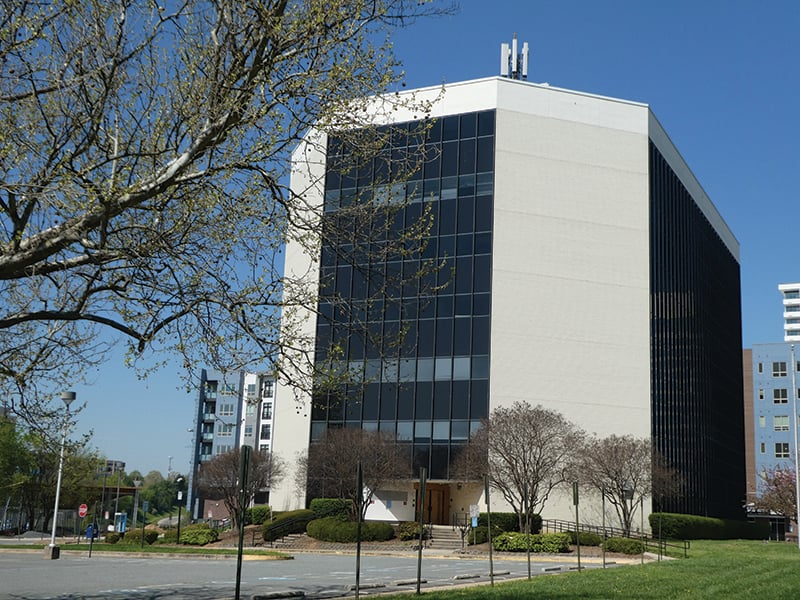 Looking for historic buildings in Charlotte? You might miss the seven-story office tower at McDowell and Stonewall streets in Second Ward. It's not officially a landmark, but maybe it should be.
Black glass and white brick distinguish the structure, designed by A.G. Odell, Charlotte's top modernist architect. The colors symbolized the hope that the tower would bring together both Black and white businesses. Look at how that played out, and you'll understand a lot about Black achievement and white resistance in this city.
Julius Chambers led the project. A nationally renowned civil rights attorney, he was famous for representing the plaintiffs in Swann v. Mecklenburg, the landmark case that the U.S. Supreme Court decided in 1971. The ruling kicked off a 28-year run for a desegregation program in Charlotte-Mecklenburg Schools that was hailed as a national model.
That year, an arsonist burned down Chambers' law office. Undaunted, Chambers, his brother Kenneth, a physician, and optometrist colleague Raleigh Bynum gathered a consortium of Black professionals and bid for a prime center-city site newly cleared via "urban renewal." The land had been part of Brooklyn, the city's main district for Black people. Bulldozers had displaced more than 1,000 families and 200 businesses, making way for today's Government Center—and much empty acreage.
The glistening tower, originally named East Independence Plaza, opened in 1973 and instantly became a community hub. Jason Watt, the son of a Chambers law partner, recalled "the pride the building created and … how people who frequented the building, even non-investors, referred to the building as 'our' building."
Harvey Gantt, the pioneering Black architect, located his Gantt Huberman design firm there and conducted campaigns that led to his 1983 election as Charlotte's first Black mayor. Rowe Motley, the first Black Mecklenburg County commissioner, had his real estate office there, as did Pete Cunningham, who served in the General Assembly. The law firm of Chambers Ferguson Stein took the top floor, from where it won far-reaching cases that included the 1978 suit that gave North Carolina its first 20th-century Black representatives in Congress. Law partner Mel Watt went on to head the U.S. Housing Finance Agency.
"I had never heard or seen Black men, businesspeople coming together and building an office building," ophthalmologist Dr. Wesley Clement, who chose Charlotte to launch his practice after a nationwide search, remembered recently when I spoke to him at his home off Beatties Ford Road. "Seven stories!"
Chambers' achievement was rare but precarious. Black people alone could not sustain it. Surely white Charlotteans would rent space, so well-located within a 10-minute walk of the Government Center. Instead, white people flocked to a white-developed tower, Cameron-Brown, two blocks away. First Union Bank and small real estate firms opened offices there, as did Charlotte-Mecklenburg government, which signed long-term leases for five floors. Chambers' tower, meanwhile, limped along, never fully rented.
Finally, the Black consortium gave up the struggle. It accepted an offer from Mecklenburg County in 1994 "for $579,270 less than its tax value and $1.5 million below the owners' list price," the Observer reported. The county immediately filled the tower with government offices—including, ironically, those of CMS—and, in 1996, renamed the tower after Bob Walton, a prominent Black political figure who had died two years before, toward the end of his eighth term on the county Board of Commissioners. The county permanently closed Walton Plaza in 2019.
Julius Chambers' building was a proud achievement—but a reminder of forces that have stymied opportunity. Large, Black-developed real estate projects remain rare.
The county still owns Walton Plaza, part of the land package that awaits redevelopment as Brooklyn Village, and holds it vacant. Could county officials find a way to keep it standing as part of the new project?
Tom Hanchett, a local historian in Charlotte since 1981, is the author of Sorting Out the New South City: Race, Class, and Urban Development in Charlotte, 1875-1975 and former staff historian at the Levine Museum of the New South. Follow him on Twitter at @historysouth.