Building History: What Uptown's Treloar House Teaches Us
That old, brick building across from ImaginOn embodied ideas whose time has come again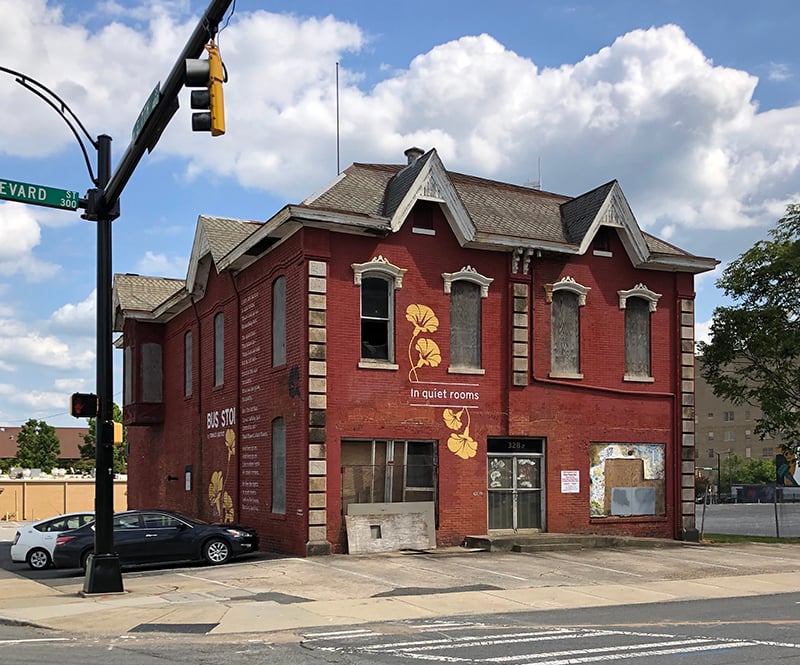 If you've ever driven past Imag­inOn, the children's library and theater on East 7th Street in First Ward, you've probably wondered about that old, red brick building across the street. Empty for decades, it dates back to the 1880s, but its history offers a lesson in land use and city living that's relevant today.
At first glance, the blocky, two-story structure seems like a commercial building—which it was in later years: Charlotte Auto Parts store in the 1950s, Oren Alexander bail bonds in the 1980s. But look closely, and you'll see ghost outlines of two arch-topped front doors that face North Brevard Street. Squint harder to detect hints of a long-vanished front porch. Those are clues to the building's initial incarnation in 1887 as a "double house," in which the owner lived on one side and rented the other.
Well-traveled William Treloar brought that idea south from Philadelphia, where row houses were the fashion. Born in the mining region of Cornwall, England, Treloar initially came here seeking gold. Charlotte was America's earliest epicenter of gold mining and home to the first-ever branch of the U.S. Mint in 1837. During the Civil War, Treloar packed his family—he and his wife, Julia, eventually had 13 kids—off to the relative safety of Philadelphia. When he returned to the Queen City in the 1880s, he chose stylish North Brevard Street for a spacious residence that would show off his wealth and sophistication.
The home of next-door neighbor Samuel P. Smith already set the standard for the 300 block of North Brevard (then known as B Street). Smith, a bank president, merchant, and elected city official, ranked among Charlotte's richest men. He built his residence in the French Second Empire style, a Victorian variant popular in the 1870s. Its Mansard roof, covered in patterned slate, soared to a central cupola. Twin curving, iron-work staircases carried visitors up to the wide front porch.
Treloar's house would match Smith's in architectural sophistication. We can only guess at the exact design of that vanished Victorian porch. But look around the building's sides to see romantic bay windows, sheathed in Eastlake-style woodwork, that poke out from the second floor. And note the Mansard roof, an echo of Smith's next door. It's covered in diamond-shaped slates—still in remarkably good shape 134 years after construction.
On January 4, 1887, Treloar placed an advertisement for a "handsome dwelling, eleven well-ventilated rooms with every convenience a man could desire. The ladies are especially invited to examine. The owner will occupy the Seventh Street side of said house in a few days." A series of tenants moved in: a newlywed couple just arrived from Atlanta; a businessman from New York; and one Jordan Thomas who, The Charlotte Observer noted in an 1895 society column, "is an ex-cavalry man and will be welcomed in military circles."
For five decades, the Smiths, Treloars, and renters co-existed comfortably. A Smith son married a Treloar daughter in 1911 and lived in the Treloar home into their old age in the 1930s. Homeowners and renters mingled easily over the years, which offers a lesson for us today. We've grown up in the era of zoning, introduced in the mid-20th century. Typically, residential zoning dictates that single-family dwellings—detached, standalone houses—should be "protected" from multi-family homes: apartments and condominiums. The rigidity of Charlotte's land use rules is one reason why the Treloar house fell into decline and the Smith house was bulldozed in the 1960s. Mixed-use? How unfashionable!
Today, urban thinkers suggest we reconsider. What if owners, renters, shops, and offices intermingled in walkable neighborhoods? Taiwo Jaiyeoba, Charlotte's planning director, has broached the idea of eliminating single-family-only zones, which Min­neapolis did in 2018, as part of his office's rewrite of the city's zoning code. "To build an equitable city, we have to diversify our housing supply," he says, "so residents of all races and incomes can stay and age in place."
The Treloar House shows that it's an idea rooted in history.
Tom Hanchett, a local historian in Charlotte since 1981, is the author of Sorting Out the New South City: Race, Class, and Urban Development in Charlotte, 1875-1975 and former staff historian at the Levine Museum of the New South. Follow him on Twitter at @historysouth.