Bull Brothers
Mooresville bull riders hope to have advantage on home turf at PBR Charlotte event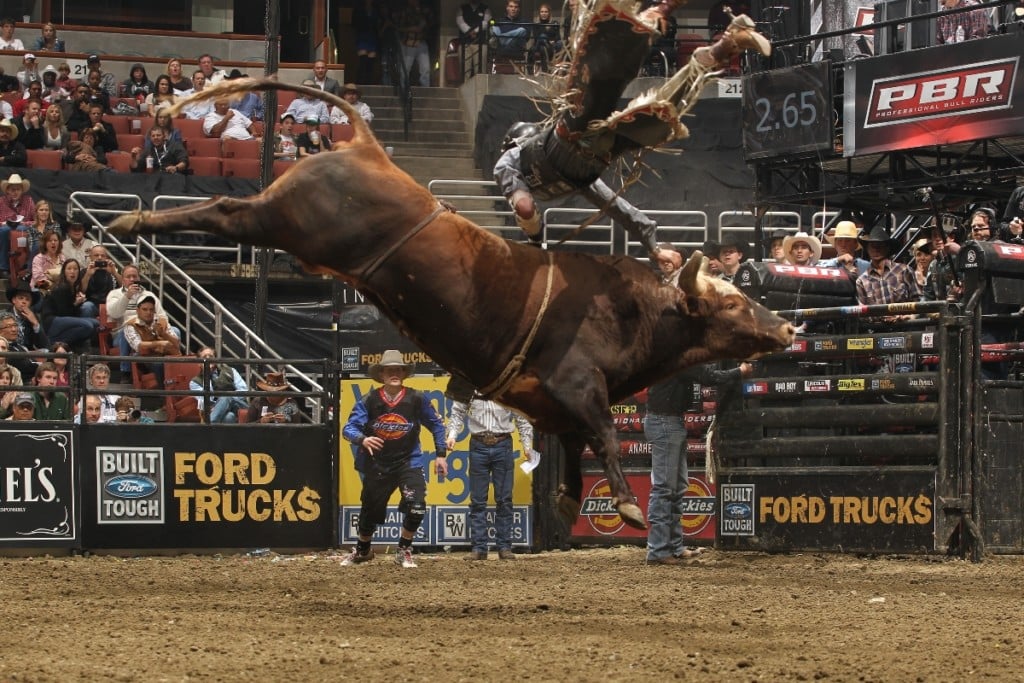 Just because you accepted a drunken dare and hopped on a mechanical bull at a bar before, don't think that classifies you as a bull rider. If you want to see how it's really done, the top forty bull riders in the world are coming to Charlotte September 30-October 1 as the Built Ford Tough Series returns to Time Warner Cable Arena for the first time since 2007. And two of the top-ranked riders competing in this Professional Bull Riders (PBR) event are making the short drive from Mooresville.
It's going to be a family affair for J. B. Mauney and Shane Proctor, not only because dozens of their family members and friends are coming out to this home game of sorts, but also because they're in-laws. Proctor is married to Mauney's sister, Jessi.
"It's going to be so much fun. I bet there'll be fifty-plus friends and family or more between me and my brother-in-law," says Proctor, twenty-six.
Currently ranked seventh in the Built Ford Tough Series standings and fifth in the qualifier standings with more than $245,000 in earnings this season, Proctor sat out the previous week's event in Wichita—the only one he's missed all season—to nurse an injury.
"Right now I've got a torn groin. It definitely hurts to squeeze my knees," says Proctor, a native of Washington, who moved to his wife's hometown of Mooresville four years ago.
But don't think for a second that Proctor lets an injury sideline him for long. "We don't get paid unless we stay on or win, so we're definitely motivated to win and work through injuries. The most severe one was when I broke my ribs in 2008. I broke three on one side and two on the other. I was out for two weeks; then continued to ride. It wasn't too bad for me—it was something I could work through. Broken ribs hurt but there's nothing you can do about them so it's no use whining about them."
His brother-in-law shares in his pain. Mauney, a twenty-four-year-old, born and raised in Mooresville, says he's currently battling through injured knees. He also runs down a list of injuries that most of us would cringe at, including once suffering a lacerated liver. "A bull jerked me underneath him and my hand hung, and he stomped me," Mauney says. He's ranked eighth in the qualifier standings, with $162,000 in earnings this
season.
Both of these guys contend that it's no pain, no gain, and they wouldn't trade what they do for anything. They've done it since they learned to walk well. Though they grew up on opposite coasts, they each started out in rodeo at the age of three, riding sheep. Now they train together on their home ranches and ride bulls that weigh as much as 2,000 pounds.
"You really don't see the power and how big those bulls are until you see it live and you're up close to them," Mauney says.
You can see it up close at Time Warner Cable Arena (333 East Trade Street). The Troy-Bilt Invitational Presented by Lowe's Home Improvement Warehouse features preliminary rounds September 30 at 8 p.m., and the championship rounds the following day at 7 p.m. For a season that began in January, this is one of only three rides remaining before the Built Ford Tough World Finals in Las Vegas at the end of October. Proctor says if you've never gone to a PBR event before, expect an experience similar to a sport you might be familiar with.
"There's a lot of high-impact [action]," Proctor says. "It's a lot like NASCAR. You want to see the big wrecks, so there's going to be a lot of big wrecks. But hopefully the riders walk away from them."
And you'll likely leave with a newfound respect for the competition that's commonly referred to as the toughest and most dangerous eight seconds in sports. Headline-grabbing (and attention-seeking) NFL star Chad Ochocinco learned this firsthand when he hopped on a 1,500 pound bull during a PBR event in May. He stayed on all of one and a half seconds.
"I was standing right there when he did it," Mauney says. "I didn't figure he would do it. The first day he got there he walked in and seemed like he thought he was Mr. Bad. But once he watched the first bull buck, his whole attitude changed. He said, 'What have I gotten myself into?' The second day, you could tell he was pretty dang nervous. He was hardly talking. But I give him props for having the guts to go on through with it."
Lucky for us, we can experience it from the comfort of the stands. And the semi-experience from the occasional ride at the bar.
Tickets for the Charlotte PBR event start at $15 and can be purchased at the arena box office, at ticketmaster.com, or by calling 800-745-3000.