"Burn the Floor" Sambas into Charlotte
My chat with Trent Whiddon, one of its stars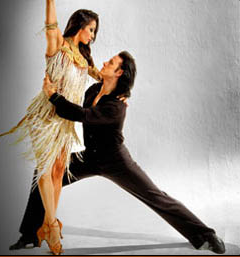 Trent Whiddon, a native of Australia, has been dancing since he was seven. He's been a cast member of Burn the Floor since 2002 and served as dance captain during the show's Broadway run. He choreographed season three of So You Think You Can Dance? (Australia) and was also a professional on the Australian version of Dancing With The Stars.
Burn the Floor comes to Charlotte for one night only — Wednesday, May 16 — at the Belk Theater at Blumenthal Performing Arts Center. Described as "Ballroom Reinvented," the show offers all the ballroom dance styles we've come to know and love from Dancing with the Stars – the waltz, Viennese waltz, tango, Foxtrot, quickstep, samba, rumba, and more. Only without the commentary from Bruno, Carrie Ann and Len. And without amateur contestants such as Nancy Grace. Whiddon told me about the show and how he and his dance partner keep it real.
Revue: Just like the Dancing with the Stars contestants, you have to be an expert in all these dances, right? But surely you don't do them all every night, as that would be humanly impossible.
Trent Whiddon: Yes, there are ten basic dances, and each member of the company knows them all. Most of us come from competitive ballroom dancing backgrounds; some come from ballet. But we don't all do all ten dances each night. I think our bodies could take about a week of that before just giving out. This is a major high-energy show. Everyone gives 100 percent. It's also evenly paced for everyone.
Revue: What's your favorite dance you get to do, and why?
TW: It would have to be "Burn for You," one of the show's main solos. It's based on a rumba, but a modern, contemporary version of one. And it's based on a love story about a man who's away from his wife and struggles with missing her. When things go wrong, they can't be there, in person, for each other. It's especially meaningful for me, because I'll be marrying my dance partner in a month and half, so the song is just really true for us both. It's very special.
Revue: Wait — did you just say you're marrying your dance partner? Congratulations. Who is she, and what's your story?
TW: Thanks. Her name is Gordana Grandosek, and we met ten years ago. As soon as she walked into the room, I fell in love. We're continuing our U.S. tour, then going to China for two weeks and then we'll head to Europe where we'll get married in Croatia, on the tiniest island in the Mediterranean. It's called Hvar.
Revue: What came first — the dancing partnership or the romance?
TW: The romance came first. We've been dancing together for five years. I think it's interesting for the audience to see the real chemistry between couples. We have a real connection, and that's very important.
Revue: Are there other Burn the Floor dance partners who are also real-life couples?
TW: There are two other couples. Gordana and I are the only pair getting married in the next two months though.
Revue: Do you ever, you know, get on each other's nerves on the dance floor?
TW: [Laughs.] Not intentionally. We always come together after and before each number and talk about what we expect from each other. We're always trying to get better. It's not always roses and champagne, but that's just part of the journey. When we do have differences, I think it brings another layer to our performance. Each day when we perform, the dance will look slightly different depending on what we have going on between us. We really have to draw on our true emotions.
Revue: What's the hardest dance in the show?
TW: That depends. In some ways, the samba is. It's super-fast and high-energy. Everyone in the cast needs to be warmed up and focused in order to perform it. If you're not in control of the music, it will take control of you. In some ways, though, the slower dances are harder. One tiny mistake becomes very visible to the audience. You have to control your movement, because there's no chance to recover.
Revue: The world is now sort of hooked on ballroom dancing, thanks to Dancing with the Stars. A few years ago, no one in the general population would've known what the Paso Doble was, and now we're used to seeing the matador-inspired dance week after week. Why do you think ballroom dancing has caught on?
TW: It's really a social art form. It's easily accessible. Unlike ballet or jazz, where you have to have some training, anyone can do some level of ballroom dancing. You can go to a party and sort of stumble your way through a Foxtrot or the cha cha cha. Or, you can take classes and take it to a higher level. It's great for all ages. And there are stories behind the dances.
Revue: What can audiences expect from this show? It's not just a live version of Dancing with the Stars, is it? There really is a story behind the dance …
TW: Yes, and the story takes you through the different eras of ballroom dancing. You see the Fred and Ginger days and then the ballroom dancing of the 1950s. You'll see the swing and the jitterbug … there's an energy and a chemistry between the cast that I think is unparalleled in any show I've ever seen. There's a raw enthusiasm and passion the audience will feel. I think audiences walk away super-charged by what they have seen and also exhausted.
Revue: Do you play a character?
TW: We each play a character, but we are also ourselves. We put our own flair on whatever we do. When you see Gordana and me, you're seeing our characters but seeing some of us, too.
Revue: Anything else readers should know?
TW: This show is like a rollercoaster. There are lots of scene changes and lots of costume changes. It's an energetic two hours. It's really a helluva show.