Bursting With Pride
How Charlotte created the third-largest LGBTQ pride event in the South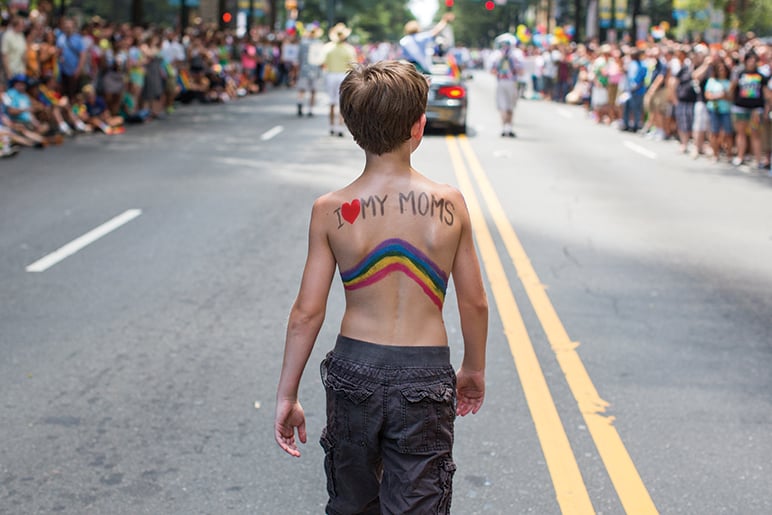 ONE SUNDAY MORNING in 2005, Jim Yarbrough got a call from a local television station, asking for his comment on the cancellation of the next year's Charlotte Pride festival.
The publisher of QNotes, the lesbian, gay, bisexual, and transgender newspaper based in Charlotte, was stunned. "You'll never stop Pride from happening in Charlotte," Yarbrough remembers saying.
At the time, the four-year-old festival was struggling because of a lack of funding and the growing threat from antigay protesters, who were intimidating people who attended the event.
"A lot of participants came away feeling like they were under attack, like they were being harassed," says Matt Comer, editor of QNotes and another early participant in the Charlotte Pride festival.
Yarbrough and his colleagues were determined to save the event. They created a new festival, Pride Charlotte. In 2006, they moved it from Marshall Park, which could count on only a few thousand attendees, to Gateway Village, near Johnson and Wales University on West Trade Street. The annual festival remained there until 2010, when it moved to the NC Music Factory for a year. Organizers believed they could cut down on the still-overwhelming number of antigay protesters by holding the event on private property.
But public opinion about gay rights was beginning to shift. Mecklenburg County voted against Amendment One, the 2012 measure that made same-sex marriage unconstitutional in North Carolina.
In 2011, Pride relocated once more, to South Tryon Street in uptown. Attendance increased. The next year, the Democratic National Convention came to town, and the festival expanded from one day to two. Last year, organizers estimated more than 100,000 people attended the event, including more than 10,000 who traveled from out of town.
The gathering has become the third-largest pride event in the South, behind Atlanta and St. Petersburg, Florida, and brings millions of dollars to the city. The Charlotte Regional Visitors Authority placed the economic impact of the 2014 festival at a hefty $7.75 million.
And while some protesters still show up, their ranks have dwindled. "There used to be hundreds of protesters. Now you're lucky to see a dozen," Comer says.
Organizers don't have to worry about finding sponsors either. "Now, with the number of attendees, the amount of media coverage, we have multiple presenting sponsors," says Jonathan Hill, Charlotte Pride's former entertainment chairman.
Companies such as Bank of America and Wells Fargo line up each year to sponsor the event. This spring, Wells Fargo also aired a national advertisement featuring a lesbian couple. The ad prompted calls from Charlotte evangelist Franklin Graham to boycott the bank and other gay-friendly businesses that he says "promote sin."
But people who share Graham's views are no longer loud or powerful enough to threaten the success of the city's Pride event. "When I started with the festival, we were lucky to have 5,000 people come out," Hill says. "The fact that we're one of the largest festivals in Charlotte now is pretty mind-blowing."
---
A Timeline of Charlotte Pride
This year's Charlotte Pride festival will be held August 15 and 16 on South Tryon Street uptown. Here's a brief history of the event.
2000: Charlotte Pride incorporates as a nonprofit organization.
2001: The first Charlotte Pride event is held in Marshall Park.
2005: Facing financial challenges and increased harassment from antigay protesters, Charlotte Pride organizers announce the 2006 festival will not be held. Community members decide to establish a new event, Pride Charlotte, in partnership with the LGBT Community Center of Charlotte.
2006: The first Pride Charlotte festival takes place at Gateway Village.
2010: The event moves to the NC Music Factory, with an estimated attendance of 12,000.
2011: Once again the festival relocates, this time to South Tryon Street. Estimated attendance tops 25,000.
2012: Pride Charlotte expands from a one-day festival to two days one week before the 2012 Democratic National Convention. The estimated number of visitors increases to 45,000.
2013: Organizers of Pride Charlotte separate from the LGBT Community Center of Charlotte to spin off the festival into an independent organization, reestablishing the original Charlotte Pride. Charlotte holds its first LGBTQ Pride parade in nearly 20 years. (One parade was held in 1994, when the statewide NC Pride Fest and March visited Charlotte.) Estimated attendance rises to 80,000.
2014: Charlotte Pride holds a second parade, along with its two-day festival. Attendance at the festival tops 100,000.