Business Leader (Sponsored): ComforCare
Serving Charlotte since 2005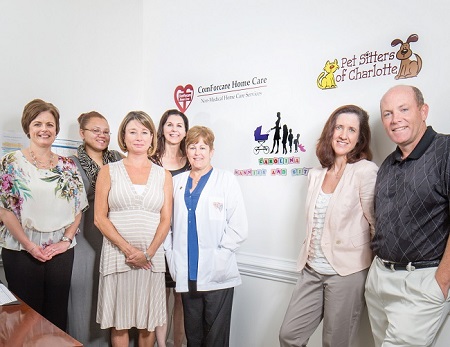 How has your business evolved over the years? We've evolved into the business of caring. We are caregivers who are here to help in many aspects. It could be Mom and Dad who need assistance. It could be a spouse who needs assistance. It could be a child. It could be a pet. We care, and we have the ability to be there when they need help.
You have three caregiving companies. How did that come about? ComForcare, our home care agency, has been around for years. We're one of the largest companies specializing in in-home care (non-medical) in the U.S. Pet Sitters of Charlotte grew out of that. We kept seeing the same thing happen: Our clients got better physically, but they weren't ready to walk the dog yet. They would ask, "Can you just continue to care for the pet?" I'd like to say it was some genius idea I had. But it came from the requests of our clients.
Carolina Nannies and Sitters came about in similar fashion. There is a tremendous need for qualified nannies and babysitters here because of all the young families moving into the area.
What's the biggest change you've seen? Oftentimes we get calls from people who went to visit their family member at the hospital, and the hospital says they are being discharged today—and the family didn't even know it. The family was not prepared. We can staff 94 percent of cases within an hour and fifteen minutes if necessary. We see that similar need with both Pet Sitters of Charlotte and Carolina Nannies and Sitters as well.
What's distinctive about the Charlotte market? Thirty years ago, the nucleus of the family lived in the same vicinity, even the same house. That's often not the case anymore. A lot of young families who move here don't have the luxury of a mother or father nearby to assist as caregivers. Or the mother and father moved here and need care, and their kids aren't here to help. That's where we come in. We are here to help the young, seniors, their cherished and loved pets, and everything in between. We are in the business of caring, and I would like to think we are the best at what we do!
Carolina Nannies and Sitters
NC: 704-817-7968
SC: 803-431-7447
Hours:
8 am to 5 pm (24/7 On-Call)
email: phil@carolinananniesandsitters.com
www.carolinananniesandsitters.com
Pet Sitters of Charlotte
NC: 704-543-0588
SC: 803-431-7447
Hours:
8 am to 5 pm (24/7 On-Call)
email: info@petsittersofcharlotte.com
www.petsittersofcharlotte.com
ComForcare Home Care
NC: 704-543-0630 or 0643
SC: 803-431-7447
Hours:
8 am to 5 pm (24/7 On-Call)
email: phil@comforcare.com
www.homecarecharlottenc.com