Business Leader (Sponsored): Markham
Serving Charlotte since 1996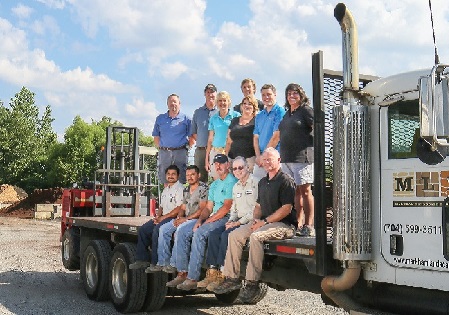 What's distinctive about your company? We started Markham Landscape Products almost 17 years ago with just the two of us but our employees have helped propel us to the next level. I truly
believe our customer service is second to none in the Charlotte area. We provide personalized service to all customers who walk through the door, whether they are among the largest landscape contractors in town or weekend warrior homeowners. Our employees are knowledgeable about our product lines, but if we don't know the answer, we will find it. We give back to the community, too, through contributions to Habitat for Humanity, Crisis Assistance Ministry, numerous schools and dozens of
Eagle Scout projects, to name a few.
What about creating jobs makes you proud? Helping to create jobs provides us with a great deal of satisfaction. We've gotten to know many of our employees like family. Several have been with us for over 10 years. We've been together through life's ups and downs, and we've been there for each other.
How does that employee stability benefit your customers? Our stable employee base helps our customers in many ways. We have a long history with many contractors. In many cases, we've helped them weather the economic storms of the past several years. We know their preferences, whether it's stone, block, mulch, deliveries, etc. We also provide referrals to homeowners who are looking for a reliable contractor. That helps homeowners feel good about their project and helps our regular contractors grow their businesses.
What's been the biggest change in your business? We've made many changes in the past several years. Our inventory has increased significantly, we opened a second store in Denver, NC about eight years ago, and we added an outside salesperson approximately a year ago. He is available to consult on-site for commercial jobs and larger residential projects. We continue to evolve as a company to provide superior products and services to the Charlotte community.