Butter Up
With its celebrity partiers and over-the-top interior, the NC Music Factory's newest addition is different from anything charlotte has seen before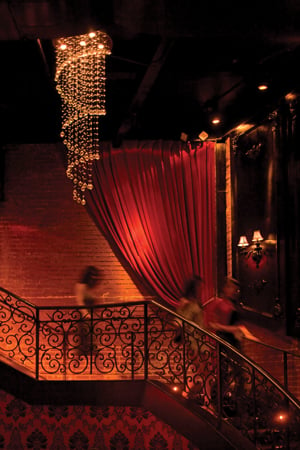 Just because you show up to Butter NC doesn't mean you're getting in — unless, of course, you happen to be a celebrity or VIP. At the NC Music Factory's new nightclub, waiting in line means you might catch a glimpse of local celebrities hopping out of black SUVs and fist bumping the doorman on their way in. Wait a little longer and you may see nationally known names slipping inside (Nicky Hilton and Fergie were there for its opening weekend). The problem is, at this exclusive club you may be waiting on the other side of the velvet rope for a while.
"People like to see celebrities," says co-owner Scott Sartiano, a North Carolina native who lives in New York. "We don't direct our business around that, but we believe like Field of Dreams, if you build it they will come … we also have a lot of celebrity friends who just like to hang out with us, who'll come down."
Sartiano and co-owner Richie Akiva, who also helm the Butter and 1Oak restaurant/clubs in New York, got creative with Butter NC's interior. The first-floor lounge, with its velvet wall covers and reserved seating, is similar to other recently opened Charlotte lounges like Luna or Kazba, but where those places end Butter is just beginning. An elaborate staircase leads to a bot- tom level with exposed brick walls, stunning oversize chandeliers, candlelit VIP tables, and a large dance floor. Servers in short black dresses dance from behind the bar to tables, holding sparklers in their hands, as they deliver bottle service. A DJ (likely brought in from New York or Miami) spins a hot blend of hip-hop, pop, and a little house. "For any new place that comes from this point forward, they're going to look at Butter as the standard," says NASCAR driver Denny Hamlin, an investor in the club. "It's going to force some people to really step up." NC Music Factory is trying to draw large crowds comparable to uptown's competing entertainment complex, EpiCentre, which is home to about twenty restaurants, bars, and nightclubs, including the Dale Earnhardt Jr.-owned Whisky River.
"Every week has been getting busier, and we're drawing the who's who in Charlotte," says Sartiano. "What's more important is that they keep coming back." Butter NC, 950 Seaboard St., 704-295-1565
Celebrities like Nicky Hilton (far left) and The Black-Eyed Peas came for Butter's opening weekend.

Courtesy of Butter NC