By the Numbers: Team Rose Bread in Old Foxcroft
From carport to challah, this pandemic-pivot business has baked its own twist on the family enterprise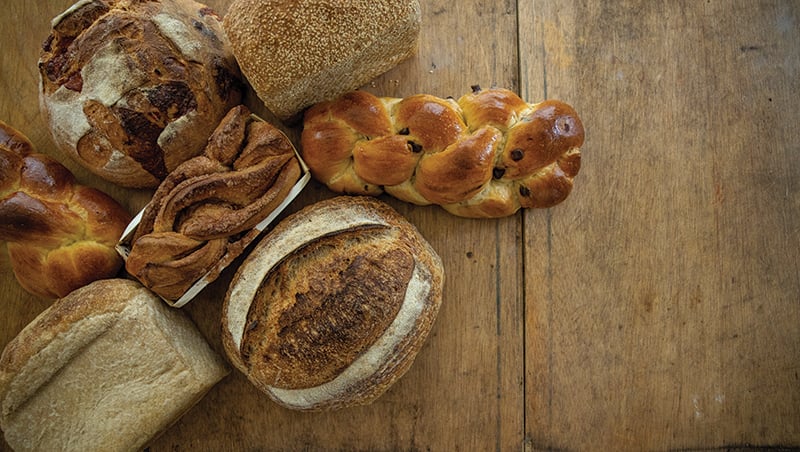 At Team Rose Bread, it takes a family to make a bagel. It isn't your typical bakeshop. Doug and Kaitlin Rose launched the business two years ago in the former carport of their midcentury modern home in Old Foxcroft off Sharon Lane. Today, it's enclosed, inspected, and licensed, and it emits the best aroma of baked bread since humans started grinding wheat.
The Roses are parents to four children: daughters Noa, 12, and Samantha, 8; and sons Benzion, 10, and Robby, 6. They home-school all four kids as they run their bakeshop. How?
I spent two days with the Roses to try to figure out the highly organized chaos of a family that bakes together. "It's a team effort," Doug says. "Nobody gets left on the bench. It's part of being in this family." I decided that the flurry might be explored most coherently through math.
---
9: The animal population. Eight chickens and one rabbit share the Roses' park-sized backyard, along with four bikes, four scooters, two hula hoops, three tree swings, a trampoline, a lacrosse goal, a basketball hoop, a vegetable garden, a crab apple tree, and a pecan tree. No cats or dogs, though: The Health Department doesn't allow house pets in homes that double as bakeshops.
2: The number of bungee cords they wrap around their two deck ovens. Each oven has three shelves that can hold 48 cinnamon buns, 12 loaf pans, or 24 bagels, and the cords keep the doors tight enough to hold in steam from water Doug sprays inside from a hand-pump sprayer. Home wiring prevents them from using commercial baking equipment, so they've acquired the biggest appliances they could find, like an Italian-made dough mixer. Doug watches it constantly, aiming a temperature gun at it to track the dough's progress.
0: The amount of time Doug spent dreaming about being a baker before he became one. He and Kaitlin owned a leather goods company until the pandemic gutted luggage sales. They searched for a new line of work that would support their family and allow them to stay home with the kids, and they turned their hobby of making bread and pizza dough into a business.
20 : Kinds of flours. Many come from Anson Mills in South Carolina and include Abruzzi rye, Sonora flour, and spelt. Because Team Rose uses all organic flours, wild yeast, and slow fermentations, it's picked up a following of gluten-sensitive customers.
3 : Ways to get your bread. If you live within 3 miles, Team Rose delivers for an additional $3.50. Otherwise, catch them at the Matthews farmers market, or pick it up at the bakeshop. Sometimes Kaitlin and the kids use walkie-talkies to grab pickup orders and hustle them out to customers. Be nice: They live in a neighborhood, and they can have only two cars outside at a time.
6: The number of days the Rose family works each week. Their typical schedule includes three baking days, two delivery days, and one Saturday morning at the Matthews Community Farmers Market. They keep Sundays free for the family before it all
starts again.
110: The pounds of dough it takes to make 53 country loaves, a typical one-day output.
UNKNOWN: The varieties of bagels, bread, and doughnuts Team Rose makes. The list is in constant, rapid flux; you could call it the Team Rose Bread Uncertainty Principle. Some items are regulars, like bagels, sourdoughs, Pullman loaves, and Friday challah (plain and chocolate chip). Others are in development, like Doug's blueberry bagels and a bagel riff on Japanese milk bread. He's also trying to perfect a New York/Charlotte/Tokyo bagel.