Cajun Contradiction: A Visit to Wu's Cajun Seafood
Troy Gagliardo's adventurous concept wins over taste buds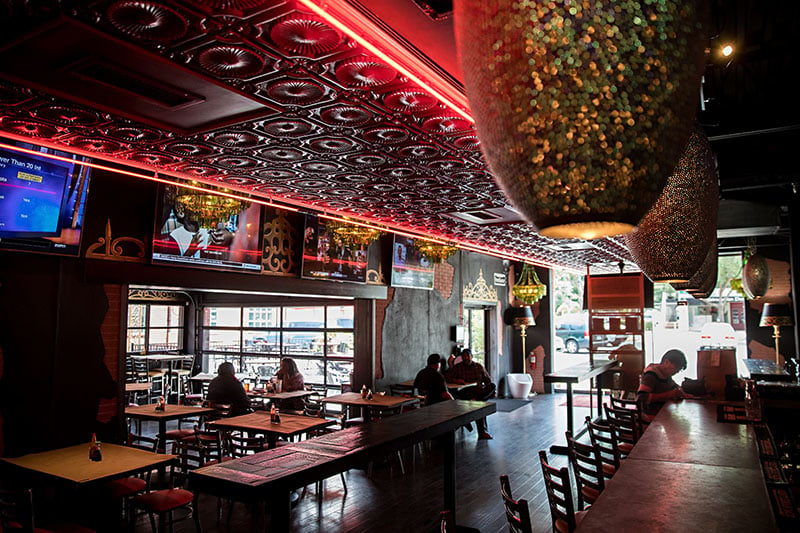 WHEN I WALK into Wu's Cajun Seafood on South Boulevard, I have a lot of questions.
Red, Asian-inspired, gaudy tiles line the ceiling from the entrance to the back booth, with silver chandeliers and gold mural archways. But the menu emphasizes the restaurant's Louisiana-style boils, from crawfish to shrimp to snow crab.
Wu's, part of Bottle Cap Group—the restaurant team behind Whiskey Warehouse and Brazwells, among others—is one big contradiction, and admittedly confusing. It's as if I'm in a Chinese palace that was haphazardly dropped in Louisiana. Yet on the plate, it works.
Gumbo and ramen, Chef Troy Gagliardo explains to me, is the inspiration for the much of the menu's harmonious blend of Cajun, Asian, and seafood cuisines.
I'm stubborn, though. A hearty stew steeped in creole seasoning and stock just doesn't sound like it should mesh with ramen's slender noodles swimming in a thin broth. Yet Gagliardo marries the two in a dish with risky texture that's almost curry-like, and bold flavors, from his own spice blends.
As executive chef, Gagliardo based Wu's menu on this unlikely combination, developing the concept for Asian-inspired-Cajun seafood into 33 stand-alone dishes, plus the boils. Chef de Cuisine Paul Warren has translated Gagliardo's cooking style to the plate since Wu's opened in June on South Boulevard, in the space where Nan and Byron's once was, and where Vinnie's Sardine Grill & Raw Bar stood before that.
Gagliardo recommends picking a few dishes from the Nibbles menu, especially if you like sharing. I unwrap my fork and knife, and begin slicing off slivers of the Korean-style beef short ribs. The meat slides off the bone. It's juicy but not dripping, lightly coated in a sweet and tangy galbi marinade, sprinkled with sesame seeds, a few leaves of cilantro, and Fresno chili peppers.
A couple of bites in, I'm still dabbing my face with a napkin meticulously, and delicately slicing into the tender beef. Then I try the barbecue shrimp, buttery and sitting in a thin pool of Worcestershire sauce and beer, and I throw politeness out the window. Elbows on the table, I peel the shrimp and devour them, licking my fingers after each one.
Gagliardo says with a laugh, "We want people to eat with their hands."
Gagliardo wanted be a professional baseball player. But after a short stint in a semipro league led to a hurt shoulder, he was forced to reevaluate. "After baseball, I was lost," he says. "One day it hit me: Food has been there my whole life."
Growing up, Gagliardo remembers his Grandmother Rose draping handmade pasta noodles around the house, fresh sheets of lasagna hanging off a lamp shade or the family's organ. He recalls the smell of fresh biscuits steaming from his Grandmother Pearl's oven. One Italian and one Southern, neither grandmother wrote any recipes down, but both taught Gagliardo about what makes food taste good: soul.
He began scribbling down recipe ideas in his spare time. Without any formal training, Gagliardo used his food journal as inspiration for his first restaurant, Gagliardo's Grill in Moorseville, and later to create hundreds of other recipes for his cookbook, Pseudo Southern, and his Tuesday morning cooking show, Troy's Everyday Eats, on WCCB since 2007.
He's also in the bacon business as the co-owner of Uncle Hamp's Carolina Bacon, and runs his own spice company, Motown Spice Provisions—selling custom blends to local restaurants, including Bottle Cap Group—with his wife, Tracy.
Gagliardo pauses for a minute, rubs his eyes, and apologizes: "Sorry, I'm just really tired." Downtime is elusive for him these days. Between his business ventures and spending time with his wife, daughters Ally and Isabella, and his lab/German shepherd mix, Wrigley F., he's busy.
One of the line cooks at Wu's walks past our table on his way home, and Gagliardo perks up. "Good work today," Gagliardo hollers as the cook walks out the door.
He doesn't mind being busy when it comes to food. Gagliardo wants to create dishes that can transform their surroundings and leave diners with flavor memories they can relive later, and that takes time. "You know how a song can suck you back to a moment in time?" he asks me. "Food does that for me."
Rolling a ramen noodle by hand brings back memories of Grandma Rose, and the hours Gagliardo spends cooking every day reflect Grandma Pearl, who refused to slow down in the kitchen, even after suffering a stroke. Gagliardo remembers her making buttermilk biscuits with one hand after the stroke.
For me, a bite of gumbo ramen sends my taste buds to war. My fork goes for a bite of crawfish, slashing open a kimchi soft-boiled egg, yolk pouring into andouille sausage. But somehow, the scuffle always ends peacefully, and I dig in for more.
From a baseball career cut short to becoming a force in Charlotte's food sphere, Gagliardo fought. Those hours spent imagining dishes and running around handling his many ventures—a battle for success—is served on each platter at Wu's. And here, Gagliardo's winning.
Emma Way is a regular contributor to this magazine. You can reach her on Twitter at @emmaway5.