Calendar Girl
May '13 bridal events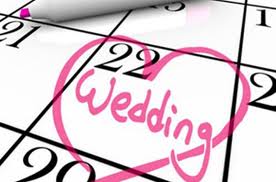 With bridal season just beginning, it comes as no surprise that scads of showcase and trunk show invitations are flooding my inbox. So for all of my busy brides to-be, I have organized all the "I do" happenings in the Queen City for the coming months so you can be sure to pencil them into your agendas. Next month is packed with prime opportunities for gown shopping, vendor mingling and festive extras to keep your wedding spirits high.
1. Modern Trousseau Trunk Show: May 2-4
Check out the latest nonpareil lace confections from Callie Tein. Hayden Olivia (704) 333-0377 for appointments
2. Blush by JLM Trunk Show: May 2-4
Be sure to check out the effortlessly elegant Blush by JLM collection while you're at it. Hayden Olivia (704) 333-0377 for appointments.
3. Ramona Keveza Trunk Show: May 3-4
From Gatsby glamour to of-the-moment color, the Spring '14 line runs the era gamut. Nitsa's (704) 553-2486 for appointments
4. Secret Garen Bridal Fair at Oak Farm Ridge: May 5 (1-5pm)
Stroll the scenic gardens and chat with vendors before sitting down to a fashion-filled runway show. Click here for tickets.
5. Crate & Barrel The Wedding Parties: May 5 (9-11am)
Get registry tips and questions answered while sipping mimosas and sampling capapés. Click here to RSVP.
6. Bride's Head Revisited Trunk Show: May 6-18
Snag an enchanting veil from this hand-sewn selection of ornate options. J. Major's (704) 372-0082 for appointments
7. Girls Night Out: Studio Movie Grill: May 8 (7pm)
Hosted by Charlotte Today's Dayvee Sutton, brides to-be and their best girls can spend a relaxing evening drinking pre-film cocktails at the EpiCentre Studio Movie Grill before settling in to watch classic chick flick Runaway Bride. Did I mention it's only $1? Click here for tickets.
8. Watters & Watters Platinum Trunk Show: May 10-11
With an extensive selection of bridal lines as well as bridesmaid frocks, be sure to bring your ladies-in-waiting as well. J. Major's (704) 372-0082 for appointments.
9. Allure Bridals Trunkshow: May 31-June 1
Browse the various collections of showstopper gowns boasting impeccable bustiers and Swarovski crystal beadwork. Classic Bride & Formals (704) 896-3655 for appointments.