California Casual
Napa on Providence brings wine country to Charlotte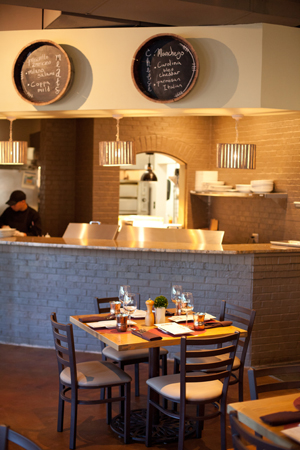 The closing of Providence Café last July after more than 20 years in business left plenty of disappointed regulars in its wake. But the institution's primo Myers Park location didn't sit empty for long. It took just four months for a new concept—Napa on Providence—to make over the space and throw open its doors in November.
The restaurant is owned by Ruth's Chris franchisees Jeff and Paula Conway, and draws inspiration from the cuisine—and mind-set—of Napa Valley wine country. "It is a fusion of Italian and French techniques with a little bit of Asian flair," says general manager Joe Lazar. Although the layout will be familiar to Providence Café fans, the look, designed by Mimi Sabates, is a distinct departure. With its large booths, expansive bar, and wood accents, all in soothing earth tones, walking into Napa on Providence feels a lot like stepping into the pages of a Pottery Barn catalogue.
The menu offers small plates from charcuterie and seafood to salads and flatbread pizza, plus daily blackboard specials and entrées. Don't miss the miso-glazed pork belly ($8), which is beautifully presented on a bed of tender, spicy ginger slaw, a prime example of California cuisine's European-meets-Asian signature. Other standouts include the corvina, a flaky, buttery white fish topped with sautéed shrimp and house-made sausage ($24), and the house-made porchetta (pork belly wrapped around a pork loin), which is served in a sandwich during lunch and in sliders in the evening (both dishes are $9). The menu is still evolving, Lazar says, and plans include adding a broader selection of pasta, seafood, pizza, and sandwiches, along with more locally sourced ingredients.
Not surprisingly, wine is also a primary focus, and Napa's California-only wine list boasts 12 keg wines on tap (served by the glass or carafe), along with selections offered by the glass and bottle. Vodka, rum, bourbon, and gin are infused in-house with herbs, seasonings, and fruits, and make their way to a creative list of cocktails. One example: the refreshing Conundrum ($12), orange-, mint-, and ginger-infused Bombay Sapphire mixed with a splash of ginger soda and garnished with a thin slice of cucumber.
Informal touches, like water served in copper goblets, suggest a more casual atmosphere, while attentive servers and a hushed vibe make for an experience that feels like fine dining.