Cam Newton Continues to Smile at Critics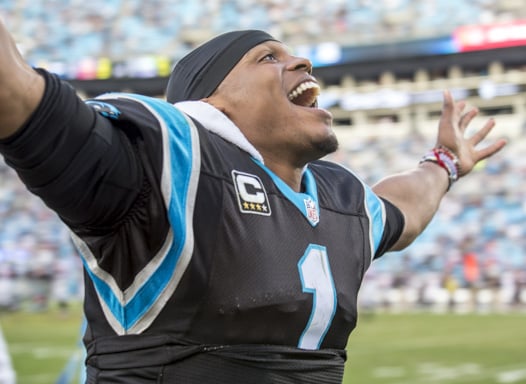 Sometimes it's hard to keep track of what Cam Newton does wrong.
Early in his career, the Carolina Panthers quarterback was too mopey. Now, he's too happy. Maybe, he's just human, and like all of us, his mood changes depending on what's happening in his life or job.
Right now, things are going pretty good at work for Newton.
"We're not celebrating because we turned the ball over. When we do things that are so hard to get, it deserves a celebration from time to time," Newton said Wednesday when asked about critics of the Panthers' latest in-game celebrations.
"I don't believe we play this game to be subpar or mediocre. And this season has not been mediocre by any means. We don't mean to brush people to wrong way. We're just excited to do what we do."
As the 13-0 Panthers continue to tack on wins, it's getting harder to make a case for an MVP other than Newton. Earlier in the year, you could have argued against his stats. Now even that's tough.
Over his past seven games, Newton has thrown 19 touchdowns with just three interceptions while adding three scores on the ground. And in what may be an even bigger surprise than their perfect record, the Panthers lead the league in scoring. That's largely because they're getting touchdowns in the red zone, where Newton has tossed 20 touchdowns and no interceptions.
He's also been nearly flawless in the fourth quarter. The guy who many claimed wasn't clutch currently has the NFL's best fourth-quarter passer rating of 115.0. So forgive him if he's enjoying himself after helping put away an opponent.
"Talk all you want. I hope we keep celebrating," Newton said. "People don't celebrate because something bad is happening. We're celebrating because there is greatness in the air and people are making the most of each and every opportunity they get."
So don't expect Newton to change, no matter how much criticism comes in. He's going to rub people the wrong way whether he's winning or losing. For now, at least, it's the one that's easier to ignore.
"If I was doing a lot of things that I'm doing right now when we weren't winning, I'd get ate up and spit back out. Especially with this dancing that some people approve of and some people don't," Newton said. "I'm human. I understand that winning sweeps a lot of things under the rug. But my influence still hasn't changed. I was doing this when we were 3-8-1.
"There's a lot that comes with being a quarterback in this league, and it's not for long. So while I have an opportunity to do a lot of things, I'm going to do it to the best of my ability."