Cam Newton Didn't Change After His Accident. Everything Else Did.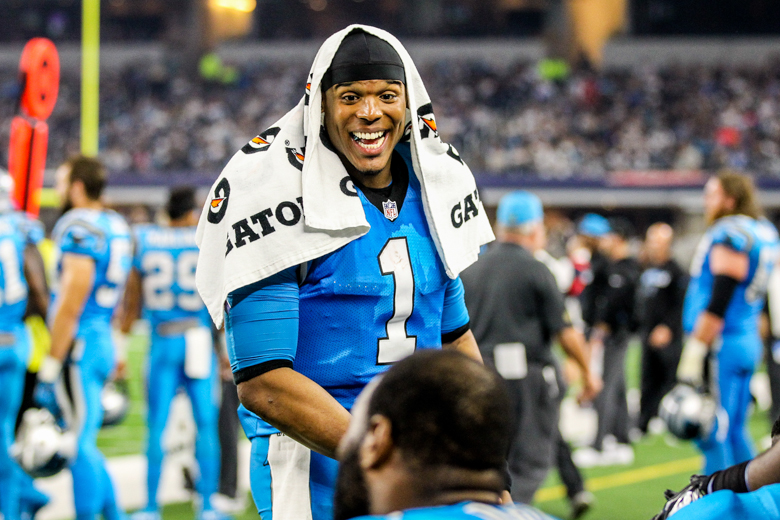 One of the laziest things we do while watching and covering sports these days is to take stories and make them black and white. A team is either awesome or awful. A player is either a good guy or a bad dude. We leave no room for subtleties or open-minded discussions.
On the one-year anniversary of Cam Newton's car accident in the shadow of Bank of America Stadium, a national media outlet spent Wednesday digging into the obvious narrative: The Carolina Panthers' quarterback was once the immature, mopey guy who didn't win. Now he's the favorite to win the NFL's MVP award after leading the Panthers to a 12-0 start. Boy, he's matured since crawling out of his pickup truck 365 days ago.
Or, that's how the story's supposed to go. That's where we are now, in sports writing, and all kinds of reporting: We show up for a minute, get a few quotes that support our story, and go with it. Perhaps we should listen more to people who share a locker room. In this case, someone like Panthers' defensive end Jared Allen.
"I would credit his hard work versus a car accident for his success," Allen said Wednesday.
I've been covering Newton since he came to the Carolinas, and the truth is, he had already grown into a leadership role well before his truck rolled.
"I haven't changed," he said Wednesday. "The people in that locker room know I haven't changed. The people upstairs know I haven't changed. As a matter of fact, they haven't changed, either. It's just guys growing up and seeing more football and understanding what to do in different circumstances. That's just overall growth."
Think, for a second, about your first job. Did you know how to do everything as soon as you started? Were you a perfect fit with co-workers on the first day? Or were there some things you learned as you gained experience, both at work and in real life?
You could make a good argument that when Newton took his first snap with the Panthers in 2011, he was already the most important athlete in Charlotte history. He was also just 22.
As people outside of Charlotte search for theories about Newton's improved play, they often miss the three biggest reasons: 1) He's healthier than he's ever been as a pro. 2) This is just a natural progression for someone who excels at his job. 3) The Panthers have a good team around him.
"This is the same person that people critiqued and analyzed when I first came into this league and used to sulk under the towel," Newton said. "It's the same person. Nothing's pretty much changed; it's just we're winning.
"If I were doing some of the things that I'm doing now and we were losing, people would find something to point and say, 'Cam's not doing this, and this particular quarterback's doing that.'"
Newton still faces criticism while winning, of course. Whether he's dancing or smiling, someone somewhere is upset. We've all seen the letter from the mother in Tennessee. We've all seen someone on social media call him a thug when he dabs. We all know what many of those comments mean, underneath the words. We all know that these reactions are, let's say interesting, when you compare them with the perception of other quarterbacks. Future Hall of Famer Brett Favre, for instance, did many of the same things, and people loved him for the way he smiled and sprinted up and down the field. They called him a fun-loving quarterback.
Allen, the defensive end, has played with both.
"[Newton's] a big goofball, but that's I think part of what makes him so good. His personality reminds me a lot of getting to know Brett a little bit," says Allen, who teamed with Favre for two seasons in Minnesota. "Brett carried himself in a certain way and always had fun doing it, and that was contagious. Cam's laughing and joking around is contagious."
To be fair, coach Ron Rivera believes Newton gained some perspective after his accident, and the quarterback has admitted to viewing parts of life in a different way. It's why he often still wears his hospital bracelet from that day and why he's ordered a replica bracelet engraved with the words "never forget your journey."
"Just a simple I love you, just a simple appreciation to the next person, that goes a long way," Newton says. "We never know the day, we never know the hour, we never know the minute that's going to be our last hurrah. So while you have the opportunity to do something, please do it."
It may sound like the same "live every moment to the fullest" stuff you hear whenever anyone's been through a traumatic experience. But here's the thing about those sayings—people rarely follow through on them. They let the next thing hurt them. They forget.
Not Newton. He's still saying it, a year later. So maybe this isn't some epiphany after all. Maybe he's been like this all along. Even in the Panthers' darker days, he was constantly caught on camera smiling at defenders.
And consider this, about that smile: A year ago Wednesday, what was the one signal he gave to everyone—his family, his teammates, his fans, this city—to let them know he was fine as he was sprawled out on the concrete of the Church Street overpass?
Rivera saw it.
"Initially it was scary," Rivera recalls. "But when I saw him laying on the ground and they had the shot of him smiling, you knew he was going to be OK.
"That's just who he is. He didn't lose anything concerning his personality. He was sitting there letting the paramedics tend to him, and you just saw those pearly whites."
Same old Cam.