Cam Newton: How Much Happiness Can $104 Million Buy?
Cam Newton signed a huge contract extension this summer. But when we asked him to share a few of his favorite things, most of them didn't cost a cent—well, aside from the shoes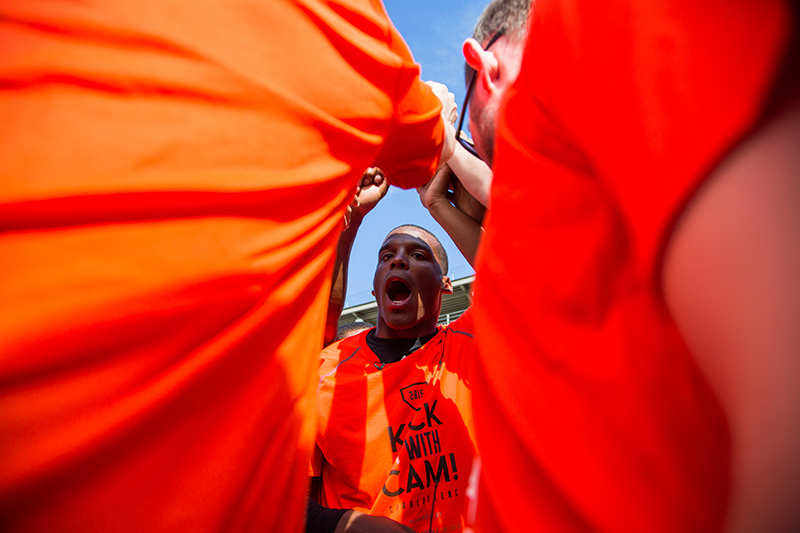 Cereal
IF CAM NEWTON thinks he's better than you at one thing, it's certainly cereal-eating.
It's late June and the Carolina Panthers quarterback is sitting in the press box at a high school football field in southwest Charlotte. On the turf below, players from two dozen high schools have come to town to participate in one of the 7-on-7 football tournaments Newton's foundation hosts each summer. By 10:30 in the morning, the field temperature is approaching 100 degrees. Players and coaches sit in the shade and drink bottles of Gatorade, one of Newton's sponsors. They're wearing brightly colored compression jerseys supplied by Under Armour, the sporting goods brand that offered Newton the largest endorsement deal ever for an NFL rookie back in 2011.
A few weeks before this event, Newton became one of the highest-paid players in NFL history. After he signed the contract—worth $103.8 million over five years, with $60 million guaranteed—he celebrated with a bowl of Lucky Charms, much to the Internet's delight. So as we banter in the press box, I jokingly ask what kinds of cereal are in his pantry at this moment.
"Lucky Charms. Cinnamon Toast Crunch. Snaps. Frosted Flakes. Pops. Apple Jacks." At the end of this list he sighs as if overwhelmed by the excitement of so many good things. "I'm a cereal connoisseur. There's nothing somebody can tell me about cereal that I haven't indulged in myself."
Newton enjoys cereal on ordinary occasions, too, like when he can't sleep. Or when he wants to relax. or when he's hungry for a snack, which, as a 6-foot-5, 245-pound athlete, happens frequently. "I invest so much in cereal," he says in the way other people might talk about the stock market. "But it's happiness for me. Of course, you gotta have the extras—like the extra marshmallows; chocolate milk for the Cocoa Puffs to make it extra chocolaty."
While he talks, Newton's eyes dart across the field, reading the defense even from up here, away from the action. He's wearing a white Under Armour T-shirt with "WORK. TRAIN. WIN." printed in Army green letters across the front. On his left wrist is a stack of five bracelets. The fourth is a black and yellow wristband from the hospital stay after his car accident last December. It says "FALL RISK." Newton says it's a reminder to enjoy life, to be grateful for the things and people who make him happy.
For all the money and attention he has, Newton is still, in many ways, just a 26-year-old, single man living uptown in the second-fastest growing city in America. He loves sugary cereal. He stays up late playing video games. He makes regular runs to the hot dog vendor who sets up outside his condo building for a bite to eat.
"The hard part is being able to explain to people how normal I am," he says. "If you walk up and slap me in the face, it's going to hurt me just the same as it would anyone."
But that's not how we think about professional athletes, especially franchise quarterbacks. We treat them as commodities. When they roll their trucks over on an overpass after a car crash, we wonder if it will hurt our playoff chances. We think about how they ought to make us happy, and not the other way around.
***
Kickball
MOST OF the Panthers' big names are here for the kickball game, including linebacker Luke Kuechly, center Ryan Kalil, and running back Jonathan Stewart. Former Vikings receiver Randy Moss, who lives in Charlotte and is close friends with Newton, paces in a tight circle. Singer Chris Daughtry trots toward a Gatorade cooler in the visitors' dugout as one of his songs blasts through the stadium's speakers.
It's just days after Newton's contract deal was announced, but it's also his charity foundation's fund-raising weekend, which includes this celebrity kickball tournament on the field of BB&T Ballpark on Friday and a gala on Saturday. The games begin on a typical June afternoon in North Carolina; the heat and humidity are punishing. Most of the celebrities and their families take refuge in an air-conditioned suite behind home plate. The foundation allowed about 2,500 fans to watch the action for free, and the crowd goes nuts when Newton finally trots out of the suite and onto the field. He's wearing an orange T-shirt with a black number 1 on the back and the words "Ace Boogie" across his shoulders where his last name would go.
Newton walks down the first base line, where fans press against each another to get close enough to extend arms, hats, jerseys, anything that he could autograph. People— many of them adults—shriek, "Caaaaaammmmm!" as he gets closer. A Charlotte-Mecklenburg Police officer trails him by six or seven paces.
His face registers little emotion as he works his way down the line, signing "Cam Newton #1" over and over and over. He signs for kids and teenagers and parents, but he doesn't sign for adults who are there with stacks of gear, figuring they're just there to sell the autographed merchandise on eBay. Newton knows this is part of the job, but if not for the special moments with youngsters, he wouldn't enjoy it. "It's when people say I ought to do something, or that I'm obligated to sign something, when we have a problem," he tells me later. In that sense, the franchise quarterback, the one athlete who carries the burden of a team's—and a city's—wildest sports dreams, has plenty of problems.
One boy, blond and about seven, yells out, "Cam, you're a boss!" Newton cracks a smile, signs the kid's blue jersey and white hat, and hands him the black permanent marker. The exchange takes 15 or 20 seconds, but after Newton moves on to the next person, the boy stands frozen, mouth gaping, the Sharpie clutched in his right hand.
Parents practically dangle their young children over the field to get Newton's attention. Someone shouts, "Hey, Cam, can I just get a fist bump, man?" and a hand pops through the crowd for Newton to tap.
Playing kickball was his idea, Newton tells me later, because it brings back great childhood memories. "Any time I was in gym class and you would see that kickball come out, you knew it was gonna be a good day," he says. Also, there are already plenty of charity golf tournaments, and he doesn't enjoy golf, anyway.
Newton runs into the stands along the third base line, where one of the corporate teams is waiting to take the field. these folks would usually be sitting in cubicles right now, fighting the Friday afternoon slump, so they're excited when they see Newton coming their way. He claps his hands hard as he bounds up the steps.
"The intensity is not here," he tells them. "I need to see more intensity, folks." Then, he climbs into the rows of seats, right in the middle of everyone, and tells them to lean in close. The quarterback is huddling with his kickball team.
With games on three fields, the scene is a little chaotic, red rubber balls flying through the air. The crowd's attention ebbs, but the fans re-engage when Newton's team, wearing orange T-shirts, takes the field.
Newton's team is kicking first, and he gives another pep talk. "I need everybody focused. I need everybody focused. You put the steel in your toe and let it go, OK?" He taunts the other team's pitcher with playground chants. "We want a pitcher, not a belly itcher!" The crowd loves it.
In the middle of the inning, when Newton's team takes the field to play defense, he takes the mound as the pitcher. He tosses the ball toward the plate, then backpedals furiously to chase the pop fly, which he catches with a dramatic leap.
A 20-something woman steps up to kick. She's been trash-talking Newton since the beginning of the game, and it's obvious she takes her kickball as seriously as he does. Newton's first pitch is a little outside, and the woman kicks it foul. Her teammates yell instructions to bunt.
"Bunt it and I'm gonna take your head off," Newton says with a smile. She smiles back and promptly bunts, barely tapping the ball toward the pitcher's mound. Newton scrambles for the ball, scoops it up, turns, and launches a missile toward the runner as she nears first base. Before she can make it, the ball nails her right between the shoulder blades. Newton is giddy. "I told you! I told you!" he says between bursts of laughter.
***
Shoes
THE NEXT NIGHT, Newton arrives at his gala wearing size 14 Christian Louboutin loafers—metallic gold and covered in spikes. It would be a severe understatement to say they get people's attention.
He's always been interested in style, even as a boy growing up in Atlanta. As a football player, he's made multiple appearances in GQ magazine, is the face of Drakkar's newest cologne, and has his own clothing line—MADE Cam Newton—for Belk.
So the spiky gold shoes aren't a total surprise. "I was thinking I need some shoes that's really gonna kick my outfit off," he says. "And those were the shoes. Gold goes with everything."
Indeed, the shoes go with his ensemble this evening: a tuxedo jacket with a subtle green and blue paisley pattern, slim navy tuxedo trousers, a white shirt, and a black bow tie. "There aren't many times you get to wear gold loafers," Newton says.
He later admits to a "serious shoe fetish," and when I ask him how many pairs he owns, Newton gives me a blank stare. "Oh, god. I have no idea. I have no idea."
***
Comfort
DAYS LATER, Newton is in his uptown apartment, eating a bowl of cereal and fighting with his cable box, which isn't responding to the remote control. He turns on the TV, and then the cable box. He turns off both. He unplugs the boxes. When he finally reconnects the wires and turns the TV back on, he sees an early report about the Charleston church shooting, which would leave nine people dead.
"Wednesday night," he says to himself. "That's Bible study. Everybody knows that's Bible study night."
Newton, whose father is a minister, is troubled by the church massacre, particularly because of where it happened. "I just couldn't believe someone would do that there. In a church?" He shakes his head.
In the aftermath, Newton reaches out to Chris Singleton, a baseball player at Charleston Southern University whose mother, Sharonda Coleman-Singleton, was killed in the attack. Newton asks if he can come to the family's home and visit. The trip is intended to be a secret, but one of Singleton's friends posts a group picture on Twitter, and of course that leads to publicity, and of course that leads to questions. "I feel obligated, that's my duty, to give of my time," he tells me later. "All I wanted was to be able to provide some kind of comfort."
The encounter moves Newton. "He was as strong as i've ever seen a person," he says of Chris. "I know myself enough to know that this man is internally stronger than I am."
In many ways, the shooting reinforces Newton's belief that his status as leader extends beyond the confines of the team locker room. His job is to rally the Panthers' offense, of course, but it's also, in some ways, his job to rally the Carolinas.
"I feel like I'm 46 at times because of the responsibility that I have, the burden that I carry," he says.
That burden was clear last December after Newton's car accident. TV crews camped out in front of Carolinas Medical Center awaiting news of his condition. As he lay in a hospital bed, Newton thought hard about his life, about the way he lives it, and about what others seek from him.
"It made me realize that I have to seize each and every moment, each and every opportunity," he says. The line sounds clichéd, like something we expect folks to say after trauma. I expect him to talk about how the accident affects his play on the football field. But then Newton continues.
"How shameful would it have been if a life would have been lost that day and I hadn't been able to kiss my mom goodbye?" he asks. "How shameful would it have been if I didn't tell the people I love the most that I love them and the people that I have hated that I forgive them?"
***
Children
NEWTON BALANCES his life by spending time with kids. Through his foundation and through the Panthers' charitable efforts, he visits schools and hospitals.
To the children, he is Superman—sometimes complete with the red "S" on his shirt. He's an action figure, less an actual person and more a supreme being. To Newton, the kids are honest and pure. Their energy seems to form a direct link to his trademark smile, which grows larger and feels most genuine when he's surrounded by a mob of young children.
He wants kids of his own eventually, and while he doesn't like to talk about his personal life, Newton says he thinks often about the joy of becoming a parent. But there's more to this.
After his football career ends, Newton would like to open day care centers, maybe a whole chain. He wants the centers to be fun and exciting and safe. "My passion is reaching and touching the youth," Newton says. "I know football can only allow me so much joy; I can only play this game at this level for so long. But forever, I can experience the joy of being around kids and trying to make those guys better."
***
Hot dogs
PICTURE THIS: Vic "Chili Man" Werany, the most famous hot dog vendor uptown, is bantering about the Panthers' offense with a customer while the star quarterback approaches, hoping to pick up his call-in order. This happens, quite often actually, right there on the corner of Fourth and South Tryon streets.
Here, the Chili Man is the star, his voice audible throughout the block, his signature ponytail swinging behind his back. He knows his regulars—either by name or nickname—and he slings toppings onto their hot dogs, two at a time.
It's one of Newton's choice spots for lunch. And especially on summer afternoons, it's also a favorite spot for dozens of guys in khakis and Bank of America badges. Newton calls in his order ahead of time, but like every other customer, he stands here while the Chili Man gives his thoughts on everything— from the Appalachian Trail to cheap beer to the very football team Newton leads.
Newton has been a pescatarian for four years, meaning the only meat he eats is seafood. He's always on the hunt for unexpected treats like a tofu hot dog smothered in vegan chili. The Chili Man has one of his favorites. "He's got this vegan hot dog," Newton says, "that's just, oh, man." He bugs out his eyes and grins.
***
Winning
ONE DAY, Cam Newton may move to the suburbs. One day, he'll no longer be just the young man in the city looking for a hot dog. One day, he may open a Cam Newton Day Care and have kids of his own. But before all of that, we'd like him to bring us joy on the football field. In a way this is about happiness for both Cam and us.
The $104 million question, of course, is whether the Panthers' investment in Newton will be worth it. Can he live up to fans' expectations? Can he deliver a Super Bowl? Can he make us happy?
"The media takes it and says, 'Are you the franchise quarterback? Do you think you're the franchise quarterback? How important is it to you?' " Newton shrugs. "I've always been at peace with myself that I will do anything in my power to win a football game, and that doesn't change with the contract or without the contract."
Maybe so, but Newton's haters— who lit up radio call-in shows the afternoon his contract deal was announced—say he's all talk with little to show for it. He didn't help matters this May when he told WCCB's Morgan Fogarty, "I don't think nobody has ever been who I'm trying to be. Nobody has the size, nobody has the speed, nobody has the arm strength, nobody had the intangibles that I've had."
The interview reignited the long-smoldering conversation about Newton's maturity. Critics have said Newton, who chafed even casual fans early in his NFL career by sulking on the bench with a white Gatorade towel draped over his head after a poor offensive series, isn't capable of being grown-up enough to lead the Panthers. Sports websites and talking heads on ESPN gobbled up Newton's comments, turning them into click-worthy headlines such as "Cam Newton says the kind of thing Cam Newton says sometimes."
In the press box on that summer day, though, while the 7-on-7 tournament continues out on the high school field, I ask Newton if, given a few weeks to think about things, he wants to clarify his point. He pauses to think, and gazes out onto the field at the couple of hundred kids who want to Be Like Cam, who view him as their generation's greatest.
"I'm not going to bite my tongue," Newton begins, "nor am I going to take back anything I really honestly believe that will come into fruition.
"I don't play this game to be second place. It's a bold statement, but I'm a firm believer in speaking things into existence."
Outside, on the field, one of the high school teams scores a touchdown, and the parents and coaches celebrate. A few kids bang on a chain link fence. Newton watches and fidgets in his chair. He's ready to get back out there.
When he opens the door of the press box, the heat rushes in, shocking us, sending Newton staggering sideways for a half a second. On the turf below, a DJ is playing rap music that's been mixed with pre-recorded pep talks from Newton designed to pump up the players, many of whom crane their necks and stare as we start down the stairs of the bleachers. The music fades and Newton's disembodied voice booms out of the speakers.
"What are you going to do with your opportunity?" the recording asks. "Can you put the whole team on your back?"
Adam Rhew is a contributing writer for this magazine. Reach him via email at adam.rhew@gmail.com or on Twitter: @AdamRhew.
---
This article appears in the October 2015 issue of Charlotte Magazine
Did you like what you read here? Subscribe to Charlotte Magazine »
---
ALSO:
From 2011: Cam Newton: The Player
From 2012: Barrows on Sports: The Making of Cam Newton