Cam Newton is Ready
The Panthers quarterback shrugs off a long offseason in a new Gatorade ad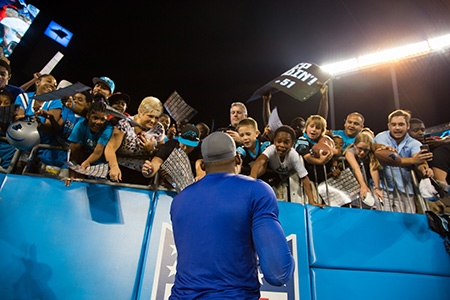 IT WAS A LONG OFFSEASON. Not longer for anyone, probably, than it was for Carolina Panthers quarterback Cam Newton.
At this point, we all know what happened. Super Bowl 50. The fumble. The hesitation. The press conference. Humiliation.
It was a long offseason.
Newton and the Panthers get another shot at the Denver Broncos in a primetime rematch tonight, and Gatorade—one of Newton's sponsors—is out with a new video highlighting the quarterback's offseason journey.
The video, set to a choir's stirring rendition of the Gospel song "This Little Light of Mine," features Newton at his infamous post-Super Bowl meeting with the media.
"Look, this is who Cam Newton is," a disembodied sports commentator says. "You saw him in the press conference. He's a terrible loser." The video shows Newton, holding his son, Chosen, sitting in a dark room watching footage of Denver linebacker Von Miller stripping the ball from Newton's hand.
Then, the quarterback gets to work. In the weight room at Bank of America Stadium. Running in the rain. At training camp. The video ends with Newton suited up in the tunnel, the crowd roaring outside. He pauses, flashes a wide smile, and puts on his helmet.
The offseason is over.