Campus Crush
Why graduate schools are converging uptown and attracting students in droves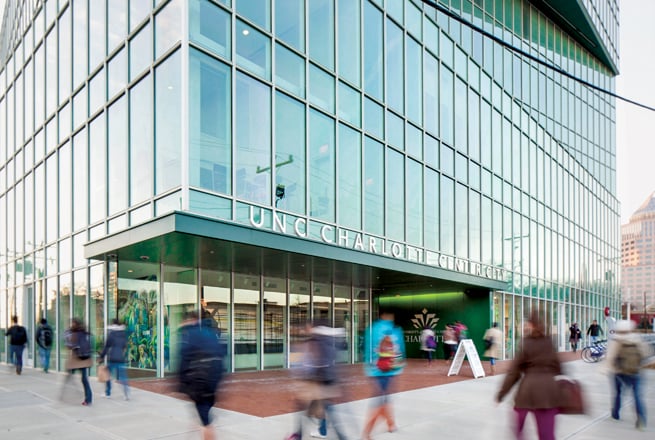 On a warm, rainy January evening, students hurry into a green glass office tower at the corner of Ninth and Brevard streets. Inside, the lobby is bustling. Students nervously flip through binders. It's the first day of classes for the spring semester at UNC Charlotte's center city campus.
Dan Morris, 26, waits by an elevator, a notebook tucked under one arm. He's early for his first MBA class, a course on organizational behavior. Morris is among nearly 440 graduate business students enrolled here, drawn to the program because of its proximity to his SouthPark office. "I don't even know if I would have done it if I had to drive all the way to the main campus," he says.
And that's one reason the uptown campus exists. Between fall 2010 and 2011, the number of new students enrolling in business and health science graduate programs increased nationwide, according to the Council of Graduate Schools. Charlotte has responded to that trend, with three graduate campuses opening in uptown since 2011 and a fourth slated to open this August. Luring the surge of students, with tuition costs that can top $34,000 a year, requires having a visible, convenient location in center city, school officials say.
"Going from a rented space to a physical building talks to our commitment to Charlotte," says Jeremiah Nelson, director of graduate student services at UNC Charlotte. "We don't want our interest to be passing. This is permanent for us."
Luring the surge of students, with tuition costs that can top $34,000 a year, requires having a visible, convenient location in center city.
Although the New York Times reports that law school applications across the country are headed for a 30-year low, the Charlotte School of Law is still growing, and is in the process of moving from the city's west side to a new space on South College Street.
"It does put us pretty much in the thick of things," says Dan Piar, associate dean for academics. He says center city offers far more opportunities for students to network with members of their chosen profession. "Being uptown is more attractive to us than being out in the country on
a hill somewhere."
The visibility of an uptown location is particularly important to newer programs, like Northeastern University, a Boston school that opened its first satellite campus at Trade and Tryon in October 2011. In Charlotte—and by extension, uptown— Northeastern saw a community with diverse industries and young professionals eager to learn. A search committee vetted 150 urban areas.
"When all the research was said and done, after two years, Charlotte clearly rose to the top," says Cheryl Richards, the school's regional dean and CEO.
For students, uptown offers access to Charlotte's power elite—the judges, politicians, and CEOs who can offer real-life expertise and, students hope, job opportunities. "Maybe they're in a position to hire at some point," Morris says. "We'll see."
Since opening in 2006, the private school's enrollment has increased six-fold, says Dan Piar, associate dean for academics. It now boasts 529 law students who can attend classes full time or part time, including evening sessions. The school is moving from its home on Suttle Avenue in Bryant Park (off Wilkinson Boulevard) to ten floors in uptown's Charlotte Plaza building by August.
Annual tuition: $38,606 for full-time students, $31,232 for part-time students
Northeastern University- Charlotte
In addition to traditional MBA classes, Northeastern also offers degrees in health informatics, project management, and sports leadership. Its classes are a mix of online and in-person sessions. Cheryl Richards, the school's regional dean and CEO, says Northeastern tends to attract older students—people in their 30s and 40s—who fit graduate school work around professional and family obligations. The school enrolled 120 students this year. The Charlotte campus opened in October 2011; Northeastern launched a similar facility in Seattle in January.
Annual tuition: $33,625*
*To complete an MBA in two years
The university spent more than $50 million to build the First Ward graduate center, which opened in 2011. About 300 MBA students, 120 accounting students, and nearly 20 real estate students
take all their classes there. Other graduate programs offer some courses in uptown and the rest on UNC Charlotte's main campus. It is the only public university with a graduate campus in center city.
Annual tuition: $8,142 for in-state students; $17,358 for out-of-state students*
*For MBA students taking 12-16 credit hours
Although it first launched MBA classes in the SouthPark area nearly two decades ago, Wake moved its graduate program uptown in January 2012. More than 200 students take evening and weekend classes at a facility on North College Street.
Annual tuition: $34,968