Can Charlotte Become Hollywood East?
For years, Charlotte's film industry has been touted as being on the verge of taking off. now, after the success of Homeland and The Hunger Games, it appears to be closer than ever. But there's one big thing missing.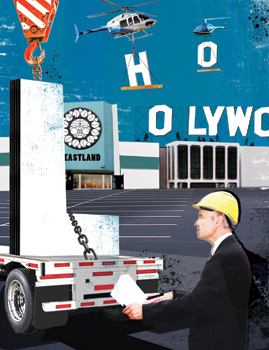 Before they'd won Emmys and before President Obama named Homeland one of his can't-miss shows—even before many people knew the acclaimed Showtime series was shooting in Charlotte—actors Damian Lewis and Claire Danes were rocking out in the small brick-walled private room of VBGB, a bar at the NC Music Factory. Lewis, backed by a band of his Homeland cast mates and crew, belted out Billy Idol's "White Wedding" as Danes stood in the front of the crowd, body swaying, hands in the air, cheering on her costar.
It was October 2011 and three hundred members of the cast and crew had rented out the urban-chic beer garden for the show's wrap party. "We had to extend the karaoke portion because certain actors wouldn't let go of the microphone," says Kara Taddeo, co-owner of VBGB. The exposure it gave the newish nightspot was invaluable. "When you're a mom-and-pop business and new to Charlotte, it really takes a lot to help spread the word. It
created a lot of buzz."
In a way, the story of Homeland and VBGB could become the story of Charlotte. City leaders want to capitalize on the success of Homeland and The Hunger Games (also shot in Charlotte and the region) and are working to turn the city into Hollywood East.
It's a story we've heard before. From Days of Thunder to Shallow Hal to Leatherheads, Charlotte has been a sometime favorite of moviemakers for years, due mainly to the state's union-free (read: cheap) labor and topography and architecture that can pass for a variety of locales.
But Charlotte hasn't reached its full potential as a filming hub—yet. Over the last two years, increases in state tax incentives for production companies have helped. North Carolina lags behind only California, Louisiana, and Georgia in recruiting productions, although most of the action happens in Wilmington. Industry insiders say the only way Charlotte is going to be truly competitive in vying for the spotlight is if the city gets some big sound stages. (Sound stages are vast empty buildings where movie productions can build whatever additional sets they need for a shoot.)
The film office of the Charlotte Regional Partnership, which recruits projects and scouts locations, has pushed for years to build a major movie studio here and believes they may finally have the answer. It is working with the Charlotte City Council to convert the old Eastland Mall into a movie studio. The hope? If you build it they will come: the movie business and all that comes with it. There's a lot at stake. In just a few months of shooting, the film commission estimates The Hunger Games and the first season of Homeland funneled almost $100 million into Charlotte's economy. Even if that estimate is overly optimistic, as economic impact estimates can sometimes be, that's still a lot of cash.
Beth Petty is director of film for the Partnership, and she's working with the Charlotte City Council on the Eastland Mall initiative. "The film incentives put us on [the industry's] radar, and then you have to accommodate all of their other needs. We have the international airport, we have a crew base, and we have great locations that can double as almost any city."
Petty helped convince the Hunger Games group to shoot in the area and says she sealed the deal on the blockbuster when she was able to secure a former Philip Morris plant north of Charlotte for production crews to house sound stages. When the building wasn't available this past summer, the sequel, Catching Fire, left North Carolina to shoot in Atlanta (Petty says other factors may have been at play, too). That meant hundreds of hair-and-makeup staffers, extras, and others who were hoping for repeat business were out of luck. Not to mention the loss of millions of dollars that kind of movie brings to the city, dollars flowing to everything from rental cars to restaurants to housing.
This past summer, Charlotte City Council approved spending $13.1 million to buy the eighty-acre Eastland Mall property. It has been vacant for the past two years, and the surrounding neighborhood has suffered. John Autry represents that part of town on the council. "It is an opportunity to bring something in that will draw people here that want to work here, want to buy homes and send their children to our schools and spend money at the supermarkets," he says. Autry worked in the movie industry for thirty years, eleven of which were with Charlotte's Silver Hammer Studios, now called ReelWorks Studios. He's most excited about the entry-level set jobs that pay a minimum wage of twenty-five bucks an hour.
In October, Autry was part of a group that traveled to Wilmington to study the impact of the film industry there. The seaside city is the hub of the state's film industry, due in no small part to the city's large studio, EUE Screen Gems. Sitting on fifty acres, the studio has 150,000 square feet of space. Famed director Dino De Laurentiis built the studio in Wilmington in the 1980s; he loved shooting Firestarter in the area so much that he decided to build his own movie house there. Screen Gems now bills itself as the largest independent movie studio on the East Coast, and it has been the linchpin for Wilmington's thriving film economy. "You have to look at Wilmington a little differently [from Charlotte]," says Johnny Griffin, director of the Wilmington Regional Film Commission. "It's not like we went out and said, 'Let's get a movie studio.' Almost thirty years ago a producer was looking to build his own—and then made the movies." Since the studio was built and the film industry took off, Wilmington's population has doubled. In 2012, the film industry will contribute more than $200 million to the local economy.
Patrick Mumford oversees Charlotte's Neighborhood and Business Services department. By spring, he says, the city is hoping to have some serious development proposals to consider. "We've had a lot of interest around film," he says. "We know enough to think there is some merit but we're not sure how that will play out from a development perspective."
Noah Lazes is president of ARK, the group that owns ReelWorks and NC Music Factory. Both Talladega Nights and Shallow Hal shot at ReelWorks, and Lazes's clubs at the Music Factory have hosted more than two dozen crew parties, including some for the cast of The Hunger Games. He's talked to the city about the Eastland Mall property, but he questions the viability of turning the old mall into a movie studio. He's not sure there would be enough business to sustain it. "Do I think we can support forty acres and hundreds of thousands of sound stages? I think that will be very challenging. It's a very, very tough business. The film business is very glamorous on the surface, but numbers-wise it's a very tough deal."
Besides Lazes, the city is talking to several other developers about the Eastland Mall site. Bert Hesse, who has produced a couple of low-budget horror films and is chairman of the board of Charlotte-based Central Avenue Studios, is one of them. He outlines a grand vision for the area—including building a ten-acre forest. Yes, a forest. At the back of a studio lot. Hesse says that the man-made forest will keep productions from having to relocate all their gear just to shoot a few scenes in the woods. The sixty-year-old works with his L.A.-based son and says the two have spent more than a year coming up with what he calls a "ten-year plan." In addition to sound stages, he expects to generate revenue from an on-site office building and film school. "Our board of directors [which he says includes a cofounder of Priceline.com and the founder of TV One] and our investors want to be involved with creating, building, and running the largest studio outside of L.A.," he says.
Even if Hesse or someone else is able to buy Eastland and convert it into sound stages, another challenge looms for Charlotte's burgeoning film industry. State GOP leaders have promised to take on tax reform in 2013, and that could translate to cutting back on the incentives that are largely responsible for bringing the movie business to the state. "All of these incredible shows that shoot here," Petty says, "that's why they come to the area, because of the film incentives."
Aaron Syrett, director of the North Carolina Film Office, says he expects to have to prove to legislators just how much the incentives mean. "We know they're looking at tax reform across the board, so obviously that would include film incentives. I don't think anyone is against film incentives; we're just going to do a lot of educating." Syrett wants to make sure lawmakers know that in 2011 the movie industry brought in 27,000 jobs, and, by the end of this year, productions will have spent more than $350 million in North Carolina.
Lazes believes a different kind of incentive will play a big role in determining if the mall actually becomes a studio. "If the city really wants something, like the DNC, they get it. If they're willing to write a big enough check, then it will come. If there's enough subsidy, anything can happen." He's convinced the city will end up having to contribute cash to the deal in much the same way it did for the new Charlotte Knights stadium or the NASCAR Hall of Fame. Of course, the city supporting the film industry is in Lazes's best interest, but he says he looks at a studio deal as more than a business proposition. "It's basically promotion. If it's not going to be a profitable business, the question is, is it going to be a good promotional tool for the city? If you land a lot of cool things, I think it is."