"Can You Use it in a Sentence?"
Director Dennis Delamar discusses Theatre Charlotte's "The 25th Annual Putnam County Spelling Bee"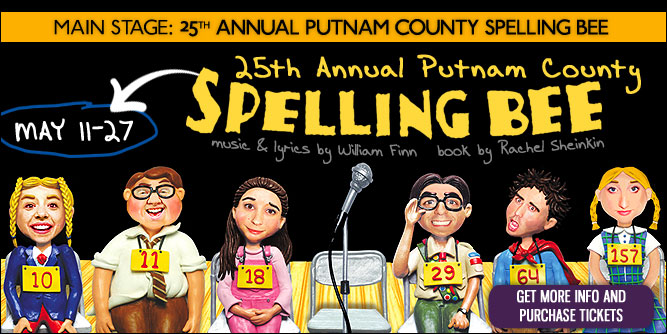 How do you spell C-O-M-E-D-Y? Theatre Charlotte demonstrates one way when they open The 25th Annual Putnam County Spelling Bee next week. The show runs May 11 through 27. Details, showtimes.
Revue: This show is about kids but it is not for kids. Right? What are some examples of the adult humor?
Dennis Delamar: I would not call this a kids' show by any means, though it's perfectly appropriate for pre-teens and up (as long as you don't mind some fairly mild, yet explicit, sexual humor and a few expletives). Portrayed by actors in their 20s, the speller characters are approaching adolescence or already there (late elementary and middle school) dealing with that very awkward time of puberty and peer acceptance.
An example of "adult humor"? One character does a very clever song about his "unfortunate erection" that sabotages him at the spelling bee. The words "penis" and "protuberance" are actually used in the same song. That's about as racy as it gets.
Revue: How difficult is it for adults to play adolescents?
DD: For any role, any age, an actor looks for clues on how to play the role by looking within the writing. What does the character say during the play? What is said by others about the character? This is a musical, so there is further evidence in the song lyrics if it's quality writing. And this is. Spelling Bee won the Tony for best book of a musical in 2005, so there's much in this script for our adult actors to discover about who they are as adolescents.
Revue: What direction are you giving the actors to help guide them?
DD: Having worked as a teacher in elementary and middle schools for many years (I retired with thirty years in N.C. public schools, 21 of those years in Charlotte Mecklenburg), I have a longtime respect, love, and appreciation for young people working through the challenges of those ages. Children are searching for acceptance among their peers. They want to be heard when they speak, to feel smart, to be taken seriously, especially by the adults in their lives. Making their loved ones proud is a driving motivation.
With these themes fleshed out so beautifully in this material, I encouraged the actors to "find the adult in the child" they are playing, instead of the child in the adult they have become. As funny and quirky as they are — Marcy, Leaf, Schwarzy, Barfee, Olive, and Chip deserve respect and credence. The characters represent so much about growing up, an innocence but also an awareness. I've tried to guide the actors to honor that responsibility with a sense of reality, honesty, natural angst but also youthful joy. Casting the right people always makes a difference, also cultivating a sense of family and camaraderie from the start. The rest comes with the enjoyable rehearsal process where together we find their most effective performances, the truth in their characterizations, the laughs, the details, and the moments that resonate for our audiences.
Revue: The show is known for having an audience participation segment. Will you do that at Theatre Charlotte?
DD: Absolutely. It's one of the funniest parts of the whole experience, great fun at the theater for our audiences and the cast. We will have four guest spellers every show who will join our cast on stage, wear a number like the other six, and participate in the competition. Given a few simple instructions, those four spellers (all ages) are recruited in the lobby before each performance. The bee starts with ten spellers total, and we interestingly and humorously watch them one by one get eliminated until the winner is the last one standing. The presence of audience members on stage keeps every performance fresh with that sense of "first time." The old expression regarding live performance "no two shows are ever alike" is truly on display here.
Revue: Is there a signature song from the musical? What is it?
DD: A signature song may be arguable because they're all so good, and they all so cleverly and tunefully divulge so much about our characters. If I had to classify a number "signature" from this musical, I would probably say the opening number "The 25th Annual Putnam County Spelling Bee" (a catchy hummable tune) and "Magic Foot" that helped win the actor playing Barfee a Tony.
Revue: What are some of your favorite songs from the show?
DD: As I said, they all appeal to me, [there's not] not a bad song. Personal favorites? I would say I'm partial to "Magic Foot," featured hilariously with Linda Booth's lively choreography and our cast's enthusiastic rendition. Others? "Rona's Favorite Moment" (all three versions) and "The I Love You Song," the trio that emotionally carries me to that rare place of lyrical and harmonic beauty in story telling. It hasn't failed to move me every time from the first evening I heard Cassandra Howley Wood, Megan Midkiff, and Ryan Deal sing it in rehearsal. For me it's the "eleven o'clock" number, so to speak.
Revue: The 2005 Broadway production won two Tonys, including best book for a musical. What do you think made it Tony-worthy?
DD: In the age of extravagant, expensive, and over-produced Broadway musical spectacles, there was something very refreshing and endearing about this modest, yet different, show that appealed to critics and audiences alike. Relatable, honest, warm, human, and clever were some of the comments. I liken it to the small cast Tony winner Avenue Q in 2002 that defeated that season's huge and glorious Wicked for best musical. With eleven Tony nominations, another similarly modest but groundbreaking production is this season's highly touted musical Once based on the film with the same name. What made Spelling Bee Tony-worthy? I would say its contemporary wit, charming simplicity, and fresh creativity in full bloom with a satisfying balance of sweetness, edginess, and depth.
Revue: Who are the leads in this performance, and what do they bring to the characters they're playing?
DD: I'm So pleased to have such a talented nine member cast bringing vocal excellence, delightful dances, and very humorous portrayals of characters we are pulling for. Several actors play more than one role, including cameos as parents and a few other surprises I won't give away. The versatile cast includes Cassandra Howley Wood (Olive), Jeremy Shane (Barfee), Chesson Kusterer (Schwarzy), Kayla Piscatelli (Marcy), Joe McCourt (Coneybear), and Ryan Deal (Chip) as the spellers. The adults are played by Megan Midkiff (Rona), Tyler Smith (Mitch), and John West (Panch).
Revue: What about this show will be of interest to Charlotte audiences?
DD: The good time they will have at the theater. The content is so relatable, funny, and unexpected in its treatment of these endearing, quirky children and the equally quirky adults in charge of the bee. Older audience members will likely recognize some of their own past memories of "the awkward years" as they smile and feel thankful they made it through to the other side. It also will strike a significant chord for parents watching the show.
Revue: Anything else I didn't ask you that I should've asked you?
DD: As a director, I never take for granted the artistic and technical team bringing the elements together to make the total production look and sound its best. I appreciate Executive Director Ron Law at Theatre Charlotte for finding this team to support my efforts so positively. Linda Booth, a longtime friend and fellow educator since our early days at Dilworth Elementary School, was the perfect collaborator as choreographer. Having worked with young people so many years, we both were really drawn to this material about intelligent, sensitive, misfit children. We have collaborated as a "dream team" before on a musical that celebrates the young and young at heart — CPCC's Wizard of Oz in the summer of 2006 (cast of 61 plus a dog and lots of flying through the air). Linda brings her own brand of creativity and professionalism to the dances and movement. She definitely kicks the quality up a notch.
Then there's this incredible "feel good" music! Ryan Deal wears two hats for our production. He beautifully sings and portrays Chip Tolentino, one of the spellers, but he is also our music director. To accomplish that impressive dual feat, Ryan was able to get Zachary Tarlton, a recent UNCC grad, to play keyboard for rehearsals and the run. During performances, Zach will play first keyboard and lead our band that appears on stage while Ryan brings us Chip and another key cameo role. Other important people involved with the collaboration — John Hartness on lights, Jeff Murdock on sound, Jillian Rothman for set design, Claire Robinson for costumes, Lois Marek did props, Chris Timmons was in charge of set construction, Diana Hagler is our stage manager, and Vivian Tong our guest speller wrangler.
There are other volunteers I'll soon be meeting who will run crew, operate sound and lights, usher, and sell concessions – all part of the beauty of an overall community theater effort. I go on record here thanking every single person involved with this positive experience of bringing one of my favorite musicals of the last decade to Charlotte.