Candy Fest, Summer Olympic Bar Crawl, Socialympics and More, Aug. 4 to Aug. 7
Who needs to be in Rio de Janeiro for the Summer Olympics when we have our own Socialympics and Summer Olympic Bar Crawl this weekend?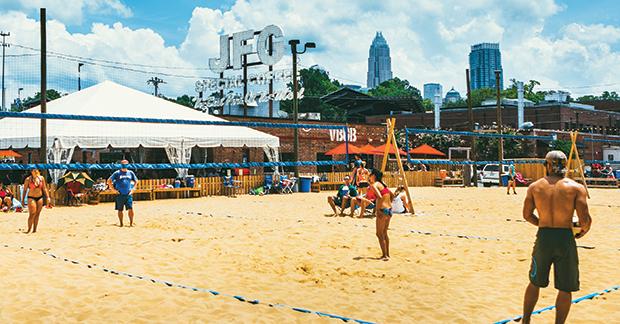 Charlotte brings you a film festival and a movie under the stars, a Summer Olympics bar crawl and a Socialympics, a Where The Wild Things Are party and a celebration of all things India pale ale. As a wise man one said, "Let the wild rumpus start!" See y'all out there!
Thursday, Aug. 4
Yelp Live and Local at The Underground
The Underground is the new kid on the block at the Music Factory, and you're invited to this grand event to come see the new dig. The evening features "live band karaoke," food and drink samples from local restaurants and national brands, raffle prizes and more. There is no admission fee, but the organizers suggest donating at least $10 to the benefiting nonprofit, Behailu Academy. The evening is from 7 until 9 at 820 Hamilton St.
Community Happy Hour
The new app Hopspot sponsors this happy Hour at BlackFinn, 210 E. Trade St., tonight, and you're invited to unwind after work. The happy hour offers free appetizers and a free drink for those who have the app downloaded to their phones. The event from 5 p.m. until 8 p.m. is free, but if you register here you have a chance to win two tickets to the University of North Carolina at Charlotte '49ers opening home football game in September.
Friday, Aug. 5
Movies Under the Stars
Starting today, head to SouthPark Mall each Friday evening in August for this free event. The movie tonight, starting at 7 p.m., is "Star Wars: The Force Awakens." In addition to the movie, there will be live music, food and activities. BYOB: Bring Your Own Blanket to 4400 Sharon Road.
Joedance Film Festival
This two-day film festival, which benefits the Levine Children's Hospital in Joe Restaino's name, is in its seventh year bringing original films by filmmakers with a Charlotte connection. A ticket to the evening costs $25 and includes a reception from 8 p.m. until 8:30 p.m. A cash bar is available at the event. Bring your own blanket to this event at the 10th Street townhomes courtyard at the corner of W. 10th St. and Poplar St.
Jazz at the Bechtler
It's the first Friday of the month, which means this event returns. Feel all kinds of cultured as you surround yourself with both art and music tonight. There are two concerts tonight: one at 6 p.m. and another at 8:15 p.m. Tickets to the event at 420 S. Tryon St. cost $14. Buy one here.
Candy Fest
This event doesn't come with a dentist, but we're guessing you may need one after. This candy-themed evening features a life-size Candy Land game board, candy-themed cocktails, candy sushi (please let us know what this is when you try it) and a 10-piece candy buffet. General admission tickets cost about $26 and VIP tickets, which includes a 30-minute early admission and an extra drink sample, cost about $37. The sugary evening lasts from 8 p.m. until 10 p.m. at Whisky River, 210 E. Trade St. Buy tickets here.
Summer Olympic Bar Crawl
The Summer Olympics begin tonight in Rio de Janeiro, and you'll need Olympics-sized strength to finish this bar crawl. Registration begins at Rooftop 210, 210 E. Trade St., at 8 p.m., and travels to Whisky River, BlackFinn, StrikeCity, Vida Cantina, Vida Vida and Suite. At each bar, crawlers participate in a different event to qualify to win prizes and medals. Tickets cost about $12. Buy them here.
Saturday, Aug. 6
Socialympics
The Summer Olympics begin Friday, but this is where the real athletes come to compete, right? Grab a coed team of 10 together, throw down $45 each and get ready for a day of competition, giveaways and cold drinks. On the event list so far: Flip Cup relay, belly bumpers, a water balloon toss, dizzy bat and more. The games get underway today from noon until 6 p.m. at VBGB, 920 Hamilton St. Team captains should register here.
Legion Brewing's Friends and Beerfest
If hops are your thing, today's your day. Legion Brewing brings together 15 of Charlotte's breweries for a celebration of all things India pale ale. The event also features live music, food and giveaways. Advanced tickets cost about $11 and include a glass and four beer samples. The IPAs pour from 2 p.m. until 8 p.m. at 1906 Commonwealth Ave. Buy your ticket here.
Where The Wild Things Are Party
Let the wild rumpus start! This event features lunch from Vida Vida, a free beer, live music, outdoor games, a silent auction and raffles, and it all benefits the nonprofit Promising Pages. Tickets cost $20 in advance or $25 at the door. The rumpus is at Sugar Creek Brewing, 215 Southside Drive, from 1 p.m. until 5 p.m. Buy tickets here.
Sunday, Aug. 7
Maverick Rock Taco Closing Party
After four years in business, Maverick Rock Taco is closing its doors for good today. To help the Montford restaurant and bar go out with a bang, it's offering "drain the bar" drink specials and a DJ. The "party" is at 1513 Montford Drive.
Front Porch Sundays
After taking a breather in July to accommodate for the Fourth of July, this monthly pop-up market returns today from 1 p.m. until 5 p.m. Nearly two dozen vendors, including King of Pops, are setting up shop today. The event at 2151 Hawkins St. has no admission fee.
Verify dates, times, prices, and other info at the web addresses listed for each event.
Be sure to bookmark www.charlottemagazine.com/Blogs/Dusk-Till-Dawn to stay plugged into Charlotte's nightlife and social scene. Click here to sign up to receive the weekly Dusk Till Dawn e-newsletter.
Want your event featured in Dusk Till Dawn? Follow me on Twitter @Jared_misner and let me know about your event, or send me an email at dusktilldawnblog@gmail.com.