Can't You Take a Joke?
Nikki Mueller thinks this city takes itself a bit too seriously, and it seems that a lot of Charlotteans agree. That's why her Not Made In China buttons, bottle openers, and magnets featuring clever snipes at Charlotte's peccadilloes have been selling like crazy in stores around town.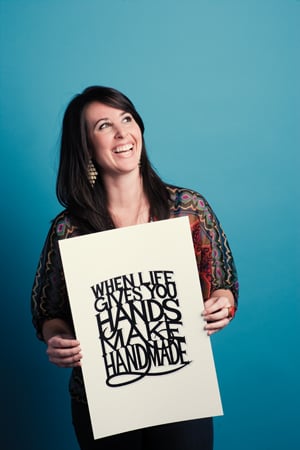 Where did the idea for your Not Made in China designs come from?

Really, it all started on a whim. I was working full-time as a graphic designer at an architecture firm, when the recession hit and our hours were reduced. All of a sudden I had a little spare time and needed some extra income. I've always been a bit of a teaser, and since I'm originally from California it was easy for me to find things to tease Charlotte about. As soon as I started making them, it became very apparent that this city needed to laugh at itself.
What kind of reactions have you gotten to your jabs at Charlotte? 

Some people look at the sayings I come up with and say, "Man, you must really hate it here." But that couldn't be further from the truth. I've lived here for nearly seven years, and this city has absolutely endeared itself to me. It's a city seeking an identity. There's so much possibility and potential for everyone to make it whatever they want.
How does it feel to see your side business taking off?

I still can't believe that Common Market and Paper Skyscraper carry the silly magnets and bottle openers I make in my living room. This experience has also opened my eyes to Charlotte's burgeoning handmade community. The All Arts Market in NoDa and Crown Town Handmade [a local collective of crafters] are the two that have been the most influential for me. We are all striving toward the same goal of buying local, supporting the community, and making our town a great place to live. I mean, Not Made in China isn't exactly curing cancer, but this light-hearted venture has brought so much passion back into my work.
Check out all of Nikki Mueller's designs at The Common Market (1515 S. Tryon St.,704-332-7782; 2007 Commonwealth Ave.,704-334-6209), Paper Skyscraper (330 East Blvd.,704-333-7130), or
shopnotmadeinchina.com.