CAPS, Charlotte's Own Ghostbuster
On the trail with Charlotte's ghost hunter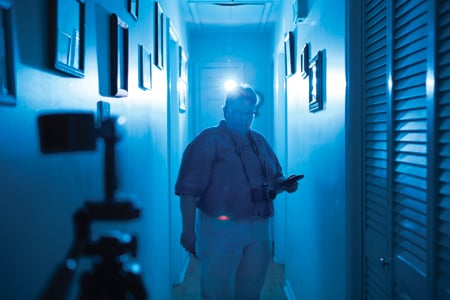 Tina McSwain knows people make fun of what she does, and she is clearly in on the joke. The logo for the group that she founded, the Charlotte Area Paranormal Society (CAPS), features smiling ghosts floating over the Charlotte skyline. "I even like when people hum the Ghostbusters theme to me," she quips.
McSwain became interested in hunting ghosts fifteen years ago when she says she saw one at a friend's house in Myers Park. "The hair on the back of my neck stood up," she recalls. Since then, she has become a self-proclaimed expert on paranormal activity. (She has no formal certification, just years of research and classes.) McSwain runs CAPS on her own time, calling it her passion. The nonprofit group was established in 2005 and consists of nineteen members.
We tagged along one evening as she went searching for spirits inside a Rock Hill family's home. Twelve-year-old Tyler, who lives there, says he's seen shadows and his mom, Susan, says, "At least two to three times a week we hear something."
McSwain and her assistant Amanda are here tonight with cameras, motion detectors, audio recorders, and laser beams in the kitchen, hallway, and back bedroom, where the family believes the paranormal activity occurs. "They've heard scratching and voices in the kitchen, so hopefully we'll pick some of that up," she says.
Before they begin, McSwain and her team typically go over their preliminary findings with clients—they research the geological history and criminal reports on each house they inspect. Skeptics might be surprised to hear her say, "The first thing we look for is a plausible explanation."
But the paranormal investigator delights when they actually find something. She smiles when telling the story of a South Carolina home where they recorded what she says was the voice of a male ghost telling them to "LEAVE!" Tonight, McSwain asks the ghost a series of questions in hopes that it will respond. But the motion detector only comes on when she moves, and the only sounds are voices from outside.
The final report on the Rock Hill house originally showed promise. "We recorded some interesting noises in the back bedroom," she told us at first. But in a follow-up email she admitted the family realized Tyler got up in the middle of the night to go to the bathroom.
Still, McSwain is not deterred. She intends to go back when the family is out of town in the hopes that next time the ghost will be just a little bit more cooperative.