Carnival-Inspired Fare At Whisky River
Dale Earnhardt Jr.'s bar unveils a new menu with—surprise!—a carnival theme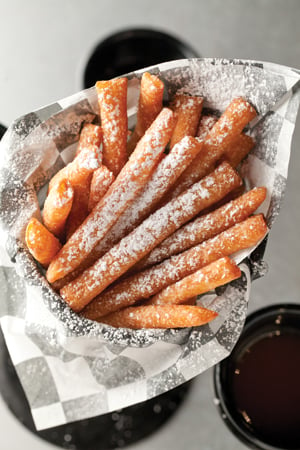 With the launch of its menu in November, Dale Earnhardt Jr.'s Whisky River vaulted itself beyond being just another crowded EpiCentre bar (albeit one with a mechanical bull). The eatery has taken its bar-slash-rodeo approach a step further and added several carnival-inspired creations to its beer, wings, and barbecue lineup. Here's a look at three of the new offerings.
Funnel Cake Fries, $5.99
The classic carnival treat is cut into thick fries for easy dipping, dusted with powdered sugar, and served with your choice of chocolate, strawberry, or caramel sauce.
The 6 Wide Challenge, $24.99
It's the ultimate fusion of carnival challenges and bar food: devour an entire stack of six juicy, charbroiled beef patties, twelve slices of cheese, and one pound of steak-cut French fries in less than thirty minutes. Finishing the whole meal means you won't have to pay for it—plus you'll get a free T-shirt and your name on the bar's Wall of Fame. Not included? A bottle of Pepto.
Fried Candy Bar of the Month, $5.99
In Whisky River's most popular dessert, the candy bar gets dunked in a honey-infused hushpuppy batter before being fried, put on a stick, and topped with whipped cream.