Carolina Sandhills
Just south of the state line lies a nature-lover's dream: acres of water, wildlife, and wonder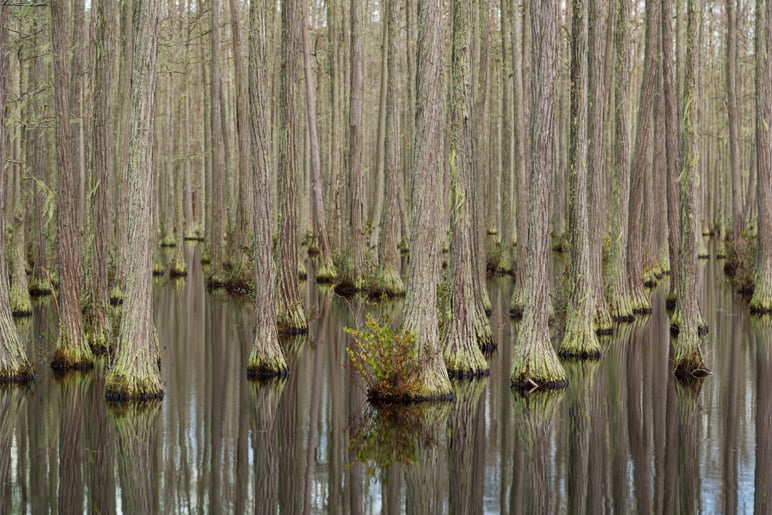 CAMPBELL LAKE SITS dead still as the sun starts to set. The porcelain surface reflects the cypress trees growing out of it, and I can't find a blemish anywhere. I cast a line into the water. Ripples echo from the center point created by the bait's splash. As the ripples move, they leave behind a circle of water that quickly becomes flat again. I reel in the bait. The worm just below the surface barely blurs the trees' reflections.
Hundreds of white-skinned trunks shoot straight up from the water. Their roots crawl above the surface. The reflections are so vivid the trees appear to grow up and down. I can't tell where real trees end and where the mirrored reproductions begin. I look across the lake's 51 acres, and the effect is dizzying. There are so many trees, spreading so far ahead, that it's like looking into a mirror and seeing another mirror, on into eternity.
I find this optical illusion at the end of a beautiful December day in the Sand Hills State Forest and the Carolina Sandhills National Wildlife Refuge. Campbell Lake is technically in the state forest, but only a cartographer would know that. The two tracts of public land sit adjacent to each other about 75 miles southeast of uptown Charlotte, just across the South Carolina line. Together they cover more than 90,000 acres, and both of them reflect our country's desire to keep pockets of nature undamaged by progress.
Which is not to say untouched. Roads crisscross the wild lands. An observation tower in the refuge allows me to take in panoramic views while at the same time making me part of somebody else's, or it would if anybody else was here today. I hike Tate's Trail as it snakes three-and-a-half miles through the refuge. Sandy ground gives birth to a longleaf pine forest. Wiregrass blankets the earth. I try to find red-cockaded woodpeckers, an endangered species the refuge is devoted to saving.
Dozens of grackles, blackbirds with long tails, swarm like kids playing chase. Their rousing chirps make me wonder what I did to earn their applause. Their wings, so many of them, beating so hard and so fast, sound like wind rushing toward me.
A chill settles over Campbell Lake as I finish reeling in the line over the reflected trees. Down and to my left, soft clouds, burned pink by the setting sun, catch my eye. Wait, no, those are reflections, too.
Later, I tell Lyne Askins, refuge manager at Carolina Sandhills, how stunning all of it is. She suggests I return in the spring when prothonotary warblers sit low on the cypress roots and reflections of their bright yellow chests beam off of the water.
I'll come back for that show. For now, I'd love to yank a pickerel out of these still waters. The catch would destroy the trees' undisturbed reflection, but it would return to normal soon enough. I don't get so much as a nibble on this cast or the next or the one after that. I'm willing to stand here and keep trying until my luck changes.
Matt Crossman lives in Charlotte with his wife and two girls. Reach him at mcrossman98@gmail.com or on Twitter @MattCrossman_.
Where?
Sand Hills State Forest, Patrick, S.C.; and Carolina Sandhills National Wildlife Refuge, McBee, S.C.
How far?
75 miles, 1.5 hours
What's along the way?
Pageland, S.C., two miles south of the state border, has been home to the annual Watermelon Festival since 1951. The summertime event includes a parade,
seed-spitting contest, and rodeo.
Want to learn more?
Sand Hills State Forest: state.sc.us/forest/refshill.htm, 843-498-6478; Carolina Sandhills National Wildlife Refuge: fws.gov/refuge/Carolina_Sandhills/, 843-335-8350