CAST Brings The True Tale of "Floyd Collins" To Life
It could just as easily be called "Buried Alive: The Musical!"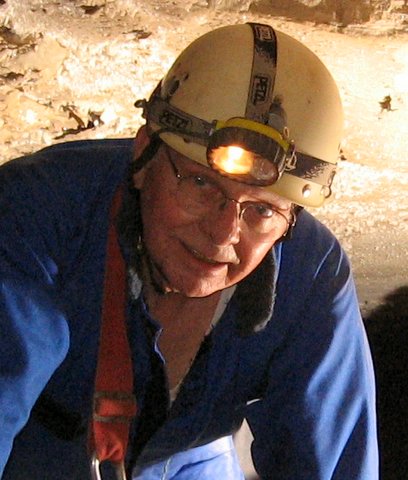 If you think the true story of an explorer trapped in a piano-sized, underground cave for more than a week doesn't sound like a likely topic for a musical, Roger Brucker, author of Trapped! The Story of Floyd Collins would agree with you. But the true story he wrote was turned into a musical, and CAST is now bringing it to the stage. I talked with both Brucker and Jonathan Elliott Coarsey, who will star as Floyd Collins in the upcoming (April 12-May 12) production of Floyd Collins.
"When Tina Landau called me about a year after the book came out to tell me she was going to turn it into a musical, I said (SPOILER ALERT!), "I hope you're going to change the ending," author Brucker said. "That'd be kind of a downer of a musical."
But the ending to the true tale was left intact. In fact, Brucker says most of the musical hews closely to his book. And just how much of a downer is it?
"You could actually call it light entertainment until Floyd gets stuck," Brucker said. After that, it's pretty harrowing.
While researching Trapped! The Story of Floyd Collins, Brucker and his co-author, Robert K. Murray, interviewed people who knew Collins or were involved in the rescue effort. Brucker and a small group of explorers crawled into Sand Cave, to the spot where Collins was trapped, to better understand (SPOILER ALERT!) why he could not be rescued. As part of his research, Brucker met William "Skeets" Miller, the reporter who won a Pulitzer Prize for his coverage of the 1925 event (and who is one of the main characters in the musical).
"Skeets was one of the most empathic people I've ever met," Brucker said. "He understood other people's feelings. That made him the perfect conduit from Floyd to the outside world. People felt they were hearing from Floyd directly." Brucker said this incident marked the first time the culture of cave explorers came into contact with the outside world. Skeets was largely responsible for that.
Since Brucker is an expert caver who explored the cave that trapped Collins, I asked him how it compared to other caves. "It's the scariest one I've ever been in," he said. "There are loose rocks cemented together by mud." Mud doesn't sound like the most permanent of binding materials.
Brucker said Collins had been a successful cave explorer for many years, so getting into such a fix wasn't a novice mistake. There was one important thing he did wrong, though.
"We know now never to go caving alone," Brucker said. "Floyd was by himself. Floyd would recruit family and friends to go with him — and they did — but he'd get so caught up in exploring, that he would always stay gone hours longer than he promised. So friends stopped joining him."
"Cave exploring is inherently risky," Brucker continued. "It can kill you. But there are some people who are so naturally curious that they will go to great lengths to try to satisfy their curiosity." And that sounds like the great basis for a book or musical. Brucker has seen the musical staged a dozen or more times. He said he feels the success of it is all in the staging. "This is an intimate play," he said. "It's not a spectacle. When theaters turn it into a big spectacle, they lose some of the meaning."
CAST should provide the perfect setting for the story. And, as I discovered from my chat with Coarsey, the entire production will remain true to the spirit of Brucker's story.
Brucker will make several appearances when he's in town for Floyd Collins. He'll have a book signing at Performance Bicycle, 4436 South Boulevard from 6-8 p.m. on April 11 and will be at an opening night reception and book signing at CAST on April 12. He'll also be part of Q&A session following performances on April 13-14.
I should warn you that this entire article is full of SPOILER ALERTS, so if you don't already know how the story of Collins's 1925 entrapment ends, you may not want to keep reading my Q&A with actor Jonathan Elliott Coarsey.
Revue: You're the titular star of this show, but it sounds like you spend at least some of your stage time being trapped underground. Are you singing all the while? What are you doing while you're trapped?
Jonathan Elliott Coarsey: Let me first say how awesome it is to get to play the part of Floyd Collins. It has been such a challenging role, and I have enjoyed the entire process. The show follows Floyd from the time he enters the cave through the rescue attempt and ultimately his meeting his maker, so it does present some staging challenges. As far as the singing, when I am "trapped," much like the way that Floyd was positioned, it's as if I were sitting in a barber chair, so I have had to adjust a little. However, once I'm "trapped" on stage, I am pretty much there for the whole show. We have toyed around with the idea of lighting and staging that would let me leave the stage when the scene didn't include me, but I really want the audience to be able to see me at all times to understand that while everything else is going on, there is still a man stuck underground struggling to stay alive.
Revue: CAST always blows me away with the sets and how a theme is carried through from the way the lobby's decorated to how the ushers are dressed to what the tickets look like. Can you give us a hint as to any of that for this show?
JEC: CAST is known for "experiential" theater which can be defined as the total immersion of the audience into the world of the play. The show starts from the moment you walk in the door. For the current show, RACE, a show set in a legal office, CAST made the lobby resemble that of a law office which conveniently works very well for the needs of the theater. For Floyd, we are turning the whole place into a cave. We will have exhibits from Cave City, Kentucky; newspapers with actual articles; and you will probably have to go through the cave to get to your seats. There is a lyric from the show that Floyd sings about getting his cave ready for the public by setting up a "ticket office, and a curio shop, and refreshment stand open seven days a week." I have a feeling that all of these will be incorporated.
Revue: How is your underground entrapment conveyed on stage? Does the audience feel any of that claustrophobia?
JEC: The set resembles, as best we can, the real dimensions of Floyd's entrapment. Now we do use a little artistic liberty, but our amazing director, Michael Simmons, has worked with the set designer and the cast to ensure that the audience will be able to understand fully what Floyd is going through. The audience will definitely be able to feel the pressure that comes from Floyd's situation. When I was first learning my lines, I had my mother help me run through them. She, who has issues with claustrophobia, had a great deal of difficulty in just reading the lines. I think with the way the show is written and staged that many of our audience members will be checking the walls to make sure that they are not closing in.
Revue: Floyd Collins is a musical that contains genres from operetta to bluegrass. Do you sing all that? Besides your lines and the songs, have you had to learn any new genres for this show?
JEC: The music of this show has been the most challenging music of my career. Adam Guettel has written a beautiful score that does blend and stretch genres. The most difficult part is that the music is constantly changing time signatures which makes it very difficult to count. Not to mention, our band will be behind us so we won't have the benefit of having a conductor. Because of this the whole cast worked with our musical director, John Coffey, for almost a month before we started blocking. The only other thing we have had to learn is our Kentucky dialects.
Revue: While Floyd is trapped, is he aware of all the hoopla going on above ground? Does he know he's becoming a media sensation?
JEC: Floyd was trapped 150 feet underground in a spot so small that most people could not physically squeeze through to reach him. The one person who was best able to reach him, Skeets Miller, acted as his eyes, ears, and mouth to the growing carnival-like atmosphere that developed above ground. Floyd knew that the story was being reported in the papers, but I doubt that Floyd was able to fully grasp the extent to which his story became sensationalized. In the show, there are moments that Floyd is able to see what is going on through his "dreams," but Floyd isn't able to enjoy his new-found fame, as all he wants is to see the light of day again.
Revue: Who's the audience for this show? What should audiences know before they come to the theater?
JEC: When the events of Sand Cave were taking place in 1925, people all across the country were glued to their radios and to the latest edition of the local papers to get the most recent update to Floyd's condition. To me, that is who our audience represents, the people who are/were interested in the story. If audience members wish to research the actual events of Floyd Collins' entrapment they would benefit greatly, however the show is written well enough that it is not necessary.
Revue: Anything else you'd like to share?
JEC: The story of Floyd Collins is most accurately represented in the book Trapped! the Story of Floyd Collins. CAST is fortunate in that we will have Mr. Brucker with us for the opening week of the run to work with the cast, and he will be doing a Q&A after the show. This will be such a treat for us as well as the audience and is something that should not be missed.
By the by, the musical is currently running in London at an underground theater. Read a review, which calls the show a "little-known masterpiece" here.