Catch a Movie Wednesday at The Fillmore, then Head to Halo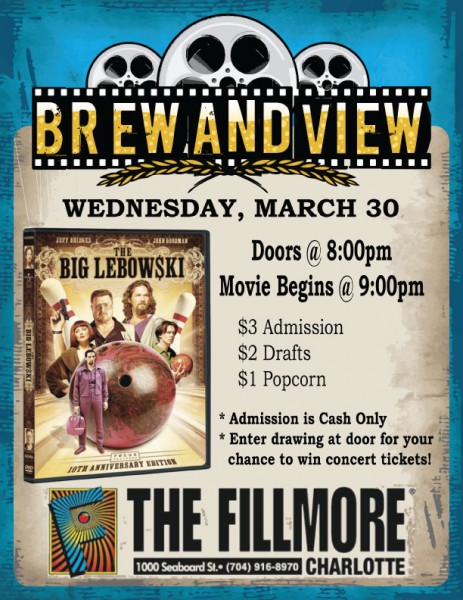 NC Music Factory continues to find creative ways to draw people to its venues. This Wednesday night, March 30, The Fillmore Charlotte is hosting Brew and View. The event features a showing of The Big Lebowski on the big screen, along with $2 draft beers and $1 popcorn. Admission is $3, doors open at 8 p.m. and the movie begins at 9 p.m. Your admission also enters you a chance to win tickets to and upcoming concert at The Fillmore.
I'm not sure if movies will be a weekly occurrence at this venue, but my guess is that management will test it out to see if it's worth doing on a regular basis. It could be a fun time, especially if they select the right movies. The Big Lebowski is a cult classic, so that could draw some interest. The Fillmore Charlotte, 1000 Seaboard St., at NC Music Factory, 704-916-8970. ncmusicfactory.com.
If you decide to attend Brew and View, after the movie ends you might want to walk next door to Halo. The nightclub's Pure Wednesdays party draws a sizeable crowd, especially for the middle of the week. Doors open at 10 p.m. and ladies are admitted free all night. The night also features $2 domestic beers and $2 house well drinks, with music by DJ RWONZ. Halo, 820 Hamilton St., at NC Music Factory, 704-332-HALO. haloclt.com.