Catering Conundrum
Plated vs. buffet style dinner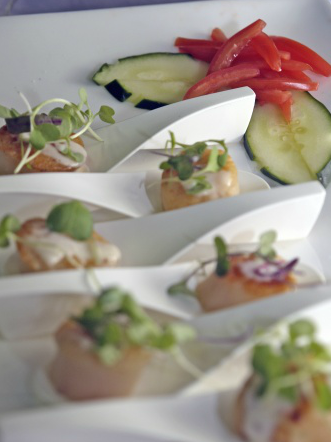 Though it can happen that the reception venue only offers one serving style or another with its on-site catering, most of the time a bride and groom will need to decide between the two options when it comes to how dinner is served. And unless you're dead set as a couple on one dining route, this decision is more complicated than a simple penchant. There are serveral things to consider before committing to buffet style or plated dinner. We've broken down the basics for you below so you may make an informed decision.
Grand Presentation
For the ultimate elegant affair (think white or black tie), plated dinner feels most appropriate. A plated dinner doesn't allow for a break in time from the dinner table, adding to the level of formality. Table service will also be expected by guests for the black or white tie wedding. Bottom line: you want the dining experience to be in keeping with your intended level of formality.
Price Check
Ask your caterer for the difference in price between the two options. While often times, buffet style will be the less costly option, occasionally a particular menu will end up being cheaper served by the plate. Likewise the specific menu you have in mind may only be feasible served one way.
Social Butterfly
The buffet-style dinner allows for guests to migrate from their designated table and chat with other guests while in line for food. Buffet style dinner can make guests feel less confined to a single table for the entirety of dinner.
Picky Palette
The buffet style dinner gives multiple options to guests (as opposed to the usual two with plated dinner) when it comes to eats for dinner. This is beneficial for child guests or simply picky eaters.
Crowd Control
Slow lines and the simple hassle of waiting can be a deterrent when it comes to buffet-style dinner. Another thing to consider: how to set up the food line or stations. You'll want to arrange them so that the guests in line (and of course the tables themselves) are far enough removed from the guests' tables.
First Things FIrst
If you choose buffet style dinner and you do not have a hired wedding planner, be sure there is a designated individual to bring plates from the buffet to the bride, groom, bridal party, the newlyweds' parents and any elderly family members. These individuals should never stand in line to receive food.
Heavy and Light
With buffet style dinner, the lighter appetite guests can stick to the amount they'd prefer, rather than receive a set portion during a sit-down dinner. The guests with a larger appetite can go back for seconds in the buffet line.