Caution Flag
As a lifelong racing fan and Charlotte native, I wanted to like the NASCAR Hall of Fame. But it just wasn't honest enough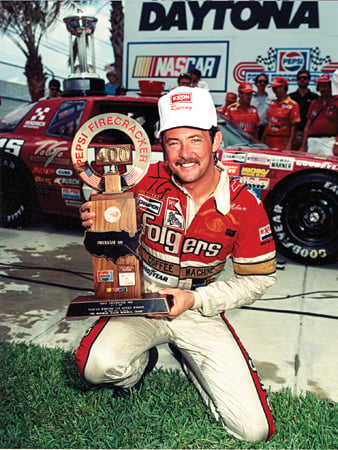 Growing up, I always had a secret pride when folks in Raleigh would refer to Charlotte as that "overgrown gas station/race track on the South Carolina border."
It was cool that Charlotte had some kind of authentic identity, even if it was as a white-trash/race-track kind of place. And even if the city's white-collar leadership refused to acknowledge that identity. In the 1960s and 1970s, power elites like mayors Stan Brookshire and John Belk never cared about NASCAR. Tee times at Myers Park Country Club were rarely delayed because of time trials at the Charlotte race. Track promoter Humpy Wheeler used to tell the story of how in the mid-1970s, NASCAR was giving the Charlotte Chamber an introduction to the sport and the chamber chair gave Humpy a hot six-pack of Pabst Blue Ribbon and a pair of white socks. It was an apt gesture.
For much of NASCAR's half-century-plus history, the fan base has been largely composed of middle-class, Southern white males, many of whom worked in textile mills scattered across the red-clay Piedmont, from Ranlo to Boiling Springs. Race-day attire was work attire—
straight-legged jeans, workingman shoes with white socks and, white T-shirts (clean ones if they were really dressing up). 
I come from that mill culture. I was raised off South Boulevard in Sedgefield, and both my parents worked in mills as teenagers. And I've always been a NASCAR fan.
So in January I visited the NASCAR Hall of Fame with high hopes. I'd heard all the advance hype—how we'd finally beat out Atlanta on something, hired a fancy-pants architect, shelled out $200 million to build on five acres of überswanky downtown. I wanted to like it.
On the day of my visit, the public appeared to outnumber the employees only 2-to-1, and that's assuming some staffers were out of sight in their offices. This first year, projections called for 800,000 spectators. The HOF will get a good bump from Race Week in May, but most estimates say attendance is down between 50 percent and 75 percent from early projections. I know, it's a lousy economy and all that. But in a highly unscientific survey, I counted fifty-three friends who are NASCAR fans, guys who have been going to races for twenty years or more and don't hesitate dropping $2,500 for a week in an overpriced condo in Deland for the Daytona 500. And of those fifty-three dedicated fans, one has been to the HOF.
"It was fun to see some of the old cars, but I mean, really, why go to a museum when you can see the real thing at a track," says Tim Roy of Lake Wylie, who has attended four NASCAR races in California and the inaugural race in Las Vegas. He's been to more races in the Carolinas than he can count, including Darlington in the 1970s when he was arrested for disorderly conduct, paid his fine, and then was driven by a cop back to the infield before the race began.
"It's like the Hall of Fame is trying to fancy up the sport, just like NASCAR has," Roy tells me. "When it's 103 degrees on a track out west and the suits are up in the sky boxes giving Darryl Waltrip a trophy in the AC while the fans are sweating their butts off down on the track … that's when you realize just how out of touch NASCAR is with their fans."
At the HOF, I went to the High Octane Theater and watched a short racing history 
film on a huge screen. The sound approached that of a space shuttle launch; built-in air vents allowed you to feel the whoosh of the cars on the track. I was half-expecting to get high from spilled gas strategically placed under our seats. It was disorienting, but cool, like the vertigo you sometimes get around a pit crew—seven guys in orange and yellow jumpsuits changing tires with those whining pneumatic wrenches, filling the gas tank, and cleaning the windshield—all more quickly than you can pull a can of beer out of your jacket pocket.
And then there's Glory Road, which is the centerpiece to the 150,000-square-foot complex. It showcases eighteen historic race cars lined up on a winding circular track with a zero-to-33-degree bank (which matches the highest one at Talladega). You can walk on the track and get a funhouse sensation from its steepness. There are even chunks of the original tracks.
There's also an OMG moment when you stand alongside Richard Petty's 1967 
Plymouth Belvedere—the turquoise of the No. 43 is brighter than a Navajo's bolo. You almost expect the mustachioed Petty, with his wraparound shades and snakeskin-
band cowboy hat, to climb out of the driver's- side window sporting that bad-boy grin.
And there's a bunch of other race stuff—three floors of garages with pistons and suspension rods, breakaway simulators, headlines, trophies, interactive gee haws activated by "your personal hard card," and lots of highlight videos of NASCAR's three F's (fender benders, finishes, and fights), including a video of the celebrated fight between Cale Yarborough and the Allison brothers after the 1979 Daytona 500.
So I found a lot to like at the HOF. But I was more troubled by what I did not find.
NASCAR is notoriously thin-skinned—it doesn't want to hear it from its drivers, its announcers, its fans, and especially not from the media. HOF officials assure me that they do not have to submit their exhibitions for NASCAR's approval. For the record, the HOF is owned by the city of Charlotte, operated by the Charlotte Regional Visitors Authority, and licensed by NASCAR. Although "museum" is not part of its title, it does consider itself one in addition to being a hall of fame.
Of the nearly 900 NASCAR drivers who have driven in the past half century, there's one who, even in death, still makes NASCAR officials more nervous than a long-tailed cat by the rocking chairs at Cracker Barrel.
Never mind the drugs in Tim Richmond's body, his blatant sexuality, his not taking any crap off NASCAR and slapping it with a defamation lawsuit before dying of AIDS in 1989, it was Richmond's defiant attitude to the moral dictatorship of NASCAR that made him a nonentity. Richmond was not a NASCAR-sanctioned red-blooded manly man with a family who went to church on Sunday, and did you see him in that Speedo on his sailboat? He was a Bono-fide rock star and, many say, just what the emerging sport needed, a bigger-than-life Broadway Joe Namath who was beginning to attract a more diverse fan base, including more women.
NASCAR's cardinal rule under the France family has always been "Thou shalt not be bigger than the organization"; Elvis need not apply.
Yeah, the HOF has Richmond's No. 25 on Glory Road and there are other scattered mentions in the hall, but when I wandered through on my own, the first reference I saw of Richmond was a paragraph on the third floor along with a huge 45 rpm record that supposedly had something to do with him. I disagree with HOF officials who claim Richmond is fairly represented. Richmond won thirteen times in his eight seasons, was named one of the fifty best NASCAR drivers of all time, and is in the International Motorsports Hall of Fame. That said, here are two health tips: do not take a deep breath of exhaust fumes on the Turn 3 backstretch at Daytona and do not hold your breath waiting for NASCAR to open its Hall of Fame to the Wild One.
My No. 1 complaint about the NASCAR Hall of Fame is that there's so much emphasis on the smiley-face "joy of victory" part of the sport that the humanity gets lost in the blur of corporate logos and checkered flags. Most drivers at a NASCAR race lose, and some end up as mangled as a shard of extruded aluminum.
Sure, when I go to the Baseball Hall of Fame in Cooperstown, I don't expect to see much about the fact that more than 800 people have died in ballparks (bean balls, lightning strikes, foul balls, collapsing grandstands, etc. It's true; Google it), nor do I expect to see much mention at the HOF of the sixteen NASCAR drivers who have died on the track and the hundreds of others who have died in all types of motorsports racing. But there is not one wrecked car in the entire HOF. My gosh, you would have thought Fireball Roberts died peacefully in a nursing home manor on Sharon Road instead of after a fiery crash on lap seven at Charlotte's World 600 in 1964.
One of the most interesting displays at the Hendrick Motorsports Museum is of a stock car horrendously mangled by a crash that the driver survived. Say what you will about the specter of racetrack violence and whether it attracts race fans or not, but c'mon, do you think it's cars cautiously chugging along in a double file like commuter traffic that makes ESPN's highlight clips? Or the airborne race car on fire twisting like a cyclone across the infield grass? So why not just acknowledge that wrecks are part of the allure of NASCAR, show a wrecked car, and then move on? The HOF doesn't have to dwell on it, and it certainly shouldn't have a car in which a driver died.
In its defense, the HOF does have the printed report on the investigation of Dale Earnhardt Sr.'s fatal crash at Daytona in 2001, and it does have extensive information on HANS, the head-and-neck support device that was widely put into use after Earnhardt Sr.'s wreck.
The fact that NASCAR has a larger percentage of whites than any sport outside of a South African rugby team deserves more than a diversity exhibit the size of a science project on the third floor. Yeah, I know NASCAR has long tried to recruit minority drivers and fans, and even hired Magic Johnson. And in March it showed ESPN's documentary on Wendell Scott, the highest-profile African American to ever drive in NASCAR, a man who struggled for years with NASCAR's discrimination against black drivers. Why not have a respected historian explain that racial disconnect with NASCAR? Just like with the car fatalities, don't sweep it under the rug. Deal with it fairly and move on.
There are plenty of photos of fans at the HOF, but why isn't there more about the fans? Why not oral histories on the first generation of NASCAR fans who were on the beach at Daytona in the 1950s when drivers raced on the sand and cooled their tires in the surf? Those fans are dying out as nearly as fast as World War II veterans, so why not preserve their stories now while they're still alive? Why not have an actual pickup truck, circa 1975, plucked from the infield at Charlotte, with a rickety plywood viewing rack on its roof peopled with statues of NASCAR fans as they really were—in folding lawn chairs with beer bellies, sun burned, headphones on their head, a cigar in one hand and a cold Bud in the other?
Who cares if that's not the NASCAR Dad image/demographic that the sport wants to sell to Wells Fargo or Viagra? This is not the former Soviet Union, where you can airbrush the pioneers out of historic photos 
because of a regime change. You can't do that in America unless you own the museum.
By their very nature, halls of fame glorify their sports—but they shouldn't whitewash them. What would Cooperstown be without reference to Carolinian Shoeless Joe Jackson and the Black Sox? Museums that feature happy-face portrayals of their past don't last and don't deserve our patronage. What if Levine Museum of the New South portrayed Charlotte only as a banking center with scarcely any mention of poverty, lynchings, textile mills, cotton fields, and segregation? Is that a realistic portrayal of the South, by ignoring its often unsavory past?
NASCAR owns the sport, but Charlotte owns its Hall of Fame, and we deserve 
better.
Dan Huntley was a reporter and columnist for the Charlotte Observer for twenty-four years. He is the author of Extreme Barbecue: Smokin' Rigs and 100 Real Good Recipes. He lives in York, S.C.