Where to Get Doughnuts in Charlotte
A curated list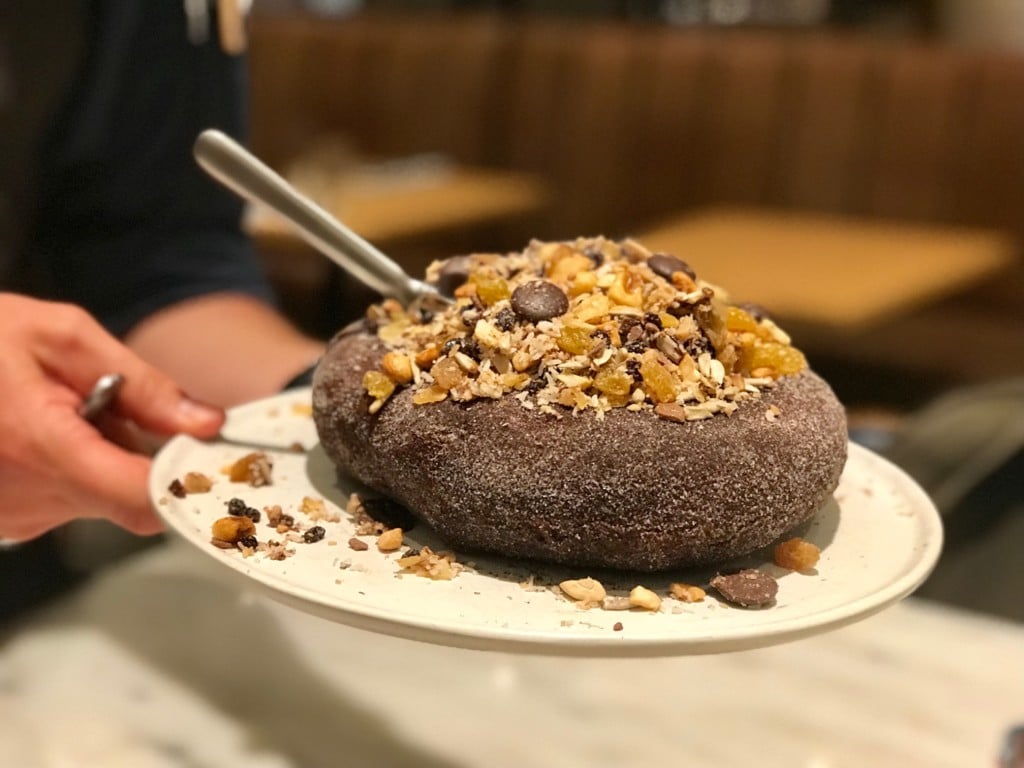 THERE'S SOMETHING magically approachable and nostalgic about the humble doughnut.
For some odd reason, and I can't explain why, when my grandfather died when I was 7, I remember a box of doughnuts sitting on the table at my aunt and uncle's table the morning we left to return home to Florida. These weren't particularly extravagant doughnuts, which makes this memory even more strange. I don't remember much of the nuance and detail of those few days. I do remember bits of the stressful 24-hour car ride from Florida to Rochester, New York, where he lived. I remember knowing my mom was sad, and I remember sitting on my older cousin's lap, practicing the super-hard, religious-word-laden verses my family has asked me to read at the funeral.
But most vividly, I remember all of us – after a trying weekend saying goodbye to my mom's dad – meandering about the house, opening the box of doughnuts and pairing it with a cup of coffee as we talked, hugged, and said our goodbyes. The doughnuts were the glue to bring us all together.
Doughnuts seem to do that. That must be why they come in dozens. Doughnuts are for sharing, for caring and for keeping us all together. Here are four particularly memorable Charlotte doughnut bakeries:
---
Pepperbox Doughnuts
101 W Worthington Ave., Ste. 150
In this brand-new spot at one of South End's hottest locales, Pepperbox Doughnuts has transformed its former pop-up and delivery-only business to one of the city's most consistently unique bakery. The yeast-based doughnut flavors rotate regularly, but recent iterations have included ricotta rhubarb, toasted miso caramel, and a pineapple black pepper bacon bar. The bakery always has a selection of vegan flavors as well.
Suarez
4245 Park Rd.
One afternoon about a year ago, I foolishly locked my keys in my car. I knew immediately of my folly, and I called AAA for help. The wait would be an hour, the representative told me. Under any circumstance, I'd be livid. But in this particular fortuitous scenario, I had locked myself out in the parking lot of Park Road Shopping Center, conveniently in front of Suarez Bakery. I took it as a divine sign that I deserved a 7-inch Texas glazed doughnut. This is a safe space, so I feel like I can tell you all I ate the entire larger-than-my-face doughnut while waiting that hour. There's no shame here. It was delicious.
Move That Dough
512 E 15th St.
If you've ever gone to Charlotte's ever-growing VegFest, you've no doubt seen the adorable pink to-go boxes from this pop-up and delivery-only vegan doughnut bakery. Regular festival-goers, similarly, know to immediately head to this carnation-colored table. The line will be long, but the alternative is you don't get doughnuts, and who willingly accepts that fate? The cake-based doughnuts here come in rotating flavors like s'mores, banana chocolate chip, blueberry and salted caramel brown sugar. Outside of VegFest, you can find these hole-y treats oftentimes at The People's Market, Queen City Grounds, Central Coffee and more.
Stoke
100 W Trade St.
For the experience of all Charlotte doughnut experiences, of course, we can't send you anywhere other than Stoke. This sugary monstrosity is a full pound, topped with pastry cream, Heath Bar crumbles, and powdered sugar, you know, for that little bit of extra of sweetness. It's the perfect plate to share with loved ones and create memories with as you pull and tear and delight in how life could ever be so sweet.
---
Other trusted names in Charlotte:
Reigning Doughnuts
3120 N Davidson St Ste 100
Sugar Handmade Gourmet Donuts
11914 Elm Ln.
Your Mom's Donuts
11025 Monroe Rd.