Celebrate Oktoberfest with Local Beers and Perfect Pairings
Join the craft brew scene and host your own tasting party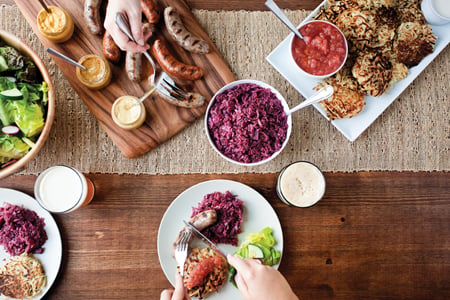 Charlotte's craft brew scene is bubbling over with enthusiasm, and beer remains as approachable as ever. So whether you're new to ales or an all-out beer geek, join the movement by hosting your own tasting party. Michael Brawley, owner of Brawley's Beverage, not only loves helping customers prep for beer tastings, he often throws them himself. "A beer tasting doesn't have that intimidation factor," says Brawley. "It makes for a casual afternoon." And with Oktoberfest revelers popping bottle caps around the globe, we couldn't think of a better way to celebrate fall.
The Theme
"There are so many different ways to set it up," says Brawley. Most people, he points out, stick with either showcasing one style of beer (think American IPAs or seasonal Oktoberfest brews) or concentrate on the offerings from one region. (Like all Belgian ales or brews from only California or North Carolina producers.) Of course, if you have a go-to brewer, a portfolio tasting can also make for a great party. (Look for brewers with a wide variety, like Dogfish Head, for example.) "Hopefully people who already know a lot about beer can learn more about something specific, and people that aren't too into it can walk away with the name of a beer they like," says Brawley. (The crew at his store will gladly help you make some selections.)
Slow-roasted Wursts
Serves 8
4 pork German sausages
4 turkey German sausages
Cooking spray
Aluminum foil
Mustards
Preheat grill to high. Spray sausages with cooking spray, and cook about 4 minutes, until well marked. Lower heat to medium, lay down foil on grill, and place sausages on foil, marked side up. Close lid and let roast, 10-12 minutes for pork, 12 minutes for turkey. Let rest 3-5 minutes and serve with a variety of gourmet mustards.
The Set-up
The order you pour the beverages is important. "You'll want to go from lightest to darkest, drier to sweeter, less to more alcoholic," says Brawley. When it's time to taste, pour the same sample of beer for all your thirsty guests, leaving time between bottles for discussion. For an added twist, consider a blind tasting. Place each bottle in a paper bag so that people aren't swayed. "When you reveal the beers, people who thought they liked something might find they actually prefer something else," says Brawley, who usually hosts his parties this way. "We are visual creatures. The labels bias us."

Apple Turnovers
Serves 8
4 Granny Smith apples
2 tablespoons butter
2 tablespoons lemon juice
3 tablespoons sugar
1/4 teaspoon ground cinnamon
kosher salt
1 tablespoon cornstarch
1 package (14 ounces) frozen
puff pastry, defrosted
Flour
2 eggs
Sour cream
For topping:
2 tablespoons sugar
1/2 teaspoon ground cinnamon
Heat oven to 400 degrees. Peel, core, and dice Granny Smith apples. Heat butter in sautée pan over medium heat. Add apples and cook for 2 minutes. Turn heat to low, add lemon juice, sugar, cinnamon, and pinch of salt. Stir to coat apples and shut off heat. In a small bowl, whisk cornstarch with 1 tablespoon water to form slurry. Return apple mixture to medium heat, add slurry and stir, until thickened, about 2 minutes. Remove apple mixture from pan and let cool.
Cover work surface with flour and roll out pastry dough until 1/8 inch thick. Cut in quarters, forming four rectangles. Roll out each rectangle to be a little thinner, and cut in half, so you are left with 8 pieces of dough. Spoon 1/2 cup apple mixture in the middle of each rectangle and fold over to form triangle. Pinch the sides to seal and repeat with remaining dough. (If preparing ahead, chill turnovers in fridge until ready to bake, up to 4 hours.) Whisk eggs with 2 teaspoons water. Mix sugar and cinnamon for topping. Line a sheet pan with parchment paper or cooking spray. Brush turnovers with egg wash, sprinkle with topping, cut slits in dough to vent and bake for 15 minutes. Let cool. Serve with sour cream.
Applesauce
Serves 8
3 apples, peeled, cored, and quartered (tart variety, like Granny Smith)
2 apples, peeled, cored, and quartered (sweet variety, like Pink Lady)
2 plums, pitted and quartered
1/2 cup sugar
1/4 teaspoon ground cinnamon
Zest from 1 lemon
Combine all ingredients in heavy-bottom pot. Add enough water so that 1/4 of apple mixture is submerged. Cook over medium-low heat (barely simmering) for about an hour, stirring often to break down fruit. Remove plum skin. Puree if you prefer a smoother product. Cool completely before serving.
The Pours
Getting sloshed is not the goal, so keep the tasting to about twenty-four ounces per person, suggests Brawley. Aim for five or six different beers, and pour four-ounce glasses of each. "That way, if people discover a new beer they like, they can drink some more beer after the tasting," says Brawley.
Sweet and Sour Red Cabbage
Serves 8-10
1 cup balsamic vinegar
1/4 cup sugar
1/4 cup orange juice
3 tablespoons vegetable oil
1 head cabbage, shredded by hand
or food processor
1 yellow onion, sliced (about 2 cups)
1 apple, peeled, cored, and diced
(about 11/2 cups)
3 cups chicken stock
1 cinnamon stick
1 bay leaf
Kosher salt and black pepper
Add vinegar, sugar, and orange juice to a small sauce pan and cook over medium heat until sugar is dissolved. Meanwhile, heat oil in a large soup pot over high heat. Sauté onions until translucent, about 3 minutes. Add apples and cook for another few minutes. Add cabbage and vinegar mixture. Add enough stock so the cabbage is at least halfway submerged (2-3 cups, depending on your pot). Add cinnamon and bay leaf. Reduce heat to medium-low, cover, and let simmer until soft, about 30 minutes, stirring occasionally. Season with salt and pepper and serve. Can be made in advance and reheated.
The Sustenance
While food options for a beer party are endless (as long as it's salty, it works), keep in the fall spirit with an Oktoberfest-style buffet. Sausages, slowly roasted on the grill, become smoky and juicy, and pair perfectly with a slew of Teutonic sides that can be made ahead and a variety of gourmet mustards. Individual apple turnovers are an easy, sweet evening-ending bite. Keep glassware a focus, but get festive with disposable, beer-garden style plates and hot dog boats. (You'll thank us the next day.)
Green Salad
Serves 8
12 cups butter lettuce, leaves removed and cleaned (about 4 heads of lettuce)
6 radishes, sliced
2 cucumbers, quartered and sliced
2 large scallions, sliced
2 tablespoons apple cider vinegar
1 teaspoon mustard
1/4 cup olive oil
Kosher salt and black pepper
Add all vegetables to a large salad bowl. Whisk vinegar with mustard. Continue to whisk while streaming in oil. Toss dressing with vegetables, salt, and pepper and serve.

The Beer Book
As the host, prepare some literature on what your guests are tasting so they can follow along and have an educational take-home gift. BeerAdvocate.com, a trusted site where users can search by individual beers, styles, or ratings, is a great resource for information. Party throwers can also use the site to suggest alternative, comparable options to the beers they had. (For example, "If you liked Bell's Hopslam Ale, try Stone Ruination IPA".)

Potato Pancakes
Serves 8
4 russet potatoes
1/2 large yellow onion, peeled
2 eggs
2 teaspoons kosher salt
Black pepper
3 tablespoons flour
Cooking spray or vegetable oil
Applesauce (store-bought or
recipe on page 83)
Sour cream
Peel potatoes and place in cold water until ready to use. On a box grater or in a food processor with a shredder blade, shred onion. Set aside. Grate potatoes. If using food processor, take care not to overshred. Combine onions and potatoes, and remove as much water as possible by pressing through a colander or squeezing in a kitchen towel. In a bowl, whisk eggs. Fold in potato mixture, salt, and pepper. Add flour and mix. Heat cast iron griddle or pan over medium-high heat. Coat with thin layer of oil or cooking spray. Place 1/4 cup of potato mixture on griddle, and fry until brown, about 4 minutes per side. Hold in 250-degree oven until ready to serve. If making in advance, reheat in 350-degree oven. Serve with applesauce and sour cream.