Center City Needs Pick-up Basketball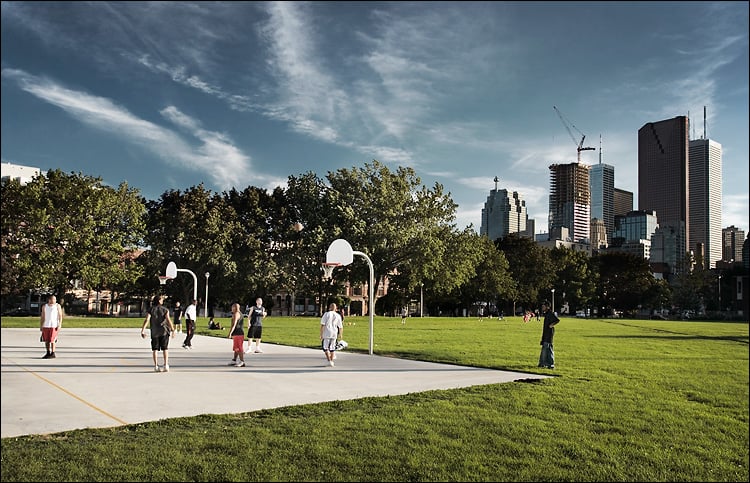 Right now, Charlotte Center City Partners is seeking community input for its 2020 Vision Plan. I submitted an idea of which I'm very fond. So fond, in fact, that I'm going to share it here:
Center City Hoops
North Carolina is known as a basketball-loving state. Granted, that love is more pronounced on so-called Tobacco Road, which is home to the "big four" schools in the ACC. But Charlotte is somewhat basketball-crazed as well. Drive around town, and a hoop is almost standard issue on most driveways. From January to March, basketball talk dominates water cooler conversation. And of course, Charlotte boasts the state's only NBA team.
So it's always struck me as strange that the best pickup hoops in the city is at YMCA gyms, hidden from view, membership required. I would love to see a small basketball park Uptown. Think Rucker Park in NYC. There oughta be one place in the city where everyone knows to find the best pickup games. Where the best players congregate to prove their mettle. Where, if you're in town and you ask someone where to play, that someone knows where to send you. That place oughta be in the center city.
I foresee three or four courts, each named for a famous North Carolina basketball player. Michael Jordan Court. David Thompson Court. Etc. Put a few rows of bleachers up around a couple of the courts. Folks could steal over on their lunch hour and watch some great pickup hoops. There could be a streetball league. The Bobcats could hold occasional open scrimmages there. Nonprofits could host citywide three-on-three fundraising tournaments. Parks and Rec or an independent group could run outdoor leagues. Locals like Antawn Jamison and Steph Curry could come home for demonstrations for kids, even celeb exhibition games. And people like me could head downtown on the weekend to play a little ball.
This could be an actual center city destination. The best players from anywhere within 30 miles could head there on the weekends to hoop it up. If you play ball and you're in town, it's the one place you gotta go. If you just like basketball, period, you know you can go watch some great pickup games. It's an attraction that appeals to diverse audiences. We don't have enough of those in the center city. And it gets people outside, interacting with the center city. We don't have enough of that, either.
Wouldn't take up much space. Except for land acquisition, shouldn't be expensive. There are some surface parking lots near the transportation center that would be perfect (it needs to be near public transit). Perhaps the YMCA or the Bobcats could help fund and maintain it. We could put a webcam up on the findyourcenter.com site. Sure, it might not be too popular in January. But I play outdoors with a group of guys, and we've only missed two weekends for weather in the past year (hard to play on a snow-covered court). Parks and Rec could maintain it. Maybe partner with Levine Museum of the New South to put up an outdoor exhibit on North Carolina basketball (I think they did a similar exhibit a few years ago). Could even commission statues of the players the courts are named after (now there's something tourists will want to get their photo taken with). And I'm sure once other people get involved in the project, more great ideas will surface. (Although there is something to be said for keeping it simple.)
Thanks for your consideration.