Center for Americana Music at Spirit Square in Charlotte?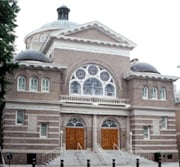 Read an article in the Times this morning about a the brand-new SFJazz Center in San Francisco:
SAN FRANCISCO — "Congratulations," Bill Cosby told a roomful of jazz patrons on Wednesday, near the outset of the opening-night concert at the SFJazz Center here. "This is your place, you know."
The crowd, which filled the 700-seat Robert N. Miner Auditorium, laughed appreciatively at Mr. Cosby's line, which was no less welcome for being obvious. The SFJazz Center, a $64 million performance space, proudly billed as the first stand-alone building designed for jazz in this country, was being consecrated in the presence of assorted board members, capital donors and series subscribers, who all had a stake in the project. But the concert, which was broadcast on radio by WBGO and WWOZ (and online by NPR Music), was also intended for a larger audience of the jazz faithful, a global audience. If all goes as planned, this is to be their place too.
All of which, along with a strong cup of coffee, got me to thinking. Why shouldn't Charlotte have something similar, but devoted to Americana music? Charlotte has the roots. This city, as Tom Hanchett at Levine Museum of the New South loves to say, was Nashville before Nashville was Nashville (Charlotte was home to several recording studios before they moved to Nashville). We have a long tradition of bluegrass, in Charlotte and parts nearby. The current scene is vibrant, too, with bands like The Avett Brothers leading the way.
And then we have Spirit Square. It's home to the best-sounding concert hall in the city, the 700-seat McGlohon Theatre. Spirit Square also contains gallery spaces, classroom spaces, and a smaller performance hall. The complex's future has been debated in recent years, because it occupies prime real estate uptown and is owned by the county.
So how about The Center for Americana Music at Spirit Square? Has a nice ring to it, no? Essentially, the concept would build on what's already happening at Spirit Square. It was conceived originally as an arts center, and has more or less been that over the past thirty years. But it lacks an identity. This could be it. It would be a local, regional, and, if done right, national draw. It would add to our collection of institutions devoted to local culture, such as the Levine and, yes, the NASCAR Hall of Fame.
Spirit Square has current tenants, of course. The Light Factory occupies two of its galleries. It could stay. But for that little gem of a museum to realize its potential, it needs its own space. The intimate Duke Energy Theater is an important stage for small local theater groups. That, too, could be worked out. Spirit Square's classroom space could be devoted to music programs.
Clearly, this is not a fully formed idea. It's barely 8:30 on an icy Saturday morning, after all. But this is something that could happen. The Center for Americana Music at Spirit Square. In Charlotte, North Carolina. I look forward to the opening concert.