Chamber Calls for Charlotte's Next Iconic Mural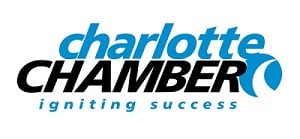 WITH THE CHARLOTTE Chamber's recent renovations, an opportunity emerges for regional artists: a challenge to create an enormous mural for the second-floor lobby. Though the skyline is the obvious Charlotte-tailored image that comes to mind, the form released by the Chamber says other iconography and imagery can be considered, as long it's Charlotte-specific. The project, titled "The Grand Mural," is sponsored by MetLife.
Here are the specs: the height of the mural will be 9 feet, with a length of 22 feet, 10 inches. Artists submit one image, which must have the ability to be reproduced at 1200 dpi. Also, artists must be 18 and from the Charlotte region (from the following North Carolina counties: Alexander, Anson, Catawba, Cabarrus, Cleveland, Gaston, Iredell, Lincoln, Mecklenburg, Rowan, Stanly, Union; or from these South Carolina counties: Chester, Chesterfield, Lancaster and York). "An honorarium of $2,000 will be paid to the selected artist for use of the image limited to Grand Mural promotion for a three-year period beginning June 9, 2015," the form says.
A panel of reps from MetLife, the Arts & Science Council and the Charlotte Chamber will determine the three finalists. During the week of May 4, a public vote will be held for the winner, using the Chamber's social media channels. Here's the thing: That June debut means a tight deadline. Images are due April 29 at 11:59 p.m. The Chamber is pretty adamant about late submissions being ineligible, too. Read more about the call and what's required of submitting artists here.
As for other grandscale Charlotte art, our Secrets of the City feature may have a few you've never encountered. Check that out here. Read about the Matheson Bridge Mural, Timeline, Persistence of Vision, and more.