Changing Your Maiden Name: What You Need to Know
It's not a glamorous part of wedding planning, but if you're altering your maiden name, here's what you need to know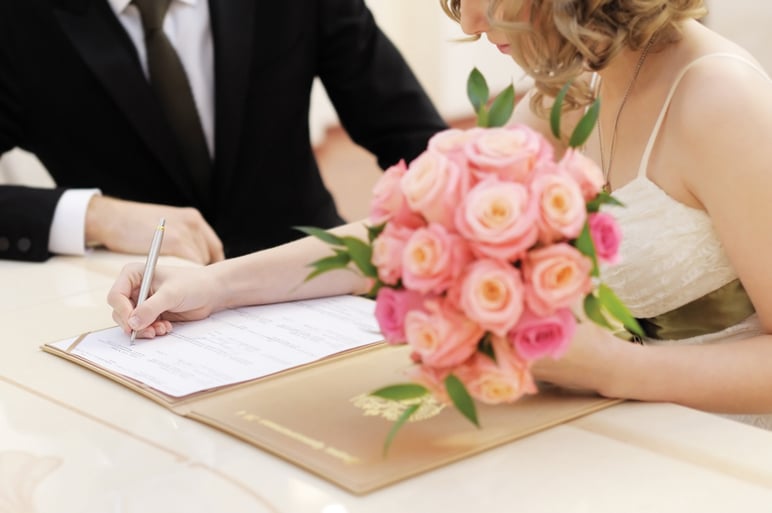 IT'S 1:40 P.M. on a Wednesday. You used your lunch break to jet over to the Social Security office to, fingers crossed, quickly scurry through the line and apply for a new Social Security card post-wedding.
Minutes pass. It's 2:20 p.m. You've memorized every smudge on the overused card you're holding that says "A23." It's 2:24. The lady at the counter finally calls "A23." It's your turn. You approach the counter. "I just got married, and I'm here to change my name," you say, handing the lady your paperwork.
Marriage certificate? Check. Driver's license? Check.
"Can I see your birth certificate?"
Your palms start sweating. You didn't know you needed a birth certificate. Despite having 15 copies of different documents proving you are who you say you are, you're forced to leave empty-handed, only to suffer waiting in another line on another day.
Here's the cold, hard truth. It might be 2015, but the paperwork that comes with getting married is a lengthy process and, unfortunately, there's no online form on which you click a few boxes, print off a few papers, and skip into the sunset.
To make sure you're legally married after saying "I do"—and to prepare for the plethora of signatures needed after the altar—here's what you need to know.
OBTAINING A MARRIAGE LICENSE
Applying for a marriage license is the first step to becoming legally married. First, you and your husband-to-be will need to fill out an online form for Mecklenburg County. Once the application is submitted online, both parties will need to visit the Mecklenburg County Register of Deeds office to finish the application.
Marriage licenses are valid for 60 days once they're issued, so don't visit the office more than two months before your wedding day.
Don't forget—you'll need your marriage license on your wedding day. Assign your maid of honor or best man to be responsible for bringing, and signing, as witnesses, the license once the ceremony concludes.
Getting married outside of the city? Mecklenburg County marriage licenses are valid throughout the state.
GETTING A NEW SOCIAL SECURITY CARD
Just accept it now—if you want to change your name, you'll need to make a trip to the Social Security office.
Properly planning your trip to the Social Security office can save time. If possible, visit midweek, as Mondays and Fridays tend to be busier. Early morning and lunchtime hours also result in longer lines, so try popping in at an irregular hour, such as 3 p.m.
In order to legally change your name, you'll need proof of identity, which can be a driver's license, passport, or birth certificate. Bring two forms of identification. You also need your marriage license and application for a Social Security card, which can be filled out and printed in advance.
Before visiting the Social Security office, make sure to consider how you want your new name to read. Some ladies choose to drop their former last name entirely, and keep their middle name; others choose to omit their middle name and replace it with a maiden name; still others choose to keep both with the addition of her husband's name. Ella Grace Little, who married John Preston, could become: Ella Grace Preston, Ella Little Preston, or Ella Grace Little Preston.
Changing your name is a free service, so don't worry about having cash on hand for any charges. Once you turn in the required documents and application, your new Social Security card will come in the mail in about 10 to 14 days. And don't worry—you don't need to memorize a new Social Security number—that will stay the same. Don't forget to store your Social Security card in a safe and private location in your home.
CHANGING YOUR DRIVER'S LICENSE
Once your new Social Security card arrives in the mail, it's time to visit the Department of Motor Vehicles to update your information (which might also include a new address).
This will seem like a piece of delicious wedding cake after enduring Social Security.
You will need to notify the DMV of your name change within 60 days. Make sure to bring your current driver's license, new Social Security card, and marriage license to complete the process. A new driver's license costs $10, which can be paid via cash or check.
Like the Social Security office, it's best to go midweek and avoid early morning and lunchtime hours to keep from getting stuck in long lines. Once you turn in the necessary documents and take a new picture for your ID, you'll be on your way. Your new license should come in the mail in 10 days.
THE LOOSE ENDS
Once you receive your marriage license, Social Security card, and driver's license, it's time to tidy up any loose ends. First, make sure to visit your bank with your new ID to change your name on all accounts or to combine your accounts. This usually requires an in-person visit but can be done rather quickly. Once you visit your bank, you'll receive an ATM card with your new name. Credit card companies will need to be notified, as well, to issue you an updated card.
You also will need to call your physician, dentist, and any other doctors to notify them of your name change; this can be done effortlessly the next time you arrive for an appointment, as long as you have your new ID. All insurance companies will need to be notified of your new legal name, and if you plan on traveling out of the country, you also need an updated passport.
CONGRATULATIONS, YOU'RE DONE!
It may take a few months for mail, emails, and the rest of the world to adjust to the newness, and don't panic when you're placing a to-go order and call yourself by your maiden name. You'll get used to it in no time!
---
WHAT YOU NEED TO KNOW: MARRIAGE LICENSE
The Register of Deeds office is located at 720 E. Fourth St.
It's open Monday through Friday, from 8:30 a.m. to 4:30 p.m. You'll need $60 (cash, check, or credit) for the marriage license fee.
Both parties will need a form of identification, such as a driver's license or passport, and prior completion of a marriage license application, available here.
WHAT YOU NEED TO KNOW: SOCIAL SECURITY
The Social Security office is located at 5800 Executive Center Drive.
Hours on Monday, Tuesday, Thursday and Friday are from 9 a.m. to 4 p.m. Wednesday hours run from 9 a.m. to noon.
Bring two forms of identification (driver's license, passport, birth certificate), your marriage license, and application, which can be filled out in advance here. The service is free.