Charlotte, Are We Ashamed?
Months after it occurred, new billboard blasts North Carolina for passing constitutional ban on same-sex marriage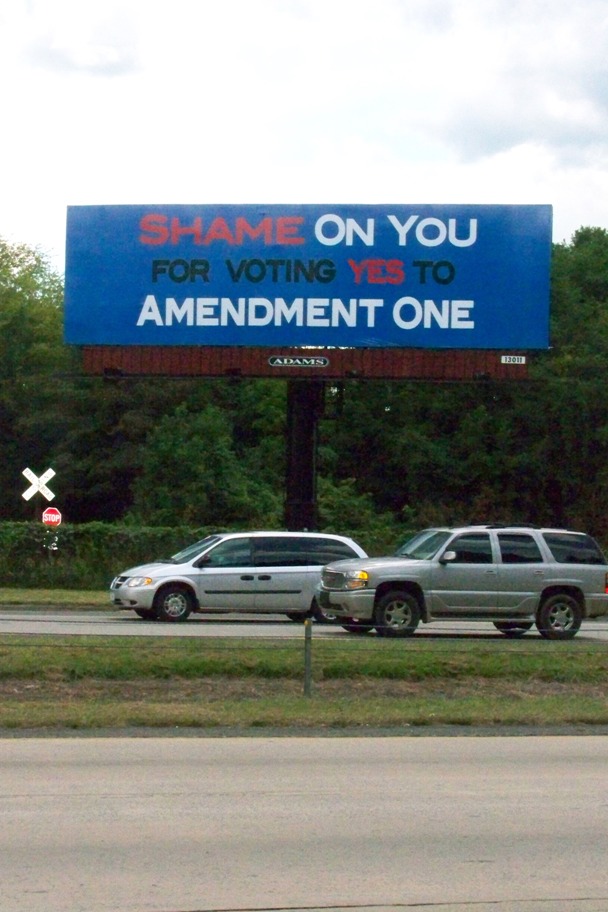 Tuesday, May 8 was an important day in North Carolina. It's when voters went to the polls this year for the primaries. Sure, residents showed up to their designated precincts to decide on their respective party's candidates for the fall election. But the main emphasis, as you'll recall, was on whether or not they would vote to approve North Carolina Senate Bill 514, better known as Amendment One.
As you should know, North Carolinians voted overwhelmingly in favor of Amendment One, by a 61 to 39 percent margin, amending the state's constitution to define marriage as between one man and one woman, effectively banning same-sex marriage (even though it was already illegal in the state). Well, more than three months later there's a new billboard on Brookshire Freeway/Highway 16 North, less than a quarter mile after Interstate 277 North ends, that reads: SHAME ON YOU FOR VOTING YES TO AMENDMENT ONE.
The billboard clearly has gone up at this time to greet the tens of thousands of people who are arriving in Charlotte for the Democratic National Convention. Amendment One's passing was a hot political issue that received tons of national media coverage. And over the next few days, there will be plenty of leading politicians and national journalists who could possibly see this billboard. How timely.
For whichever organization that paid Adams Outdoor Advertising a lot of money to run that billboard, they're simply exercising their First Amendment (not be confused with Amendment One) right under the U.S. Constitution. But they might want to know that Mecklenburg County (to you DNC visitors, that's Charlotte's county) is one of only eight North Carolina counties that voted against Amendment One. So I think that billboard would be better served in Burke, Wilkes, or Rockingham or any one of the 92 counties that voted for the same-sex marriage constitutional ban. Oh, wait, my bad—those counties aren't hosting the DNC.
Stay up to date with Charlotte magazine's Democratic National Convention coverage at www.charlottemagazine.com/dnc.
Follow me on Twitter @HollidayInk; email me at jarvish@grownpeopletalking.com.