Charlotte Artist Uses McColl Residency to Capture Women as Newborn Mothers
Holly Keogh talks her practice, Atrium partnership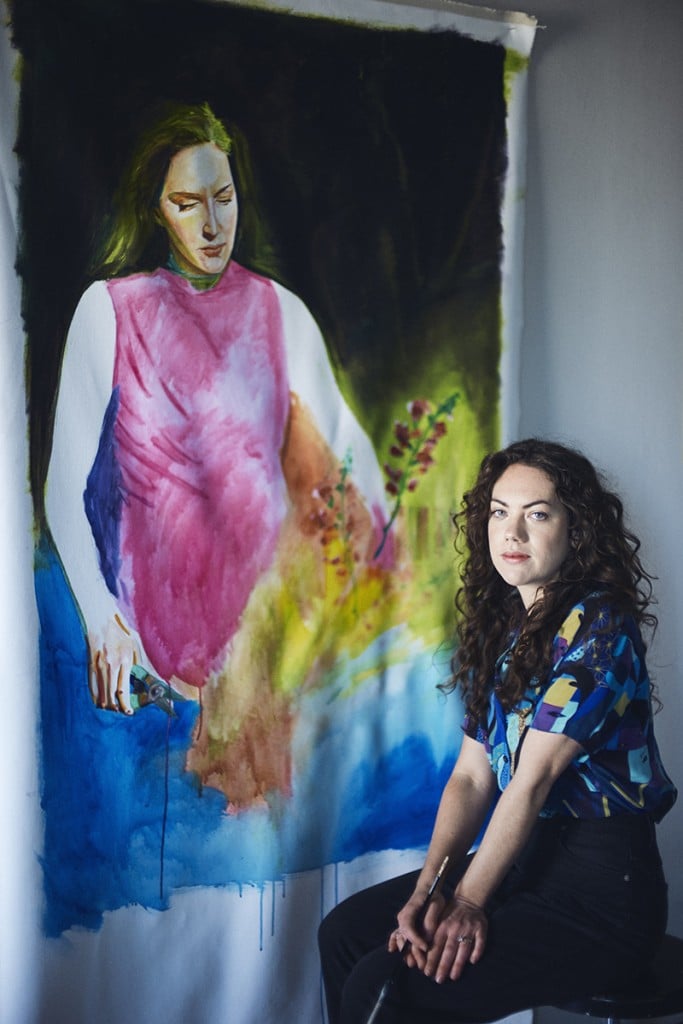 UNTIL RECENTLY, painter Holly Keogh's main subjects were family members, typically pulled from discarded images of the past: her mother as a child, or herself as a frowning, black-eyed girl. Using subjects so known to her is a comfort zone of sorts where she's free to alter compositions until something new emerges. "It's not about creating a likeness to my own personal family members," she says. "I'm widening that scope and making it more about the mood."
During her spring residency at the McColl Center for Art + Innovation, running through the end of this month, the figures in her paintings have been strangers to her. Yet her current project still works within that familial theme: She paints mothers as they recover in the hospital after they've given birth.
The project is a partnership with Atrium Health, which has funded Charlotte-area artists for several years and helped select Keogh for the McColl Center residency. "We were reviewing some amazing artists from all over the globe," says Matt Roden, Atrium's community relations director, "but realized we had a thriving art community here in our own backyard."
Now, through Atrium, Keogh builds relationships with pregnant women, photographs them after they give birth, then uses those photographs for her paintings. She meets soon-to-be mothers through prenatal classes, Maternity Center tours, and pregnant acquaintances. For the first time, she doesn't intimately know her subjects, which creates a politeness barrier to overcome.
Delivery is a complicated business, and the modern pressures of motherhood, plus the specific setting of a hospital room, equal stress. Keogh enters the room to photograph mothers who juggle the beeping machines and parade of visitors—all while trying to enjoy their newborns. She is aware of the sensitive environment. "It is very brave, it is very human … I definitely respect this moment," she says. "Hopefully they are paintings that these women can relate to."
Keogh is a locally sourced resident at the McColl, which features artists from across the globe. The Charlotte native graduated from UNC Charlotte in 2014 with degrees in painting and art history. Keogh was in residence at Goodyear Arts in 2015 and is now represented by SOCO Gallery, one of the city's most high-profile arts venues. When planning her proposal for the Atrium Health residency, she remained rooted in figurative painting and instinctively landed on Madonna and Child iconography. However, she is interested in motherhood beyond the noble, humble figure portrayed in the canon of art history.
As she gets this project off the ground, she works towards a solo exhibition that opens at SOCO on April 29. That series of paintings is based on stills from her grandfather's 1960s Super 8 films.
Over the past few years, Keogh has started experimenting with her process while remaining loyal to the figures. She does not discriminate when it comes to materials, as evidenced by her recent velvet paintings. Her poured paintings make use of a folded flat canvas that she pours paint through to create a figure. When unfolded, the figure is mirrored.
All of these efforts are an attempt to answer the questions eternally on her mind: How do you paint a portrait and make it new? How do you see or represent the figure in a new way? After all, the most important thing about art is to create something that is your own. Otherwise, she says, "The photograph itself would be enough."