Charlotte Attorney Sarah Byrne on Fighting for Victims of Human Trafficking
She leads a pro bono advocacy project at Moore & Van Allen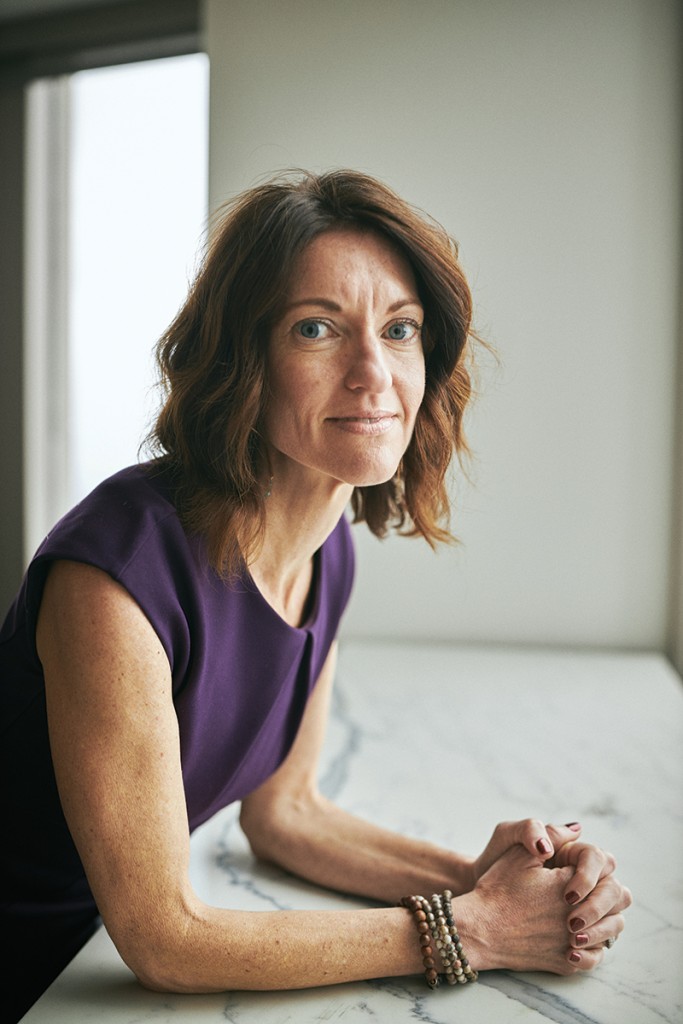 CHARLOTTE ATTORNEY Sarah Byrne grew up the daughter of a judge in western Massachusetts. Early on, she made the connection between law and public service. Byrne graduated from Boston College, then Suffolk University Law School in Boston, and moved to Charlotte in 2005 with her new husband to follow his investment banking career. At Moore & Van Allen, in addition to her regular duties as a lawyer, she worked pro bono to help victims of domestic violence and realized the prevalence of another disturbing crime: human trafficking.
Byrne wondered where trafficking victims could find free, comprehensive legal services like those offered to domestic abuse survivors and was disappointed by what she found. In 2013, Moore & Van Allen developed the MVA Human Trafficking Pro Bono Project, which now includes more than 190 attorneys and legal professionals and has helped more than 150 victims.
A big victory came last July with the passage of N.C. House Bill 198, which Byrne helped draft. The law allows courts to clear the nonviolent criminal records of trafficking victims who committed the crimes as a result of their being trafficked.
We spoke with Byrne at Moore & Van Allen's uptown offices about what motivates her to fight for victims of an often-misunderstood crime and to address the misperception that Charlotte ranks high among U.S. cities in human trafficking. Her words were edited for clarity and space.
---
My father, an extraordinarily kind and decent man, was a judge in my hometown. His career and values inspired my interest in the law and more specifically in public service. It was sort of the ethos in my home: how you can serve your community and other people. Also, my faith is a big part of my calling to help other people. I feel like when I do this work, I'm doing what I'm supposed to be doing.
Before and during law school, I worked in several different branches of government: Boston City Hall, the Massachusetts Governor's Office, and the Massachusetts Supreme Judicial Court, which is their highest appellate court, and in the U.S. Senate for Ted Kennedy. That gave rise to my interest in the law and a kind of sense of service. When I started law firm work, I knew doing pro bono would have to be a big part of my professional life. I feel like when I do this work, I'm doing what I'm supposed to be doing.
I had been for several years representing victims of domestic violence in seeking protective orders, and when I came to realize the prevalence and problem of human trafficking in Charlotte, I began to think, I wonder if victims of human trafficking are as supported as victims of domestic violence? I spent a lot of time looking locally, and ultimately nationally, to see what the support landscape was for victims of human trafficking. To my surprise, there really was a significant gap, not just here in Charlotte but nationwide.
We represented a number of labor trafficking victims a couple of years ago who came to the United States under the impression that they were going to be involved in a work-study program, and when they got here, they were forced to work without just compensation. The criminal process was successful, but they asked us to help them with immigration because they wanted to stay in the United States. I get chills every time I say that. After having come to the United States under those circumstances, to still have hope in the American dream is just outstanding to me. I still keep in touch with them and their families, and they're thriving.
There are two forms of human trafficking: sex trafficking and labor trafficking. The lion's share of our clients have been sex trafficking victims. We've had a handful of foreign-born victims, but most of our victims are domestic, from the Carolinas or from other parts of the country and now residing in the Carolinas.
We see these images of women being chained and bound, but so many of our clients are really self-directed, assertive people who have not been silenced. They were exploited and controlled for a period of time, but that experience doesn't define them. They are parents, they are children, they are friends, they are employees, they are neighbors. It's a crime of psychological exploitation, not bondage.
We've had so many legal triumphs, and we've been witness to so many personal triumphs of the victims that we support, but we've also seen so much loss and heartbreak—everything from, "Sorry, we can't get that charge expunged" to "I have no idea where she went; I think about her all the time." They disappear because they haven't developed that trust. There's this period where the victim went from thinking she was in a healthy relationship with a trafficker to then realizing that the relationship was coercive and dangerous and he or she had no control over their life anymore. And then if they leave, can you imagine leaving that and really having nothing? Because if you're going through that, you feel so alienated from other relationships and financial support, and it is very hard to maintain independence. Every day is so hard. Sometimes we lose them.
I've learned so much about human resiliency, because you could go through something like that, after having experienced a lifetime of challenges, and still be so hopeful and empowered, and just have full lives. I'm so in awe of all of my clients and what they've overcome. The human spirit is remarkable.
I challenge any statistics that attempt to rank geographic areas, because the only method for measuring this problem geographically is by hotline calls and other reports and some attempts at service provider data collection. To me, they better reflect an aware community than they reflect the actual problem, because victims of this crime don't self-report like victims of other crimes. That said, having worked with survivors here in Charlotte for over six years, it is a significant problem. But I have worked with survivors who have been trafficked in many small towns and cities across America, so I don't think there is any geographic area that's immune to this problem.
There is almost always an underlying vulnerability that gives rise to human trafficking. It can be poverty, child sexual abuse or physical abuse, drug or alcohol addiction, homelessness, and, in labor trafficking, migrant workers or workers who don't have status. Random abductions are not the general experience of my clients. For sex trafficking victims, the relationship almost always starts off in what seems like a healthy relationship. Then the perpetrator coerces them into engaging in commercial sex. Threats of violence is another huge coercive tactic used. At that point they're trapped in this exploitative relationship.
Almost all of our clients have more than one legal need. A huge part of the coercive tactics used by perpetrators includes engaging in criminal activity, whether it's involving drugs or firearms or robbery or breaking and entering. A lot of that activity is coerced and can result in charges or convictions that really get in the way of a survivor ultimately seeking independence, because having a criminal record can be a barrier to a job, to housing, to education. So clearing up a criminal record is so important for the survivor to achieve independence. A lot of times when people are trafficked, they lose custody of their children.
At the end of 2018, the General Assembly asked the N.C. Human Traffick­ing Commission to make legislative recommendations to human trafficking law. One of the greatest needs is to see whether criminal records are available for expunction or vacatur. Before this new law, the North Carolina statutes allowed for only prostitution convictions or charges to be erased from your record. What we did was expand the list of eligible offenses to nonviolent offenses. I can't wait to see how many more victims will experience relief due to this.
A year into doing this work, I wrote on a yellow sticky: "The North Carolina law needs to change." I put it up on my corkboard. And then this summer, I got to tear it down. That felt pretty good. I'd had client after client say she had a criminal record and wanted to have it erased because she'd been victimized. It happened so many times that I said, "We've got to change this law." When it passed in July, I said, "Well, that's done." And I put it in the recycling bin.