Charlotte Beer Babes team up with NoDa Brewing for Sweet Notations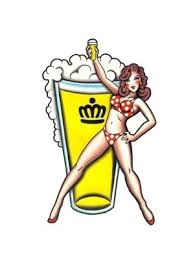 It's a misconception and mistake to equate craft beer with just men. So when I see nonsense like this article, which was posted a few months back, it makes me shake my head.
Fact is, there's no need for a "how-to." Women are already major players in the craft beer industry. A 2012 Gallup poll showed that beer had overtaken wine as the drink of choice for women ages 18-34. Also, Annie Johnson took the title of Homebrewer of the Year at the 2013 American Homebrews Association national competition, marking the first time a woman has captured the award since 1983.
On the local front, a group of women have been getting together over the last couple years for tastings and education while enjoying local craft beer. The Charlotte Beer Babes' mission is simple: Bringing women and beer together across the Queen City.
And now, they'll have their own beer.
The CBB partnered with NoDa Brewing Company for Sweet Notations, which will be released tomorrow (Tues., Nov. 19) at the brewery as part of NoDa's weekly "NoDable Series."
In September, each member of the Charlotte Beer Babes had an opportunity to vote from four different styles: Chocolate Porter, Rhubarb Pale Ale, Sweet Potato Pale Ale and what ended up being the winner (with 38.7 percent of the vote), Sweet Potato Porter.
About a month later, the Charlotte Beer Babes headed over to NoDa Brewing Company to brew the beer, led by Lisa Johnson of the Carolina Brewmasters. The porter was brewed with 12 pounds of sweet potatoes mixed with brown sugar, along with chocolate malt and three different kinds of hops.
Another contest was then held to name the beer, and they landed on "Sweet Notations." And to learn more, it's better to go directly to the source, via NoDa's weekly NoDable video (that's Johnson who is giving the explanation).
Sweet Notations will be on tap at the brewery tomorrow beginning at 4 p.m. To learn more about the Charlotte Beer Babes, visit their Web site or Facebook page.