Charlotte Beer Garden Takes Root in South End
It opened a few weeks before the stay-at-home orders. Here's what you can expect as it reopens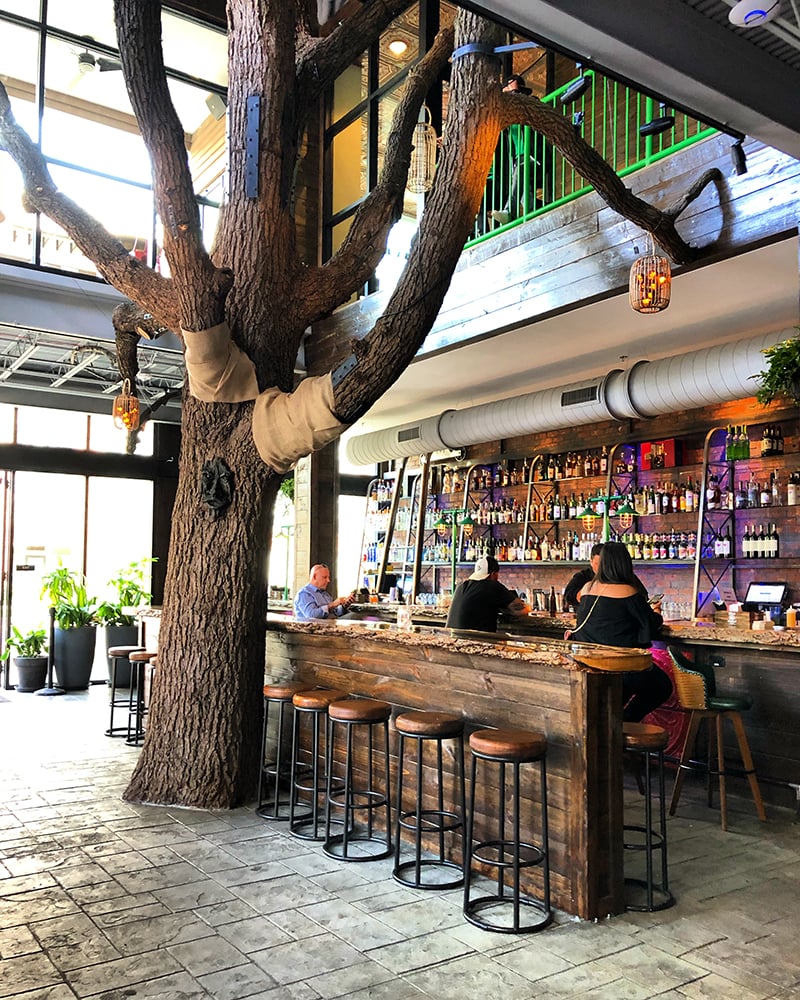 The city's first "cathedral to beer," a highly anticipated, three-story bar and restaurant called Charlotte Beer Garden, opened in late February in South End. Its Instagram account already had accumulated thousands of followers by opening weekend, when lines stretched down South Tryon Street and garnered local and national coverage. That momentum continued until St. Patrick's Day weekend, when the state began to discourage mass gatherings because of COVID-19. Within days, discouragement had become a ban, and the brand-new space was empty.
Now, those who didn't get to visit the Beer Garden during its brief initial run will be able to see and spend time in owner Niall Hanley's newest creation. The Ireland native, owner of several restaurants and bars in North Carolina's Research Triangle region, says his 16,663-square-foot structure claims the largest selection of beer in the world (Hanley plans to apply for the Guinness Book record this fall). The Garden's sister concept in Raleigh holds three Guinness Book records: "most different beer brands on draft tap," "most varieties of beer on draft tap," and "largest tap takeover."
Without any members of the Guinness committee on staff, we can confirm only that the selection here is massive: 436 taps on three levels. The first floor has 190 beers, all from North Carolina, plus a cocktail bar for people who for some bizarre reason want something other than beer. The second has 222 taps with brews from around the globe. The top has 24 taps not dedicated to any location or genre. In the six years he's run Raleigh Beer Garden, Hanley says the only learning curve for visitors involves getting used to the ordering system.
"I highly recommend people download the (Untappd) app before they come in," he says. "We can't give you a paper menu because of how often we go through beer. With the system we have, a beer (keg) kicks, we update the system, and it updates the Untappd app right there." Ordering by personal device works well with social distancing, too.
Like the beer selection, the food menu here is broad, with wings and pizzas served alongside German bangers & mash, smoked salmon flatbread, and three poutine options. "We don't have any kind of genre we're trying to stick to," says executive chef Dan Yeager. "We're trying to make bar food and make it fun. We have a corn dog inspired by Mexican street corn … We have a BLT salad with mini-grilled cheeses with it instead of croutons." Another novelty: The kitchen remains open until 2 a.m.
Like every other restaurant in Charlotte, the garden had to pivot. They began to sell their beer in half-gallon jugs, $12 for "standard brands" and $20 for "premium." They paired their most transportable entrées, like burgers, corn dogs, and pizza, with brews for takeout combo packs that were also available for employees who needed them.
The curbside and takeout contingent got a taste of what's offered here, but the "garden" aspect of Charlotte Beer Garden—the greenery that extends throughout the site—completes the experience.
Hanley studied horticulture in college, and his love of the practice permeates the plant-filled building. A massive walnut tree, stripped down and reassembled with metal bolts and supports, sits in the middle of the space. Every window panel and door panel opens, which allows the vegetation to grow and change the place's character over time. "This rooftop in a couple of years will be a complete arboretum," Hanley says. "Beer: What is it? It's plant-based; it's this beautiful product made for thousands of years. And it should be drunk not in a clinical, sterile environment. It should be drunk in a garden."
---
Charlotte Beer Garden is currently open under Phase 2 conditions.