Charlotte Bobcats Breakdown
A regular on ESPN and in the network's magazine, Chris Broussard knows basketball. (He knew what team LeBron James was leaving Cleveland for before anyone else.) So what does he know for sure about the Charlotte Bobcats' future? We checked in with the hoops expert and he weighed in on Larry Brown, Michael Jordan, and the team's chances at a championship.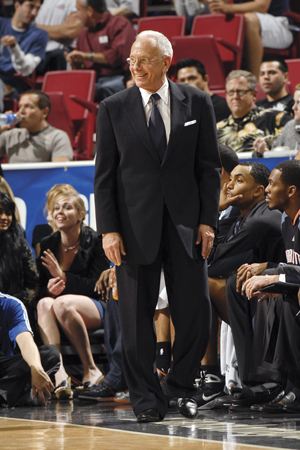 A championship on the horizon?
A championship is not in this team's near future in terms of this year but they can be in the playoffs, they can upset some of these elite teams in the league. They can provide excitement for the fans, so they can be a good team to follow. Seventh or eighth seed, that's a good year for them; if they somehow get to the second round that's a great year.
Other teams view the Bobcats as dangerous. Everybody knows they're not an elite team, but they are viewed as dangerous.
They played Cleveland very tough. Cleveland was an elite team with LeBron and they had a lot of trouble with the Bobcats. People know they're dangerous because they're athletic. Gerald, Stephen, they can defend. This is a team that is athletic and can defend. When you have that combination, that's the type of team that can pull off upsets. Athletes can make up for a lot of mistakes. I don't think they can do it in a seven-game series, but night in and night out in the NBA, that gives them a shot every night. They're a dangerous team on any given night.
The team needs a superstar player if it wants to compete.
That's huge. This is a league of stars, and if you don't have a star player, you're gonna struggle. The best two players are Stephen Jackson and Gerald Wallace (left). The team as a whole has to be careful not to take a step backward. They lost Ray Felton, so D. J. Augustin has to show he can step in and be a star for eighty-two games.
Getting to the playoffs is largely up to Larry Brown.
After a while [Brown] can grate on his players. They have to make sure they all stay on the same page and that they're listening to Larry. If he's engaged and the players aren't tuning him out, they have a great shot at getting one of those two playoff spots. … He's obviously one of the best coaches in NBA history. I think it's good for the team that he came back—as long as he's engaged and into it. His history is that he has a bit of a wanderlust. If he's looking elsewhere (we all heard the rumors about Philadelphia and the Clippers)… But if Larry concentrates and focuses on this job, then I think the players will respond. If he shows faith and confidence in them and the commitment that "I'm here," they'll give him their all. If there's drama and rumors and Larry's got one eye on the door looking for other opportunities, then you could be looking at a disaster.
Expectations should be realistic.
Their ceiling isn't that high. This team is first round and out [of the playoffs]. They can only go so far. They can't deal with those big teams. They're just not good enough. Stephen Jackson is very talented, Gerald [Wallace] is very talented, but none of them are superstars. Boris Diaw can be effective and Nazur Mohammed can be serviceable. D. J. Augustin has shown promise, but it's a matter of consistency.
It may be tough to keep the fans at games.
I think it's tough in this economy. Obviously in Charlotte you compete with the college game and there are also still some bad feelings about the previous owners. They do have some things to overcome, and Michael Jordan, his presence, his charisma could go a long way in endearing that franchise to the public again. But Mike has to be there and I think he will. He spent his money in buying this team. I think now that his money is on the line, he will be much more engaged. I think you'll see him in the front row with a suit on pretty often. I think that because this team doesn't have a star maybe he becomes the face of the franchise—just for a little while. He's active in the community, he's visible. It can work, but only temporarily.