Charlotte Collector Shares Her Trove of Black Holiday Decorations
Meet Margo Scurry and a collection amassed over 29 years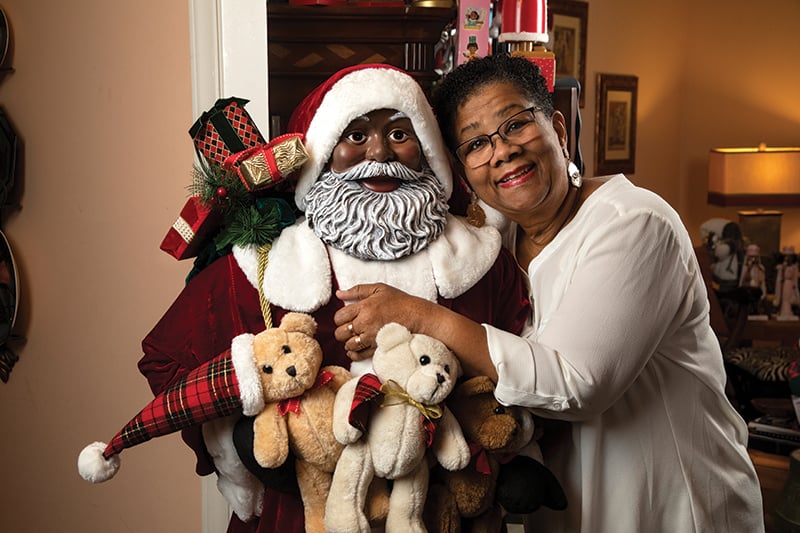 In the corner of Margo Scurry's living room, a 5-foot-wide curio cabinet brims with Black Santa Claus decorations. Figurines, snow globes, salt and pepper shakers, teapots, pitchers, mugs, and cookie jars line the shelves, and Black nutcrackers of all sizes sit on top. In the foyer, Black Santa ornaments fill the branches of two Christmas trees. In the dining room, Black Santa figures look down from the top of the china closet.
Scurry, 68, has collected Black holiday decor since 1993. She estimates she has more than 300 Santas. She began accumulating nutcrackers later, amassing about 65 of those. She has a smaller assortment of Black angels, too.
Scurry started the collection when her older daughter, Danielle, was 8 and her younger daughter, Brittney, was an infant. She wanted her girls to see themselves represented in their holiday decor, but each time they visited the mall, they'd see white Santas. Scurry, who's worked as a digital literacy teacher and in other fields, says she tried not to make a big deal about it. But the lack of Black Christmas characters in stores frustrated her.
For the first few years, Scurry bought items at thrift stores and flea markets and just painted the faces Black. But over the last three decades, she's seen more and more Black holiday decorations. It's taken time, she says, for manufacturers and artists to pay attention to the nuances of Black features and diversity of skin tones. "As African Americans, we're not a monolith," she says. Today, popular companies like Mark Roberts, Thomas Blackshear, and Possible Dreams Clothtique, which specialize in collectibles, have product lines with Black themes.
In Scurry's house, ordinary household goods are often elevated to collector's items, like the empty container of Reddi-wip with a seasonal Black Santa Claus design. She had trouble locating it in stores. A friend found one. Then the friend's son opened the can and ate the Reddi-wip before they could meet. It was OK—Scurry just wanted the can.
One of her more expensive pieces is a life-sized Black Santa Claus she bought for $75 a couple of years ago. One of her daughters gave her a nearly life-sized Santa that sports red-and-white striped pajamas. Her favorite item is an ornament of Mrs. Claus dressed in gold eyeglasses, a red sequined leotard, and fishnet stockings—which inspired her late husband, William, to write a playful short story with poetry about his wife's collection. It's never been published. Scurry says she'd like to turn it into a children's book, but the main character will probably wear a dress instead of a leotard.
In 2021, Scurry started a Facebook group to connect with collectors around the world. In less than two years, it's grown to about 27,000 members. She's learned not all collectors are women, either. She displays her collection year-round out of a desire to share—and a lack of enthusiasm for packing it all up after each holiday season.
Scurry has already considered a "succession plan" for her collection and says she might donate much of it to a museum. She wants her daughters to take some of it, too, but she has specific instructions for them: "I have told them," she says, "'You do not have a yard sale, and you do not just give it to Goodwill, or I will come back and haunt you from the grave.'"
Like any avid collector, Scurry is never truly finished, but she tries not to add too much more to her holiday collection. "I have promised my daughters I wouldn't," she says. "And occasionally I have broken that promise."
HOPE YANCEY is a freelance journalist.