Charlotte Company Uses Smell to Change Your Behavior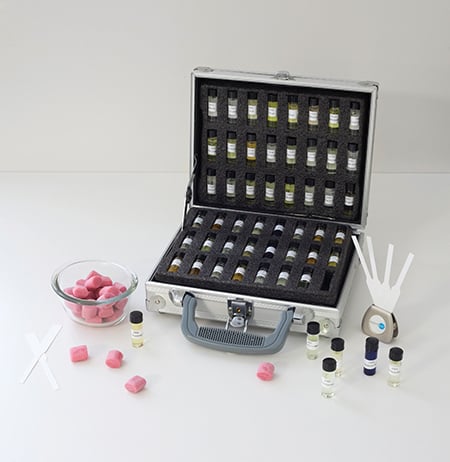 AS YOU WALK into the lobby of the Westin in uptown, you step into a world manufactured for your pleasure and convenience.
The lobby is bathed in light, thanks to floor-to-ceiling glass walls on either side. A crystal-and-stainless steel chandelier the width of the center hallway hangs overhead. Soft music usually plays in the background; unsightly wires are stowed away. And it smells nice. You might not notice it immediately, but the Westin's signature scent—a blend of white tea, cedar, and vanilla—has been pumping through the air vents all day.
This specific blend of fragrances is designed to make you feel at ease during your stay. The top notes of white tea and citrus energize and revitalize, while the cedar and vanilla provide a warm, soothing atmosphere. This complex smell, the Westin smell, was developed by a team of "noses" who work out of a gray, boxy warehouse building in southwest Charlotte.
ScentAir Technologies, a scent marketing company headquartered off Shopton Road, has 350 employees around the world making aromas for thousands of clients who want to enhance their spaces and create experiences—often subconscious—for customers.
"We've got 350 scents right now that are unique to a given customer, that is their brand fragrance," says Mark Schmidt, the company's vice president of marketing and product development. "So the Westin's fragrance is the Westin's fragrance, and we don't sell that to anyone else."
The company's headquarters feels like a middle-stage tech start-up. Photos of ScentAir employees seated in one of the two Austin Powers-style pod chairs at the front of the lobby cover two walls. If an employee hasn't yet visited the Charlotte location, his or her name is still up on the wall, along with a photo of an empty chair and sometimes a small signifier, such as Sandra from ScentAir Europe's empty chair with a French flag sticker.
The campy, 1970s vibe also shows up in the tricked-out Volkswagen bus that sales reps take to trade shows. The front of the bus includes a soda machine-style kiosk for sampling scents.
For a company that's been here for more than a decade, you don't hear much about ScentAir. It doesn't advertise to the general public; it doesn't buy billboards or corporate sponsorships. But if you were uptown on Thanksgiving Day, you probably caught a whiff of sugar cookie scent trailing behind a bakery-themed float in the city's parade.
ScentAir's client list is familiar. The company provides fragrances to Westin, Marriott, and Hilton hotels, Anytime Fitness gyms, and a number of luxury apartment complexes, department stores, and grocery chains. ScentAir's fragrances come in the form of a vapor. Some are pushed through a diffuser the company sends to clients with monthly refill cartridges. For large venues such as the Westin, the fragrances are pumped through the HVAC system.
Product developers—called "noses" internally—work with prospective clients to determine what kind of brand story they want to tell and how fragrance fits into their overall strategy. Product development, marketing, warehousing, and shipping occur at the headquarters in Charlotte, but manufacturing takes place in large fragrance houses in New York and Paris, where fine perfumes are created.
"Typically, a perfume is gonna be an alcohol-based solution, whereas ours is literally just the raw (materials)," says Ed Burke, who oversees customer strategy. "It's basically essential oil, and it can either be derived naturally or can be engineered." The company prefers to engineer certain scents, such as cinnamon and fresh-cut grass, Burke says, because the natural versions often trigger allergies.
ScentAir has a scent library of more than 2,400 scents that businesses can choose from, and the "noses" work with hundreds of larger clients to design custom fragrances. A great deal of research goes into the development process. "Noses," together with the marketing team, examine trends in fashion, art, and music and think about how they apply to fragrance. They also draw inspiration from consumer science and psychology research, Burke says.
***
IT'S FITTING that a company built on sensory experiences can trace its roots to Disney World.
ScentAir came about in Florida in the early 1990s. David Martin, a former Lockheed Martin rocket scientist-turned-Walt Disney "Imagineer," began exploring scent marketing at the theme park's attractions.
Fragrance Technologies began in Martin's garage. As the Disney applications were met with success, Martin took the business to other amusement parks and entertainment venues. In 2000, he and his team took the name ScentAir Technologies and relocated to Santa Barbara, California. Four years later and with new management, ScentAir moved again, to Charlotte, and settled into a space near Carowinds. When the company outgrew that office in early 2015, it relocated to the warehouse off Shopton Road.
Many of ScentAir's creations evoke Disney's sense of whimsy.
You can thank the company's "noses" for the smell of Shrek's flatulence on the Universal Studios amusement park ride, the wafts of cotton candy on Katy Perry's 2011 tour, and the dinosaur dung scent at the Children's Museum of Indianapolis.
***
THE PROUSTIAN EFFECT of scent is well-documented.
Odors can immediately trigger strong emotional memories at a much higher rate than other sensory stimuli, according to a 2004 study at the University of Edinburgh Centre for Neuroscience. Another study asked subjects to describe paintings that had either been preceded by odor or by descriptive words. The subjects who were given odors described the paintings with a much higher degree of emotion than those given words.
That's why catching a whiff of a certain spice can transport you back to a faraway vacation or your childhood kitchen for a moment or two.
ScentAir's thousands of clients across the globe look for the same thing: that final missing piece of their marketing strategy to enhance their customers' experiences. The sense of smell is more closely linked with memory than any other sense, and making sure the scent is right for the moment can be crucial for retailers. Department stores, for instance, sell more merchandise around Christmas when they pump a cinnamon or evergreen fragrance, usually with energizing citrus notes, Schmidt says.
"If you walk into a place that is stainless steel, white, stark, contemporary, and you were to walk in and smell deep, dark woods, you—without even understanding fragrance—your body would say that they don't go together," Schmidt says. "Ultimately, it's about the story you're trying to tell."
***
NOT ALL CLIENTS look for energizing citruses and relaxing florals.
Military contractors and hospitals make up about 10 percent of ScentAir's business. Hospitals request manufactured vomit, feces, and urine for medical training. Lockheed Martin and Raytheon buy similarly revolting scents for use in defense simulators to prepare soldiers for the most foul aspects of war.
"Oh, we've got some stinky stuff," Schmidt says. "For all these years sending troops into battle, (the military was) preparing our troops for the explosions and the sounds and the lights and everything around them. But (the soldiers) were like, 'You didn't prepare me for the wretched smell of what it's like to be in battle.'"
The simulators also help train soldiers to differentiate scents in a crisis situation. Pumping the smell of burning wire into the simulator can help a soldier learn to distinguish between a gas fire and an electrical fire.
"It's a small part of our business, but it's an important part," Schmidt says. "Our primary business is about scent marketing and creating beautiful, wonderful experiences for our customers—but scent is that powerful."
Schmidt shows me around the back part of the headquarters, the warehouse side away from the corporate cubicles and offices. Hundreds of used ScentAir cartridges, recently returned from customers on a monthly delivery cycle, wait to be recycled. Even more plastic jugs of fragrances, labeled everything from "Delta" (headed to perfume the airline's SkyClub lounges) to "sewage" (presumably, for a military or hospital client), line the walls. ScentAir's scale has grown enormously. In the early days, employees would play "Rock, Paper, Scissors" to determine who had to drop off the day's outgoing packages at UPS. Today, a team of warehouse employees seals and packs new cartridges to send out that afternoon.
Trucks pick up the packages now, the vials driven away and the liquids vaporized, until you walk into a hotel lobby and pick up the faint hint of white tea and cedar.
EMMA SPECKMAN is a freelance writer based in Charlotte. Reach her at emmaspeckman@gmail.com or @EmmaSpeckman on Twitter.