Charlotte Couple on Their Latest Innovation: A Livestream Platform for Virtual Weddings
Samie and Ryan Roberts' LoveStream platform adds social distancing to the wedding party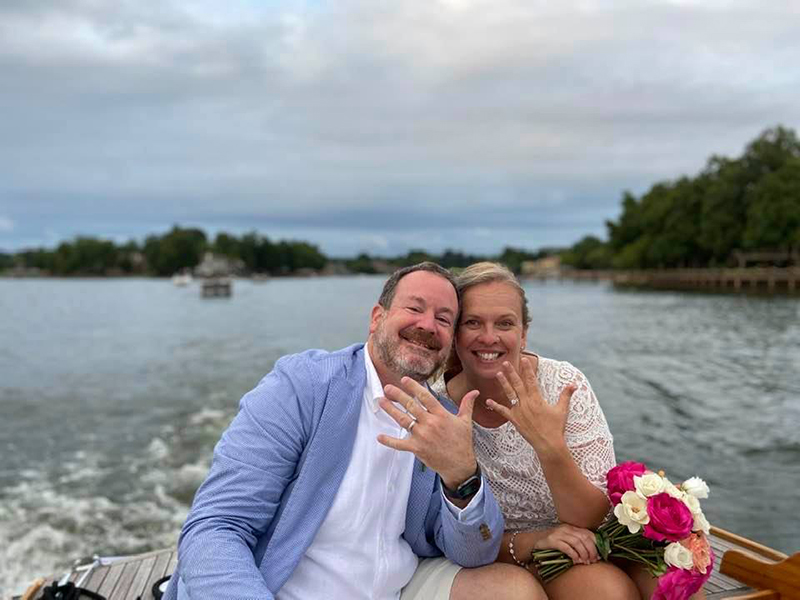 Mark Benno proposed to Catherine Poling at the Rose Parade in Pasadena on New Year's Day 2018. Once the couple returned home to Cornelius, they began brainstorming wedding locations. They weren't in any big rush; it would be the second marriage for both, and each had children and careers that kept them busy.
They considered a European wedding in the Alps and explored a schooner wedding in Charleston. "We had all of these great destination wedding ideas, then we shifted to Lake Norman to be more accessible to our families," Catherine says. They ultimately decided on the Peninsula Club on Lake Norman and set the date for September 12, 2020.
By late 2019, they had a guest list of 90 and their honeymoon booked. They'd planned a 12-day Mediterranean cruise that would take them from Spain to Italy, but as they heard about multiple COVID-19 outbreaks associated with cruise ships, they knew they had to cancel their trip. In May, it was clear they'd need to change their wedding plans, too. "We were anxiously waiting for the governor to give us an update on Phase 3," Mark says. "Or would we go back to Phase 1?"
Dilemmas like theirs inspired husband-and-wife team Samie and Ryan Roberts to launch LoveStream, a livestream platform that allows couples like Catherine and Mark to say their vows with their friends and family watching from their own homes. "When Ryan and I got married, it was the middle of Hurricane Irene in New York City," Samie says. "It's not quite the same as what these couples are dealing with, but we lost a third of our guest list. So we're passionate about finding a way to make it happen."
Before the pandemic, the Robertses coordinated as many as 35 weddings a year through their wedding planning company and created Bustld, a Charlotte-based online wedding platform that connects vendors with wedding planners. But by March, they started to see a decline in bookings. "Couples would postpone to May or June, thinking we'd get back to normal by then," Samie says. "But by the end of April and early May, people realized this would last."
They launched LoveStream in mid-April and booked their first virtual wedding less than a week later. "We did many hours of research in that month we sent our team to work from home," Ryan says. "We learned every piece of video production and quickly became experts." Ryan's tech background helped, too, and he had contacts at NASCAR and ESPN to talk his team through some of the hurdles.
Couples can opt for one of three packages that range from $350 to $1,350. LoveStream builds a custom website for the couple, and guests can watch the wedding on any device by clicking one link. "There's no downloading or registration—none of that," Samie says. "This isn't like a Zoom meeting; it's more like a TV production." And unlike Zoom, couples can have unlimited guests.
It's also significantly cheaper than a traditional wedding, which averages $29,500 in North Carolina. Catherine and Mark chose the $850 package, which includes a 60-minute stream, a virtual guestbook, and a live chat where guests can chime in to say congratulations. They had 24 in-person guests (a trend Samie calls a "micro-wedding") and a ceremony on the lake at the Peninsula Yacht Club. Catherine and Mark said their vows on an antique boat, and their guests watched from additional boats. The bride and groom even wore masks that coordinated with their wedding attire.
Catherine's mother gave a virtual toast, but there was no first dance ("our 10th-grader wouldn't let us," Mark says) or a traditional wedding cake. Instead, they opted for peach cobbler, Mark's favorite, and hired Bakery 28 to make and ship mini peach cobblers to close family members—including some not in attendance for a virtually shared dessert.
"It's not an ideal situation for anybody, but having this option to include your loved ones is a great alternative," Samie says. As of early August, she and Ryan had already booked 60 weddings for fall, and it's a trend they believe will be around for a while. "There's always a grandma who can't make it or a friend about to give birth," she says. "Micro-weddings were becoming popular before COVID-19, and now they're popular by default."
As for Catherine and Mark's honey­moon, they'll have what Mark calls a "familymoon" at Oak Island. "We'll have our daughter and the dog with us," Mark says, laughing. "We'll do a real honeymoon later."
TAYLOR BOWLER is lifestyle editor for this magazine.