Charlotte Craft Beer Week Preview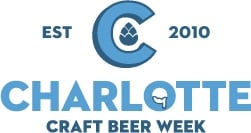 Start with a beer breakfast, end with a beer carnival. And in between are some outstanding events featuring rare beers, both local and national, at some of your favorite Queen City craft breweries, bottle shops and bars.
Add it all up and you get the 2015 Charlotte Craft Beer Week. Entering its sixth year, CCBW is eight days packed with festivals, parties and special tappings. As craft beer in Charlotte has grown throughout the last several years, so has the CCBW. Below is a list of what's going on, from up north to SouthEnd to uptown to Concord, with a few notes on some highlighted events (Note: The schedule is being added to on a daily basis and is not yet complete; it's best to go here to see the current list):
Friday, March 20
–NoDa Brewing is tapping Rob's Salted Caramel Stout, an imperial stout brewed with homemade salted caramel and cocoa nibs, 4 p.m.
–Birdsong Brewing is tapping St. Tuber Abbey Ale, 4:30 p.m.
–Mac's in SouthEnd is tapping a special Allagash keg (TBD), 6 p.m.
–The Cork and Cask in Cornelius will host a tap takeover from Stone Brewing Co. while playing what it calls "stoner music" on vinyl, 7 p.m.
Saturday, March 21
–Beginning at 9 a.m., Good Bottle Co. will host its latest "Good Morning" breakfast. The beer list on tap includes Triple C's Bourbon Barrel Aged Up All Night, Epic's Big Bad Baptist, Baba Budan Coffee IPA (a collaboration between Fonta Flora and Appalachian Mountain), Burial's Skillet Donut Stout and Crazy Mountain's Snowcat Coffee Stout. There will also be coffee provided by Magnolia Coffee and donuts for sale from Your Mon's Donuts.
–Tickets are still on sale for Duckworth's Annual Cask Festival, which begins at 1 p.m. Held at the Park Road location, the festival features casks from seven different breweries. Tickets are $25 and can be purchased by going to Duckworth's or calling (704) 527-5783. Attendees will receive a special tasting glass and sample from each cask, and at the end they can vote on who they thought was the best.
This year's casks are: Birdsong Say It To My Face Double Red IPA with Rooibos tea, New Belgium Dry Hopped Portage, NoDa Hop, Drop 'n Roll with Azteca hops and grapefruit peel, Olde Hickory Black Death with blackberries and habanero peppers, Stone bourbon barrel aged Bastard, Terrapin Golden Apple Pie and Wicked Weed Dry Hopped Eastside or Die.
–Rhino Market & Deli is showcasing "An Ode to Asheville" and will have its taps dedicated to such Asheville breweries as Green Man, Wicked Weed and others, 2 p.m.
–Celebrate three years at Salud Beer Shop, which will host an anniversary party beginning at 5 p.m. As part of the celebration, Salud is doing a full North Carolina tap takeover, including several kegs from this area. On tap will be NoDa's Salted Caramel Stout, Natty Greene's Brett IPA, Baba Budan Coffee IPA (a collaboration between Fonta Flora and Appalachian Mountain), Burial's Skillet Donut Stout, Hop Rocks Sour IPA (a collaboration between Wooden Robot and Fullsteam and one of the top beers at Brawley's Black & Blue VI), Fullsteam's Deux Ex Machina Lacto Sour with Cherries, Steel String Gose, Wicked Weed Genesis, Wicked Weed XL barrel-aged whiskey Peppercorn Saison and three kegs from Fonta Flora (which will all be good, trust me.)
Sunday, March 22
–After what promises to be a hazy Saturday, The Diamond and NoDa Brewing are teaming up for the Craft Hangover Brunch. Running from 11 a.m. to 3 p.m., The Diamond will feature an extended brunch menu, including NoDa's Coco Loco on tap. There will also be specialty themed cocktails, coffee from Pure Intentions and themed cakes from QC Cheesecakes.
Monday, March 23
–All beers on tap at Dandelion Market will be $3.
–Mac's in SouthEnd is tapping Triple C's Chocolate Covered Pretzel Stout and Hoppy Wheat, along with Birdsong's Red Wine Aged Mexicali Stout and Bourbon Barrel Aged Mexicali Stout, 6 p.m.
Tuesday, March 24
–Birdsong will hold a cask event featuring its collaboration with Hi-Wire Brewing, "Bird on a Wire," a peated wee heavy Scotch Ale, 4:30 p.m.
–The Liberty will once again host its "Lost Founders" event. This will be downstairs at the restaurant and is a can't-miss event featuring some Founders rarities, including CBS, KBS, Breakfast Stout and others. The festivities kick off at 6 p.m.
–The Tin Roof, located at the Epicentre, is hosting a Big Boss tap takeover, 8 p.m.
Wednesday, March 25
–Do you like hops? If so, Growlers Pourhouse is the place to be on this day for "Hops, Hops and More Hops." All 14 taps will be pouring IPAs, including Bell's Hopslam, NoDa's Hop Cakes, Stone Green Tea IPA, Founders All Day IPA, Terrapin Hop Selection, Dogfish Aprihop, Victory Moving Parts 3 and more. The beers will be tapped at 7 p.m.
Thursday, March 26
–Birdsong will have a release party for its Doin' Thyme witbier, 4:30 p.m.
–Draught is hosting a Big Boss event beginning at 5 p.m. For $10, you'll get two pints and appetizers as well. There will also be growler giveaways and other pint specials.
Friday, March 27
–Birdsong has once again partnered up with the fine folks from Charlotte Beercast for a collaboration beer. This year's collab is "Me Want Cookie!," a sweet stout brewed with coconut and cocoa nibs. Last year's Marky Mark and the Funky Brunch Stout sold out quickly, so get there early. The taproom opens at 4:30 p.m.
–This isn't a CCBW-related event, but it's definitely worth mentioning, as BLT Steak and Triple C are teaming up for a mouth-watering dinner at 7 p.m. Each course is paired with a Triple C beer, and includes honey marinated black cod with Smoked Amber Ale, confit duck leg with Cajun Stout, hop-basted New York Strip with BabyMaker DIPA and caramel pot de crème with Chocolate Covered Pretzel Stout. Tickets are $75 each and reservations can be made by calling (704) 972-4380 or emailing info@bltsteakcharlotte.com.
–Head to Concord and Lil' Roberts Place for the Brewery Royal Rumble, which will feature special beers from Anderson Valley, Founders, Highland, Mother Earth, Stone, Terrapin and Victory, 7 p.m.
Saturday, March 28
–Charlotte Craft Beer Week wraps up once again with All Ale to the Queen. This year's event will move inside, now located at Amos' Southend and feature two sessions, 12:30 p.m. to 4:30 p.m. and 5:30 p.m. to 9:30 p.m. All Ale is more of a beer carnival than festival, as it includes aerial performers, belly dancers, jugglers and more.
Of course, though, beer is the main attraction here and All Ale to the Queen will have more than 100 craft beers to sample from 20-plus brewers, including local ones in Ass Clown, Heist, Lenny Boy, Sugar Creek and Unknown. There are also beer-related activities such as Queen's Twin (where brewers attempt to clone certain beers), along with mobile infusers and casks. Find out more information and purchase tickets here.
–If beer carnivals aren't your thing, check out the first annual Ladies Lumber Run, which will take place at 2 p.m. in Plaza Midwood. This is led by the Charlotte Beer Babes, along with several local female beer reps. It's a bar crawl through Plaza Midwood's top craft spots. More details to come; keep checking this link for information.
–While this isn't necessarily part of CCBW, it should also be on this list, as Olde Mecklenburg will have its six-year anniversary party Saturday beginning at noon. As part of the party, OMB is releasing its Anniversary Alt and there will be live music from Time Sawyer from 3 p.m. to 6 p.m.