Charlotte Craft Canning News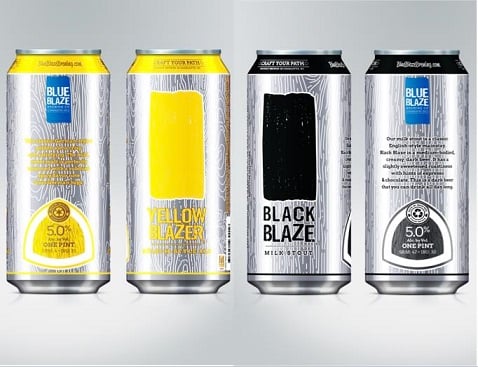 Can you dig it? Here's some recent news on a couple local breweries and cans, along with a can/tap takeover at Good Bottle.
–Today is the rollout of Blue Blaze Brewing's first cans. The brewery has put its Black Blaze Milk Stout and Yellow Blazer Kölsch into canned 4-packs (each are the taller 16-ounce cans). The four-packs will sell for $11 (Yellow Blazer) and $13 (Black Blaze) each and (for now) will only be available to go in the taproom. The taproom opens today at 4 p.m. and to celebrate the event, Blue Blaze will have giveaways each hour, along with live music from Citizen Swing at 6:30 p.m., and an onsite food truck, A Worthy Dog.
–One of the state's most popular breweries is canning for the first time, and Good Bottle Co. is having an event to welcome Wicked Weed's canned offerings. Wicked Weed is beginning with cans of Lieutenant Dank (IPA), Lunatic Blonde (a Belgian-style ale), Napoleon Complex (pale ale) and Tropicmost (gose). Those will be hitting the Charlotte market throughout, including at Good Bottle, which is also featuring a Wicked Weed tap takeover today including Basic White Bier (witbier), Barrel-Aged French Toast Stout, Guajava (sour ale with guava), Lost Toys #2 (barrel-aged sour ale) and Omnipresence (barrel-aged sour ale with cabernet grapes). Cans will be available at Good Bottle all day, and the taps go live at 5 p.m.
–Finally, per their Instagram page late Tuesday, Sycamore Brewing announced it will be canning the ever-popular Salty Coconut Red Ale for the first time. This beer made its debut in bottles last year, and there's always a rush to the taproom whenever it comes back, so it makes sense to put this delicious beer into cans. Sycamore stated that it would only be a limited amount and to stay tuned to its social media channels for release details, so this is your official heads-up.