Charlotte Film Festival Returns
And brings with it a month of independent film from March 5-27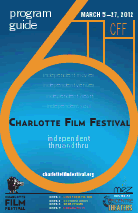 The Charlotte Film Festival took a year off, but they're back again with their 6th festival. This year's festival is more concentrated in terms of geography (all films will be shown at the Epicentre) but more spread out in terms of timing. Screening are on Mondays, Tuesdays, and Wednesdays for nearly the entire month.
Expect full-length features, documentaries, shorts, sci-fi, and student films. They're neatly organized around genre. The first week showcases long-form fiction; week two focuses on documentaries; week three is dedicated to short films; and the final week is all about sci-fi.
The films I'm particularly excited about — partly because of the local angle — are:
Bailout (March 13 at 6:45 p.m.) Well, this one sure hits close to home. This "feature documentary" looks at the financial crisis and subsequent taxpayer-funded bailout. But, it's not a strictly economic look at the meltdown. In the film, five friends travel to Vegas, baby, to try for a bailout of their own. An elegy for the dying middle-class.
The Hopeful (March 14 at 7 p.m.) In this documentary, the son of a wealthy, prominent Charlotte family is at the center of a firestorm after he transfers high schools so he can be the starting quarterback. (Ultimately, the Keith family moved from Charlotte to L.A. where son Cody had one last shot at achieving a Division I football scholarship.)
Get details on the films, tickets and showtimes at www.charlottefilmfestival.org