Charlotte Food Tours
How to explore the city's restaurants by foot (and bike and Segway)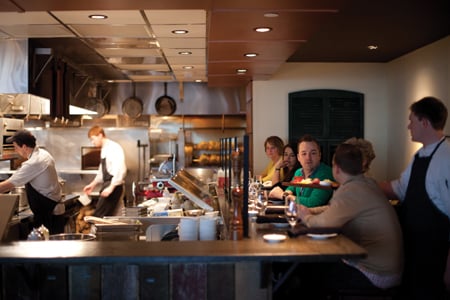 In just the past year, four food tour companies have sprung up to capitalize on Charlotte's flourishing dining scene. The tours focus on local, regional, and global cuisine, from the expected (Southern favorites) to the surprising (Tour de Food's "Pizza Lovers" tour), offering several ways to eat your way around town.
Number of guests: 12-15
Tours offered: Local Flavors of NoDa, Brew and Chew (in NoDa), Soul of the South (uptown), and Uptown Chic
Price: $47; $67 for the Brew and Chew
Best for: Learning something new. At each stop, guests get an inside look at the cuisine
and how products are sourced.
Extras: Visitors on the Brew and Chew tour travel around NoDa on the Party Pedaler, a pedal-powered trolley.
Number of guests: 12-17
Tours offered: Uptown, NoDa, Davidson, Around the World (at the Metropolitan), and Pizza Lovers
Price: $30-$45
Best for: Locavores. Tour de Food selects independently owned restaurants that feature products from local farms, dairies, and artisans.
Extras: Lisa Schnurr and her employees take "eat local, shop local, buy local" seriously, often stopping at farmers markets along the tour.
Number of guests: 2-20
Tours offered: Visits to uptown and South End eateries on a Segway (two-hour tour) or bicycle (three-hour tour)
Price: $65 for the bicycle tour; $75 for the Segway tour
Best for: Stretching your bike shorts. Between stops, you'll sweat off generous portions of no-frills Southern gut-busters (like fried chicken from Price's).
Extras: Each bicycle is custom fit to its rider, making for comfortable sightseeing on the seven-mile tour.
Number of guests: 25-30; 100 for "Neighborfood" events
Tours offered: Dishcrawl, Neighborfood (uptown), and brew tours (upcoming)
Price: $40 for Neighborfood; $45 for Dishcrawl
Best for: Never getting the same food twice—owners Jillian Esteves and Ciara Caron make sure each tour is different from the last.
Extras: When reserved in advance, these socially oriented tours are offered any night of the week, making for a lively alternative to the bar scene.